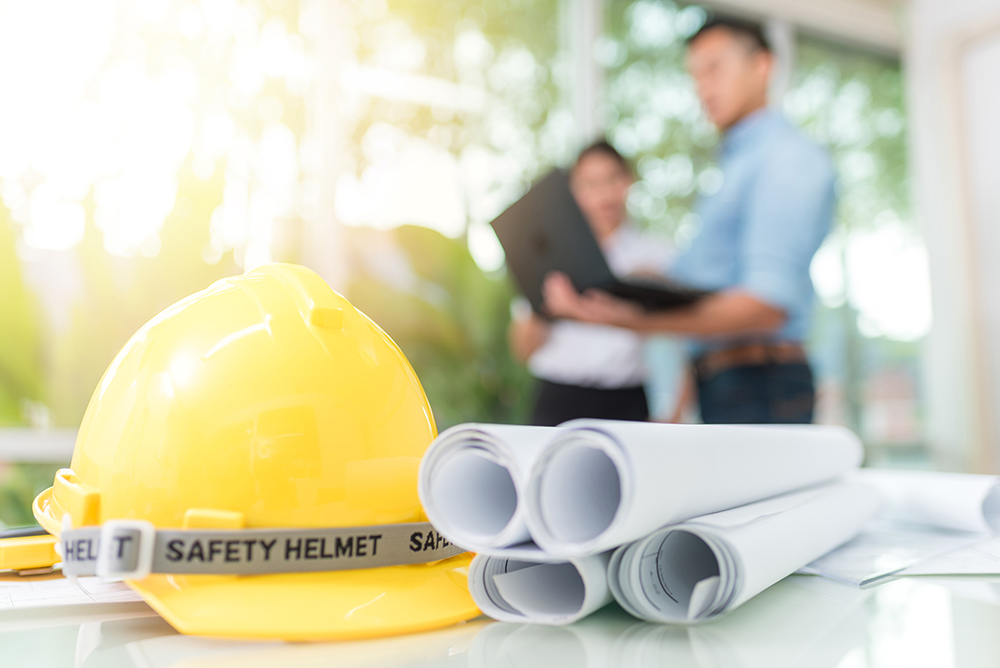 How to Hire Great Contractors and Questions You Need to Ask
Hiring a great contractor can be a tough task. The actual experience can be so paralyzing that some people ultimately give up on their dreams of a renovated space. I have a good friend who felt completely overwhelmed by the challenge of hiring a contractor to renovate her master bathroom. With media stories of people getting ripped off by bad contractors, I could understand her trepidation. Today I want to give you some tips on How to Hire Great Contractors. Plus, you can download the printable with the Questions You Need to Ask both the contractor and their references.
Recently I've been vetting contractors to work on the Saving Etta project. I know first hand how difficult and scary it is to hire a stranger to work inside your home. When you factor in the amount of money you will be paying this person, it's enough to lose sleep over the decision. Let me break down the steps to hiring a reputable contractor so you can finally have that renovation or addition you've always dreamed of.
How to Find a Contractors:
I am of the belief that you should start with recommendations from people you know or at least people in your circle (neighbors, social groups, or friends.)  I love using Nextdoor.com to look for referrals for contractors. (Especially if there are multiple neighbors who used the same contractor and were all pleased with the work.) Another reason I like finding contractors through neighbors is because I know the contractor is familiar with renovations on homes that were built around the same time frame as our house. This is important, especially if you have an old home.
If you can't get any recommendations from neighbors, ask your friends who just had a renovation completed.
If you're still striking out, go visit a local kitchen and bath showroom and ask if they have any contractor recommendations. Oftentimes, the designer can tell you who they work with.
As a last resort, search for contractors on Google, Facebook, Yelp, Angie's List, Craig's List, or the Yellow Pages. It may be daunting to find contractors through this route, but hopefully the rest of this article will help weed out the dishonest and disqualified contractors.
How to Use the Web to Look for Reviews:
After acquiring a list of names, I like to perform some online sleuthing. Search for the company name in the Better Business Bureau database and read all the complaints. If they've had one or two, you don't need to completely eliminate that business. But, if the contractor has numerous complaints, it's probably best to remove them from the list of contractors to consider.
Next, perform a google search for the business name (be sure to include the city and state they are located in) and or the business owner to see what pops up.
Contacting Contractors:
When you call the contractors you have selected, be upfront and honest about your project, the time frame, and your budget. Oftentimes good contractors may not be able to take your job right away or may charge more than you can afford.
Ask for References:
Get at least three recent references. (Ask for references within the last 3-6 mos. And ask for recommendations from clients that had similar projects to your's.)
Questions to Ask Contractor's References:
This is probably the most valuable resource for you. Many people will call a reference and simple ask "were you happy with XYZ contractor?" But, you can get a lot more information about the contractor if you know the right questions to ask.
Were you happy with the job the contractor did? Was the work performed to your standards?

Did the contractor hire any tradespeople to help complete the job?

If so, what was the quality of the tradesperson's work?

Did you have to manage the tradespeople or did the contractor oversee their work?
Were there any errors or mistakes that happened during the process?

If so, how did he or she handle them?

What was the condition of your home (or job site) after the work was complete?

Was it cleaned up or was anything left behind?

Anything you wish the contractor had done better?
Was the contractor upfront with any cost changes?
How accurate was the contractor's timeframe?

Did he/she show up on time or let you know of any delays?

How were the inspections? Did he/she pass the inspections easily or were there any issues?

If there were issues, how were they handled?

Did the contractor need to pull a permit and if so what for?
Have you needed him/her to come back and fix or finish anything?

If so, how timely was that accomplished?

Was the contractor open to your design preferences?
Anything you want to add or any suggestions you have for me moving forward with this contractor?
Feel free to download this printable questionnaire to use when contacting references. (For personal use only.)
What to Get from the Contractor BEFORE Work Begins:
Always get quote before you hire a contractor (this can be a ballpark quote, but be sure to ask the contractor to alert you if they need to go over the quoted amount.)
If the contractor is a general contractor, electrician, plumber or a tradesperson that requires licensure, ask for their license number. Call the licensing board to verify that their license is up to date and the information matches their records.
Ask for a general liability insurance certificate (have your name and address included in the certificate holder's field)
Ask for their workman's comp insurance if they have anyone working for them. And call the insurance company to verify that the policy is still active. 
Ask for a lien waiver release. This will protect you should the contractor fail to pay his or her subcontractors. If you don't have a lien waiver and the subcontractors are not paid, a lien can be placed on your house until they receive payment.
Have a contract signed by yourself and the contractor that details the work you are expecting them to accomplish and the amount they quoted.
Red Flags to Look Out For:
Was the contractor forthcoming with the above information?

Ask the contractor if you need a permit. If they say no, be sure to ask more than one person if a permit is needed. And maybe even call your city permit office to verify that information.
Regarding the quotes, you will undoubtedly receive a range of quotes for your project. Be very wary if one contractor's quote is significantly lower than the others. There is truth in the old adage, you get what you pay for.
During the project, occasionally ask your contractor if you are still on target and within budget. It's better for everyone involved to keep the lines of communication open. Always allow 15 – 20% over the budget for surprises or incidentals. You never know what you might find in your walls when they are opened up.
Never Pay in Full:
If I have one important takeaway from this article, it's to never pay in full until the job is completed to your satisfaction. Never fall victim to the claim, "I have to pay my guys." If the job isn't 100% complete, retain at least 10-15% of the total until the work is done. Once the contractor has all your money, you've lost all your bargaining chips.
More Information about Hiring Great Contractors (Video Chat):
A few weeks ago, I hosted a Facebook Live to talk more about how to hire great contractors and avoid getting burned. Here's the Facebook Live video:
Good luck and remember, you can do this!
Now that you are one step closer to getting started with your project, you need to read this article: Are you Sure You're Ready to Take on a Home Renovation?
If you are thinking about renovating your kitchen, I have some great tips for Surviving without a Kitchen during Renovation:
https://prettyhandygirl.com/wp-content/uploads/2018/02/how-to-hire-great-contractors-feature.jpg
668
1000
Brittany Bailey
https://prettyhandygirl.com/wp-content/uploads/2021/07/PHG-logo-tagline-2020-1030x211-R.jpg
Brittany Bailey
2020-10-02 07:00:00
2020-10-01 11:37:32
How to Hire Great Contractors and the Questions You Need to Ask