Fix a Leaky Faucet in 10 minutes
Drip, drip, drip! Is that leaky faucet keeping you up at night? I have a 10 minute fix that will bring you sweet dreams and a lower water bill.
Oftentimes the washers in faucets wear out after continuous use. Replacing them is actually easy and will only take about ten minutes (minus the time to run to Lowe's to pick up the new ones.)
Materials:
Pliers
Needle-nosed pliers
Philips screwdriver
O-Ring (purchase after removing the old one)
Seat Washer (purchase after removing the old one)
Instructions:
Begin by turning off your water. You can locate the water shut off valves under the sink.
Turn on the water until the faucet runs dry.
Use the philips screwdriver to loosen and remove the screw on top of the faucet handle.
Depending on your faucet, there may be a small button covering the screw. It can usually be pried up with your finger tips.
Loosen the valve stem with pliers.
Lift the valve stem out of the faucet.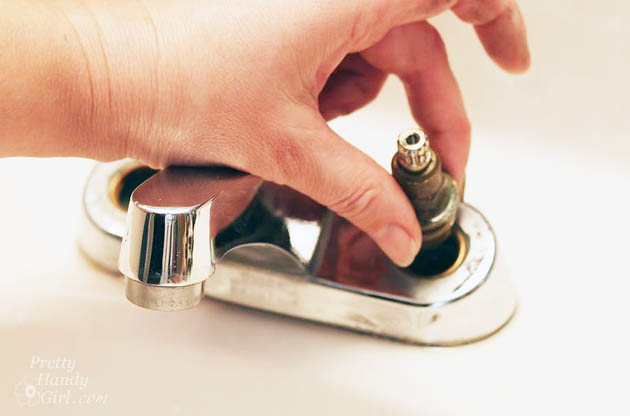 Slip the O-ring off the valve.
Locate the seat washer in the base of the valve. Pop it out with your fingernails or the needle-nosed pliers.
Take both the o-ring and seat washer to Lowe's and purchase new ones that match the old.
Slip the new O-ring onto the valve.
Press the new seat washer into the base of the valve.
Replace the O-ring and seat washer on the other valve stem.
Place the valves back into the faucet.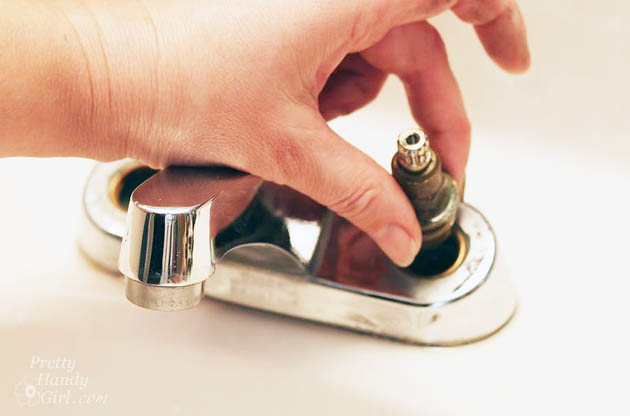 Tighten them using pliers.
Replace the handles and the screws.
Turn the water back on and enjoy the peace and quiet of a drip-free faucet!
(Side Note: Don't wait too long to fix a leaky faucet. If you wait too long to replace the washers, you might end up with a damaged seat or valve stem from trying to crank the handles too tight. If that happens, you'll want to read my tutorial on fixing that damaged stem. Stay tuned!)
Fix for later!
https://prettyhandygirl.com/wp-content/uploads/2015/01/run-water-until-stops.jpg
420
630
Brittany Bailey
https://prettyhandygirl.com/wp-content/uploads/2021/07/PHG-logo-tagline-2020-1030x211-R.jpg
Brittany Bailey
2015-01-12 07:00:00
2021-07-13 19:21:14
Fix a Leaky Faucet in 10 minutes