How to Install Privacy Film on Windows
How to Install Privacy Film on Windows
Do you have a window in your house that puts you on full display? Or maybe your neighbor's house is very close to your's and you feel like they can see in your window (especially a bathroom or bedroom window.) Sure you can add curtains or blinds, but then you won't get the natural light you want from your windows. Today I have the solution to your privacy needs without blocking the light. Let me show you how easy it is to install privacy film to your windows with professional looking results.
Materials:
(I've included affiliate links for your convenience. I earn a small percentage from a purchase using these links. There is no additional cost to you. You can read more about affiliate links here.)
Glass cleaner
Clean Rag
Pencil
Privacy Film
>>Get 20% OFF anything at StickPretty.com by using "PrettyHandyGirl" in the coupon code area!<<
About the Privacy Film:
Before we begin, I have to tell you when Stick Pretty approached me about using their product I was thrilled to find they have some very attractive options for privacy film! Those of us that shop at the big home improvement stores know the options for privacy film are fairly limited. Feast your eyes on just a few of the beautiful adhesive film patterns Stick Pretty has to offer:
And there is a semi-transparent option for blurred viewing (less opaque.)
That's not all. You can also order any of the patterns in a sheer adhesive film to dress up your windows. All the adhesive window films are customizable with white, fog, mushroom, or black designs.
I'd be remiss if I didn't mention Stick Pretty also sells tile decals (to brighten your tiles or cover up ugly tiles.)
And they offer decorative adhesive panels for use on walls, furniture, or anywhere your imagination can think of.
If you find yourself falling in love with any of the products on the Stick Pretty website, don't forget to get 20% OFF your order if you use the code: "PrettyHandyGirl" at checkout.
Now, on to the tutorial for installing privacy film on  your windows.
Instructions:
Watch this quick video to see how easy it is to install privacy film to any window.
Step 1. Clean
Use glass cleaner and a lint free rag to clean the window really well. Make sure there's nothing on the glass that will stick under the adhesive film (which would stick there forever until you take it off).
Step 2. Measure & Cut
Measure each pane of glass on your window. Add 1/8 of an inch, because it's better to cut the film too big. We will cut off the excess at the end.
Transfer your measurements onto the privacy film. Use a sharp x-acto blade and a metal ruler to guide your cuts. Apply gentle pressure as you cut the film.
3. Installing the Privacy Film
Carefully peel up your privacy film and take it to the window immediately. If you wait, dust can settle onto your film.
The key to a really good adherence of the film to the window (with no bubbles or wrinkles) is to use a mixture of water and a few drops of dish soap in a spray bottle.
It also helps to use a good squeegee.
Spray a liberal amount of the water and soap mixture onto the glass. If you find the film sticking too much to the glass, spray more of the mixture onto the glass.
Line up the film at the top. Using your hands, push from the center, down and out to set the privacy film. If needed, lift the film and reposition.
Use the squeegee to push out any water and air bubbles. Again, working from the center out and top down.
Use a clean rag and run it along the edges to clean up any water that has squirted out.
Step 4. Trimming Excess
If your film is too large and overlaps off the glass, take a sharp x-acto knife and cut off the excess. Peel off the trimmed excess.
Then squeegee the film again and clean it up any water from the edges.
You can see the difference between the regular window glass and the glass with privacy film on it below.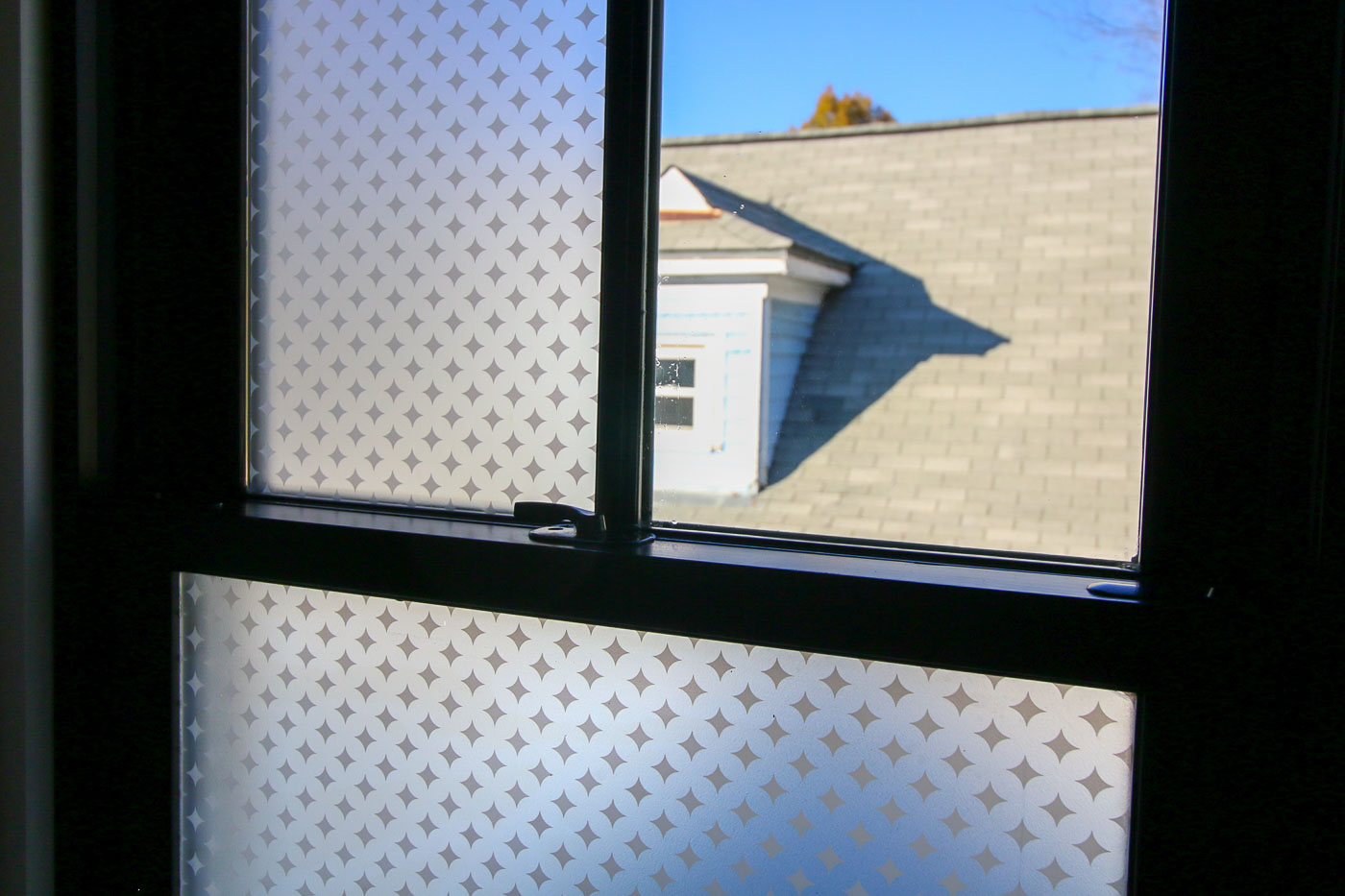 After installing your privacy film, you may see some ghosting between the film and the window. As long as you have pushed all the air bubbles out of the film, the ghosting should go away after a few days. (Can you spot the ghost spots in the picture below? Within 48 hours they had disappeared.)
Hopefully this tutorial will help someone reclaim some privacy in their home without giving up natural light! Pin this image to share with a friend:

Friends, I have a question for you:
I decided to let the video tutorial guide you through the process on this tutorial instead of the usual step-by-step photos. Let me know what you think and if you miss the photos when there is a video tutorial. Thanks for your feedback.
Disclosure: Stick Pretty sent me the privacy film at no cost to try out on the Saving Etta project. I was not told what to say. All opinions are my own. If you use the coupon code: "PrettyHandyGirl" on the StickPretty.com website, you will receive a discount and I will receive a small percentage of the sale. As always, I am very particular about the brands I represent on this website and will always let you know if you are reading a sponsored post or if I received free materials.
If you liked this tutorial and want to add a layer of security to your glass doors or windows, you'll appreciate my tutorial for adding security film to your home.
https://prettyhandygirl.com/wp-content/uploads/2019/04/how-to-install-privacy-film-feature.jpg
297
626
Brittany Bailey
https://prettyhandygirl.com/wp-content/uploads/2021/07/PHG-logo-tagline-2020-1030x211-R.jpg
Brittany Bailey
2019-04-29 07:00:00
2019-11-03 17:44:58
How to Install Privacy Film on Windows