How to Clean Your Windows like a Pro
How to Clean Your Windows like a Pro
Hi, Pretty Handy Girl Readers!!  What's one way to improve both the interior look and exterior curb appeal of your home? Clean your windows! Not only do sparkling clean windows look amazing from the outside, but they also let more light in and create a brighter home on the inside.  This post will teach you how to clean your windows like a pro.
Unfortunately, cleaning your windows is not a fun task. While you can always shell out hundreds of dollars for a professional window cleaning, this one simple and cheap tool will get the job done as good as the pros and leave that money in your pocket.
(I've included affiliate links for your convenience. I earn a small percentage from a purchase using these links. There is no additional cost to you. You can read more about affiliate links here.)
When to Clean Windows:
Spring Cleaning is the perfect time to get this done. Although, if you have a lot of pollen you may want to wait for pollen season to end, then clean the pollen and debris off them.
The only tools you need is this Ettore 65000 Professional Window Cleaning Kit for less than $20. The kit comes with a handy squeegee and a microfiber mop head. (Bonus: the microfiber mop head is washable too!)
How to Clean your Windows:
Follow these steps for sparkling clean windows that your neighbors will envy! 🙂
Step 1 – Prepare your Cleaning Solution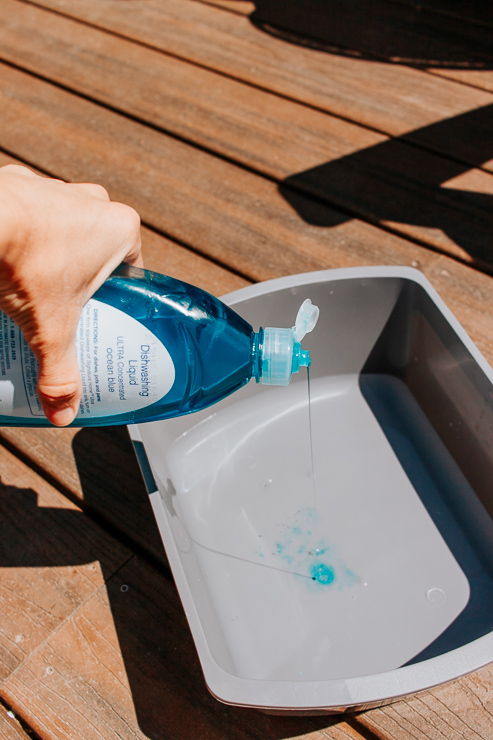 First, fill a bucket with water and add a few squirts of dish soap.
Step 2 – Wet your Mop Head
Take your microfiber mop head and dip it in your soapy bucket a few times. Wring it out a bit with your hand. You don't need it to be dripping wet.
Step 3 – Scrub your Windows
Run the wet microfiber mop head over your dirty windows a few times to clean them. Some spots may take a bit of elbow grease.
Step 4 – Squeegee!
Starting from the top middle of the window, take your squeegee and run it over the window in a fluid, top to bottom motion. Continue all the way to the bottom of the window. By using your squeegee in this pattern, you avoid leaving streaks from where you stopped and started. Don't worry – you can always start over again if you find you left too many streaks.
Step 5 – Wipe up Excess Water
Finally, use a clean, microfiber cloth or paper towel to wipe up the excess water from the squeegee at the base of the window frame.
You can clean your windows both inside and outside using this same method. This tool gives you such clean windows – you will never go back to your old method of cleaning windows again. I dare say you may even find window cleaning is somewhat enjoyable. Put on your headphones and your favorite tunes and get lost in the zen of cleaning windows!
Trust me, it's an oddly addicting activity.
Windows Too High?
What if you have a window that's really high and hard to reach? Fortunately,  this upgraded tool has an extension pole that easily snaps on both the squeegee and microfiber mop head. It takes a bit more finesse to use this with the extension pole attached, but after a few times you will get the hang of it.
When you are finished cleaning, the extension pole collapses for easy storage. I keep the squeegee and microfiber mop head conveniently stored under my sink and pull it out whenever I see dirty windows and kids fingerprints.
It's amazing what clean windows will do for your home! (PS: This tool works for your glass shower doors as well! Give it a try.)  If you want more cleaning tips – check out how to clean your oven racks on Decor Hint.  And find out why you should never throw away your old toothbrushes (hint: it's not for your teeth!)
I hope this helps you on your way to cleaner windows! I'll be back here next month with another tutorial for you!
~ See More of Karen's Tutorials ~
Hello!  I'm Karen, the creator of the Home Decor and DIY Blog: Decor Hint. I'm a Native of the East Coast, but I currently live in beautiful Seattle with my hubby, our two wonderful children, and our spunky wheaten terrier.
You can usually find me with some sort of craft in one hand and a coffee in the other. And I'm always rearranging furniture or moving lamps from room to room. I have a passion (read: obsession) for decorating, DIY, and gardening. In short, I love making my house into a home.
Like many, I'm inspired by what I see in home decor magazines, but I'm not so inspired by the price tags.  Consequently, I love finding and creating beautiful budget-friendly home decor items. In a head to head competition, I bet you'd never know the difference between the designer items and my DIY creations!  Many of my DIY projects focus on sewing, crafting, upcycling and organizing. Some of my favorite projects have been making pretty wreaths, sewing my own tassel hand towels, and crafting these trendy wood bead garlands. I can't wait to inspire you and spark your creativity through my DIY projects.
You can always connect with me on Pinterest, Twitter or Instagram.
https://prettyhandygirl.com/wp-content/uploads/2019/05/Prepare-your-window-cleaning-solution.jpg
740
493
Karen Decor Hint
https://prettyhandygirl.com/wp-content/uploads/2021/07/PHG-logo-tagline-2020-1030x211-R.jpg
Karen Decor Hint
2019-06-26 07:00:13
2019-06-25 09:03:50
How to Clean Your Windows like a Pro