How to Install a Towel Bar Securely
Have you ever reached for a towel and realized that the towel bar was barely secured to the wall? Installing a New Towel Bar Securely is a fairly simple DIY task if you know how to anchor the brackets.
As part of my little laundry room refresh, I decided to replace the dated brass towel bar that had started to come loose.
Install a Towel Bar Securely Materials:
(Contains some affiliate links)
Optional:
Install a Towel Bar Securely Preparation:
Begin by removing the old towel bar if you have one already installed. Look underneath for a tiny set screw. Usually you will need a small flat head screwdriver or allen wrench to remove it.
Once the mounting bracket is removed, you will see the mounting plate which can be removed by unscrewing the screws. Patch any holes in the wall and touch up the paint before installing the new towel bar.
Mounting Instructions:
Find the template that came with your new towel bar. Sometimes it is on the instruction sheet, and sometimes you have to cut it off the product box.
Hold the template up and line up the bracket locations with studs. If  you can't line it up with two studs, you can use a good wall anchor. Don't use the anchors that came with the towel bar. (Here's why you should never use those freebie wall anchors.)
Tape the template in place and level it. Make any adjustments necessary to get the template perfectly level.
Pre-drill holes through the template brackets.
Attach the mounting plate by driving screws into the pre-drilled holes. If you are using anchors, drive the anchor in first, then attach the bracket with screws.
Remove the towel bar mounting brackets from the product box. Loosen the set screw until it retracts completely.
Position the first mounting bracket over the mounting plate and tighten the set screw.
Insert the towel bar into the first bracket.
Retract the set screw on the second mounting bracket. Feed the second bracket onto the towel bar and fit it over the mounting plate.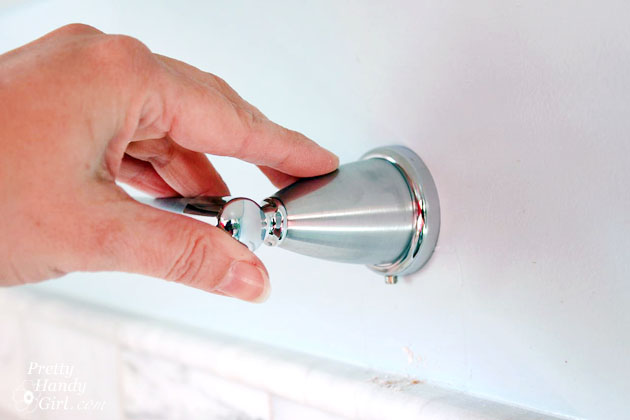 Tighten the set screw.
Hang your towel and admire your handy work!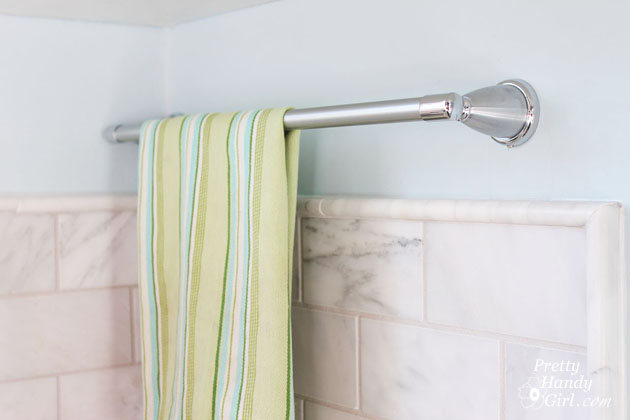 Now you have a beautiful new towel bar that is installed securely to the wall.
Stay tuned, I have one more little update in the laundry room.
Pin for later!
https://prettyhandygirl.com/wp-content/uploads/2015/02/installed-towel-bar.jpg
420
630
Brittany Bailey
https://prettyhandygirl.com/wp-content/uploads/2021/07/PHG-logo-tagline-2020-1030x211-R.jpg
Brittany Bailey
2015-02-11 07:00:00
2021-07-13 19:16:14
How to Install a Towel Bar Securely