Recently I've been working on building drawers for our pantry. The material I chose to use is finish grade plywood. Plywood is strong, but unfortunately it has a raw edge that isn't the most attractive side of the wood. No problem, it can be covered. You could use wood putty to smooth the raw edges of the plywood, but you won't get perfect results and it is only recommended if you are going to paint your plywood. Instead, I have a solution for you on How to Finish Raw Plywood Edges to give you a more professional look. In fact, some people may not be able to tell it was plywood to begin with!
This is an easy tutorial and requires no power tools (unless you consider an iron a power tool.) You will need to purchase veneer edging for this project. Don't worry if your edging is wider than your lumber, we'll fix that. Ready to learn How to Finish Raw Plywood Edges? Let's get this project heated up.
Materials:
(I've included affiliate links for your convenience. I earn a small percentage from a purchase using these links. There is no additional cost to you. You can read more about affiliate links here.)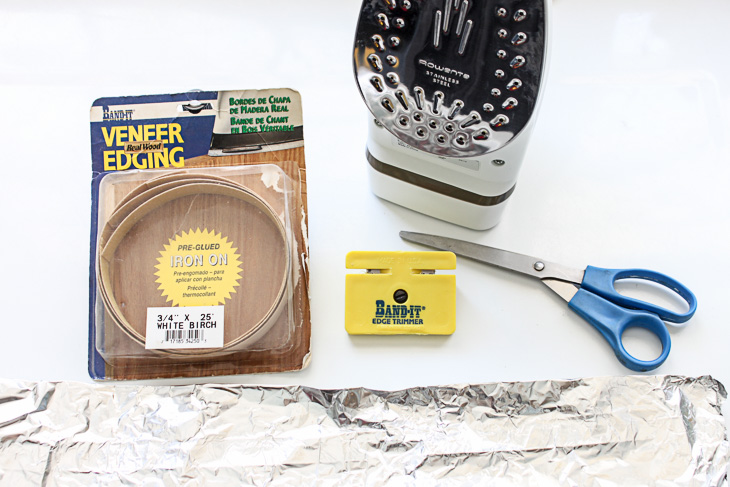 Instructions:
Pre-heat your iron on the cotton setting. Measure the length of your veneer edging on your plywood. (Do not cross your edging over any joints. Keep the veneer piece the same length as the cut wood.) Cut the excess off.
Rip off a piece of foil the length of the plywood or at least the length of your iron. Lay the edge veneer on top of the plywood edge. Lay the aluminum foil between the veneer edging and the iron. Press the iron to heat up the glue on the underside of the edging. Keep moving the iron so as not to scorch the wood. Usually 30 seconds is all you need to activate the glue.
After the entire edge veneer has been glued, use a flat edge on the trimming tool to burnish the veneer firmly onto the raw plywood edge. If any areas still aren't glued, reheat and repeat the process on that spot.
Turn the trimmer tool and run it along the side of your plywood to trim off the excess edging. You may need to make a few passes to remove all the excess veneer.
Sand the edges smooth and remove any rough spots.
Check it out, you are done and your plywood looks like it was solid wood not plywood!
If you learn better watching a video, you'll appreciate that I made a Facebook Live video to show you How to Finish Raw Plywood Edges:
Don't forget to Follow Me on YouTube for more tutorial and tip videos. I'm always bringing you along as I work. 😉
Now that you know this trick, you can build anything using plywood and finish off those raw edges.
Until next time, enjoy fooling people with your clean finished edges on plywood. No one has to know that it's not solid wood. 😉

https://prettyhandygirl.com/wp-content/uploads/2017/04/finished-plywood-edges-edge-banding-1.jpg
487
730
Brittany Bailey
https://prettyhandygirl.com/wp-content/uploads/2021/07/PHG-logo-tagline-2020-1030x211-R.jpg
Brittany Bailey
2017-04-14 07:00:00
2020-06-08 13:30:37
How to Finish Raw Plywood Edges