Creating Vintage Painted Oars with 3M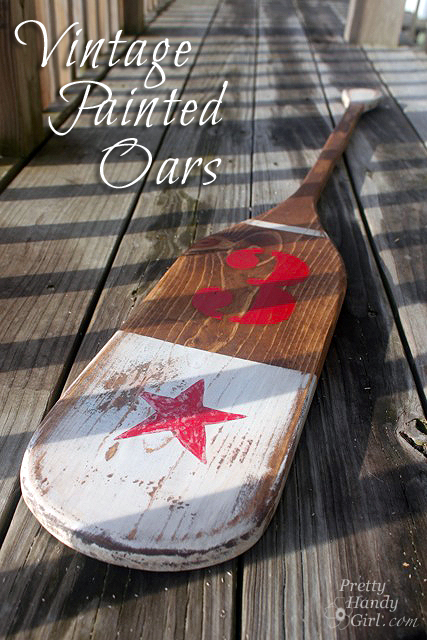 Vintage painted oars are nostagic objects for me. They bring back memories of camp and watching crew teams rowing along the Schuylkill River in Philadelphia. So, when my sister wanted to find some oars to decorate the beach condo with, I jumped at the opportunity to make some. If you follow me on Instagram or Facebook you know that my sister Caitlin (of Symmetry Designs in San Jose, CA) and I have been renovating Diane Chamberlain's Topsail Beach condo. The condo is a great size (three bedrooms) and located ocean front. That's where the pros ended. Sadly the condo was stuck in the 80's: teal carpeting, orangey wood trim and cabinet doors that were falling off. We converged on the property back in September to start the renovation process.
Before the trip, I whipped out these fun painted oars. They were easy to make, you could sooo do this!
(I've included affiliate links for your convenience. I earn a small percentage from a purchase using these links. There is no additional cost to you. You can read more about affiliate links here.)
Materials:
3M Sand paper for sander (80,120 & 180 grits)
1″ x 6″ pine boards
Stencil brush or sponge
White paint
Red Paint
Red Paint
Number stencils
Rags
3M™ Safety Products:
Instructions:
Clamp your 1″ x 6″ board to a work surface. Trace out the oar shape onto your board. You can use rulers and rounded paint cans or plates to trace the curves.
Put on your safety glasses, ear plugs and grab the jig saw.
Cut around the oar shape with the jig saw. You'll have to move and re-clamp the wood a few times.
Put on your dust mask and sand the oar edges. Start with an 80 grit and create rounded edges. Then switch to 120 grit to smooth. And finally a 180 grit to create a super soft surface.
Here's a surprise that happened while sanding my oars. I actually used old door casing from our kitchen renovation. While sanding, a beautiful blue started to show through under the white. I just worked with it and love the look.
To give the oars some age (especially if you have new boards), wipe Minwax Early American stain on the oars. Definitely wear gloves to protect your hands.
Create, buy or trace numbers to create a stencil. I used my Silhouette to cut out some numbers.
To block the white area, lay the numbers on the oar and paint over them with blue paint.
To create the red number, adhere the background of the "3" to the oar and stencil red paint into the number.
Use ScotchBlue™™ Painter's Tape to mask off stripes and the bottom of the oar.
Paint stripes and allow the oars to dry slightly.
Remove the painter's tape before the paint has completed dried. This will give you the crispest lines and allow you to wipe any excess that may have seeped under.
Draw and color in a star over the white area on the smaller oar.
After the paint is 100% dry, rough up the oars with the 3M 220 grit sanding sponge to give it back that aged look.
To age the oars further, wipe on some more wood stain and wiped it off immediately.
This gives them the perfect vintage look.
We hung the oars on the walls of the twin bedroom using D-hooks on the back and small nails.
My sister, Caitlin, totally rocked the nautical feel in that bedroom.
That little nightstand was a wine color, but I painted it with Miss Mustard Seed Tricycle red and now it coordinates perfectly with the rest of the room!
My favorite oar is the little red star one. I might have to make a new one for my home ;-).
Disclosure: This post is a collaboration with 3M DIY. I was not told what to write about or what to say. All ideas and words are my own. To keep up-to-date on projects, products and sampling visit 3MDIY.com. 
Learn more about 3MDIY and their mission to help DIYers like yourself:
3M DIY Facebook Page, 3M DIY Twitter Page, 3M DIY Pinterest Page
https://prettyhandygirl.com/wp-content/uploads/2013/10/sand_oars_to_distress-paint.jpg
427
640
Brittany Bailey
https://prettyhandygirl.com/wp-content/uploads/2021/07/PHG-logo-tagline-2020-1030x211-R.jpg
Brittany Bailey
2013-10-18 07:00:00
2021-08-09 20:03:32
Creating Vintage Painted Oars with 3M