Why I'm NOT going to participate in Teacher Appreciation Week anymore!
Two weeks ago was Teacher Appreciation Week at my son's school. Every year I have a bit of a knee jerk reaction to this week. Is it because I don't appreciate my sons' teachers and administrators? Definitely not true! I appreciate them more than I can ever show. It's a joke in our house that if I homeschooled, we probably wouldn't have children. We all need that time away. And, my kids are so headstrong, that they learn much better from talented educators that don't tuck them in bed at night.
So, why you ask do I have a knee jerk reaction? Let me explain.
Two weeks ago I spent less than 20 minutes whipping up some really cute vases using recycled jars painted with Farmhouse Paint. Wait…What is this paint?
Well, it's "paint formerly know as chalk paint"  (don't even get me on the soap box about everyone else not being able to call it chalk paint anymore because a particular company has trademarked the name. I mean, that's like saying that no one can call it latex paint anymore because Brand X trademarked it. Sorry, I get riled up easily.)
Anyway, back to my story, I made these adorable little vases by saving up a bunch of recycled jars.
Then I painted them with two coats of Farmhouse Paint. I'm in love with this paint. The colors are vibrant and you don't need to wax after painting. Just a light sanding with fine grit sandpaper and it give you the same soft sheen as waxing would.
After the paint has dried I sand some areas (especially on any writing).
Finally, I added some fresh cut flowers from my yard and tied a string around the neck with a personal message.
These little vases were adorable. They were cute and they seriously took me less than half an hour to put together (20 minutes to paint and a few more minutes cutting flowers in the yard.)
When I arrived at school, I began distributing the flowers. First the principal's office — her desk was filled with more flowers vases than a florist's counter. And the overflow was on her conference table.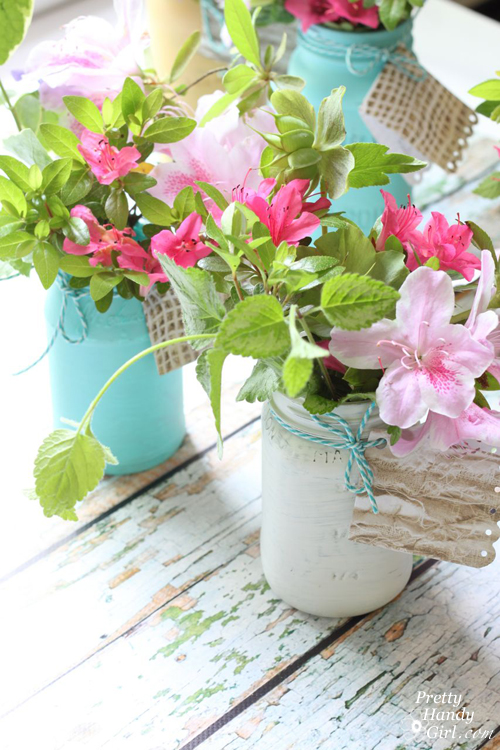 The assistant principal's desk had the same overcrowded vase problem.
I made my way around to my sons' classrooms. Tins of cookies and more vases littered their desks. I was sad. Although I knew they appreciated the kind gifts, it must be overwhelming to get everything on one day or one week of the school year.
After the week is over and the cookies are gone, what is there? Nothing. Desks filled with papers to grade of course. But, no gifts; no notes of appreciation; no flowers…nothing.  That appreciation day is long forgotten.
That's why I'm doing something different next year. Heck, I might even do some appreciating at the end of this school year!
Where are the gifts and flowers during the first week of school when the kids are scared, tired, disappointed, weepy for their Mom and Dad? Where are the gifts when the principal and other administrators have to deal with outraged parents because the school bus didn't come on time to pick up their child? Or worse yet, what about the day after a weeknight Halloween? I know the children pour into their seats sleep-deprived and burned out after a high sugar evening. Heaven help me this year when Halloween falls on a Friday night. I might check into a hotel for two nights.
Anyway, I'm vowing to appreciate the staff and teachers at my sons' school on any old ordinary day from now on. I'm sure that a small recycled jar turned into a sweet little vase of flowers will surely brighten the day of one tired educator. I may even slip a little gift card underneath. I know in our state, teachers are not paid nearly enough and we are facing a crisis as teachers leave schools searching for better paying jobs.
To all the teachers, school staff and administrators out there. I APPRECIATE you more than you will ever realize! Please forgive me if I don't bring you a gift during Teacher Appreciation Week. I'll surprise you some other time. 😉
What do you say? Why not whip up a little painted vase to appreciate your child's teacher on Monday. Or the last week of school? Or just on one ordinary not celebration day. Am I crazy? Doesn't this make sense to you?

P.s. Did you like the chippy paint board backdrop I used? It's not real wood, it is actually a vinyl backdrop made by my good friend Leen the Graphics Queen. It rolls up and stores neatly away. She should be selling them soon.
Pin for later!
https://prettyhandygirl.com/wp-content/uploads/2014/05/chalk-painted-jar-vases-horiz.jpg
420
630
Brittany Bailey
https://prettyhandygirl.com/wp-content/uploads/2021/07/PHG-logo-tagline-2020-1030x211-R.jpg
Brittany Bailey
2014-05-23 07:00:00
2021-08-13 02:27:40
Why I'm NOT going to participate in Teacher Appreciation Week anymore!