Refinishing a Mid-Century Sideboard
Have you ever turned down a piece of furniture that looks ruined? Aha, today's rocker is Emily and she has the superpower to make furniture look brand new again!  On the Rockstar DIY stage today is a performance you won't forget. Emily will single-handedly take you through the steps of Refinishing a Mid-Century Sideboard.
If you haven't met Emily yet, she is truly a Rockstar! Emily lives in Rochester, NY and is ALWAYS working on an amazing home improvement project.
Emily can be found with a hammer, saw or drill in her hands at MerryPad. She has painstakingly renovated two homes. And, as if she wasn't busy enough with home projects (and taking care of a baby and her step-daughter), she can also be found blogging at DIYNetwork's Made + Remade. That girl is a machine!
Oh, I hear the sound of a sander, so put your hands together and give it up for Emily!
Hey guys! Super nice to meet you. If we haven't already met, I figured there's one thing you should know about me: I really like getting my hands dirty. Building furniture can be fun, and learning how to maintain my home has brought me a lot of pleasure, but if you see me and you notice my hands and arms are coated by stain? Well, you'll know that I've been having a really good time (and I've probably run out of mineral spirits, again). Refinishing and restoring furniture–and cabinets, and floors, among other things–is one of my favorite DIY endeavors, always a fun learning experience, and always an opportunity to bring new life into an item that was once beautiful. I've had some lucky secondhand finds over the years, from bedside tables to chairs, but one of my favorite transformations was this Bassett Sideboard that I scored from a garage sale for $15.
T'was one of my first refinishing projects, swoon.
If you're tackling your first refinishing project (or just looking for tips), here are the products and tools I used for this makeover:
Detail palm sander and normal sandpaper to get into small crevices
Rags (general clean up cloths, and old rags or socks for applying the stain)
Tack cloths (the tack cloths are wonderful for cleaning all evidence of sanding dust before staining)
A paint brush and high-density foam roller (for application of the conditioner and polyurethane topcoat)
Pre-stain wood conditioner
Oil-based stain (for this piece I chose English Chestnut by Minwax)
Gloss polyurethane
An extraordinary amount of sanding went into eliminating the damage that had existed in the top surface. Scratches are relatively easy to cure, but you never know how bad the water damage is until you start sanding deep, as evidenced by this progress photo:
Elbow grease and a few more courses of low-grit sandpaper (80-120) helped to transform the surface of the sideboard into a raw wood state and eliminate the visible water rings. You might find that your water damage runs deeper – every case is different.
Once the surface is cleaned (thank you tack cloths!), staining becomes your opportunity to transform the new prize. Pre-treat the sanded coat with wood conditioner for a more-even stain application, and then apply stain using a rag. Once dry, apply the polyurethane top coat to seal the wood.
Quick tip: Use a high-density foam roller to achieve even application of the poly, but drag a paint brush over the still-wet surface to eliminate stipple and bubbles.
The careful refinishing of the wooden exterior made this midcentury sideboard into the flawless piece that sits in our dining room today. It's one of the few pieces that has transitioned really well as my family moved from house-to-house, and it's the type of piece that I hope for which we always have space in our home.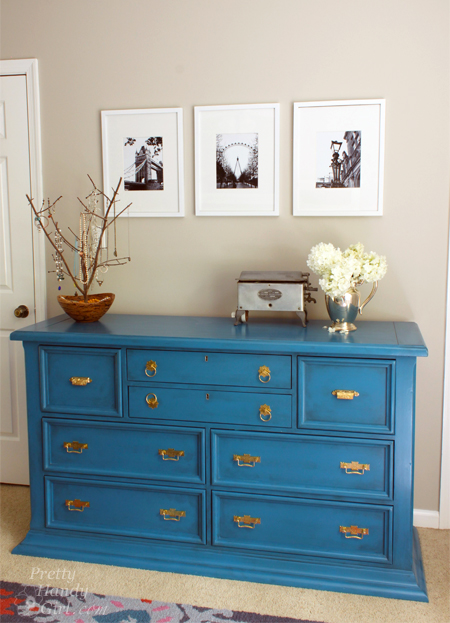 Never ever turn down a $15 water stained sideboard! Thank you Emily!
Stay tuned for more of the Rockstar DIY series!
Here is a list of the project performances so far:

Pin for later!
https://prettyhandygirl.com/wp-content/uploads/2015/09/refinish-sideboard.jpg
1200
735
Brittany Bailey
https://prettyhandygirl.com/wp-content/uploads/2021/07/PHG-logo-tagline-2020-1030x211-R.jpg
Brittany Bailey
2015-09-21 07:00:00
2021-07-13 19:02:38
Refinishing a Mid-Century Sideboard