Aqua Dresser Makeover – What's Knot to Love?
You know you've seen those knotty pine dressers from yesteryear. Their spotlight has faded and they are finding themselves at thrift shops, ReStores or worse yet…at the curb.
I'm begging you to let this knotty eyesore back into your home. It doesn't have to be banished. It's KNOT her fault she was built from cheap pine. All this dresser needs is a new coat of paint and some beautiful brass knobs and all her flaws and knots will be forgotten.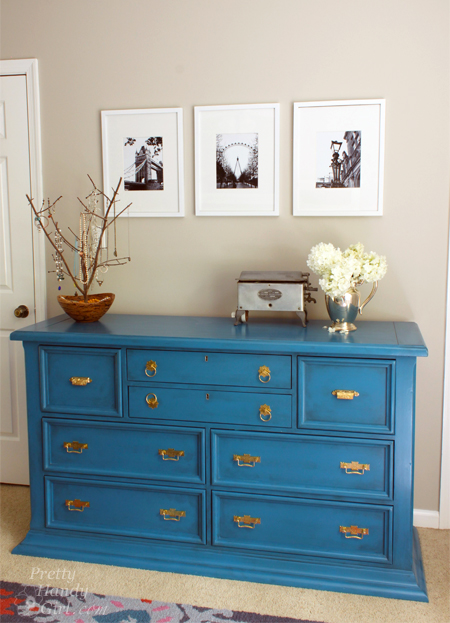 Extra observant points to anyone who realized that this blogger forgot to take a good before picture! She looked very similar to the knotty pine dresser shown above, except she had wooden circle knobs and an unfortunate set of bun feet. I did remove the bun feet from the dresser when I first brought it home. Mama ain't got no need for buns in this oven (or on my dresser.)
Here are the details on how to refinish a knotty pine dresser and give it a complete makeover!
Materials:
Sandpaper
BIN primer
Damp rag
Paint brush
Foam paint roller
Quart of Benjamin Moore Advance paint (Deep Ocean)
Valspar asphaltum glaze
Brass hardware (I bought mine from House of Antique Hardware)
Drill with bits
Screwdriver
Level
Instructions:
This tutorial will be fairly brief, if you need more photos and explanation, you can view my previous dresser painting adventure.
Begin by removing all the drawers and knobs. Lightly sand the dresser and drawer fronts. Wipe off any sanding dust.
Pull out the BIN primer and use it in a well ventilated area. I will stress that you need to use either BIN primer or a shellac-based primer to seal the knots in your dresser. Regular water-based primer won't properly seal them and you'll see stains appearing in a few months.
Apply the primer and allow it to thoroughly dry. Lightly sand any brush marks and imperfections off. Wipe off the sanding dust with a damp rag.
Paint the dresser using a foam roller for a smoother finish. Allow the first coat to dry, lightly sand and add a second coat. I chose  to use the Benjamin Moore Advance paint for this project. Advance has a hardener in it that prevents chipping. It allows me to skip the polyurethane top coat. Therefore, it is my preferred paint for furniture painting. (I was not paid to say this, I just love the paint.)
For more depth and interest, dry brush and then wipe off the Valspar Asphalum glaze. (Read my tips and tricks for getting great results with the Valspar Antiquing glaze.)
Let the glaze dry.
Time to add that final bling and give this lady a new lease on life!
I purchased brass bin pulls to replace the previous single knob. No need to putty the old hole, simply position the pull over the hole and screwed it in place. Out of sight, out of mind!
To install new bail pull handles on the other drawers, (a) insert one post into the existing hole. (b) Level the back plate. (c) Mark the second hole. (d) Drill the second hole and insert the second post.
I used three different pulls on the dresser, but they all coordinate beautifully!
Hardware Source: Bail Pull Handles, Star Ring Pulls, and Bin Pulls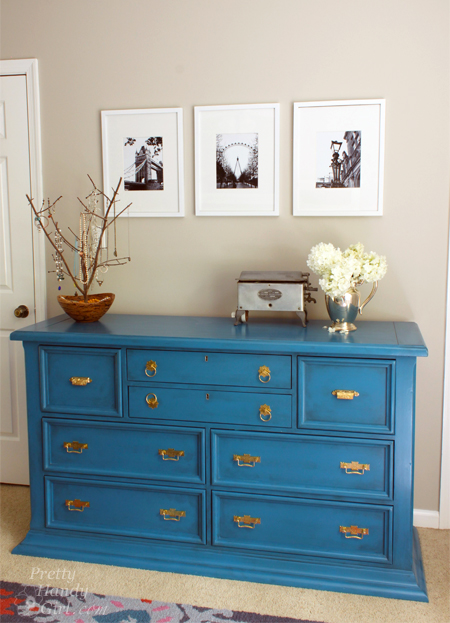 Be honest, would you know that this used to be a knotty pine monstrosity?
She's one elegant lady now.
I hung a few photos from our trip to England last year. It's such a nice way to relive the memories.
That's all folks! Have a great weekend, and stay tuned for more master bedroom progress!

Pin for later!
https://prettyhandygirl.com/wp-content/uploads/2014/07/aqua-painted-dresser.jpg
675
450
Brittany Bailey
https://prettyhandygirl.com/wp-content/uploads/2021/07/PHG-logo-tagline-2020-1030x211-R.jpg
Brittany Bailey
2014-07-18 10:00:00
2020-07-23 10:04:51
Aqua Dresser Makeover – What's Knot to Love?