Summer is here and I'm in the mood for some summer flowers.  Instead of gardening – I'm going to teach you how to paint watercolor peonies!
How to Paint Watercolor Peonies
I love painting with watercolors because it's so forgiving. The watercolor artwork is not supposed to be super perfect – it's those little imperfections that give your piece so much character!
Today, I thought it would be fun to give you a little lesson in painting watercolor flowers, like some easy peonies. It's really a step-by-step process and I'm breaking it all down to show you how simple this really is.
You definitely get better at painting with watercolors the more you do it. In just one session, you will be amazed at how much you have improved and you won't believe that you can paint this good!
Painting watercolor peonies is great way to keep your mind active and positive in these unprecedented times. All you will need are some watercolors, brushes and watercolor paper. I ordered everything off Amazon so no need to leave the house.
(Here's a little secret though – you can even use printer paper if you're just starting out! It may ripple a little, but don't worry about it!)
This is a great activity for the kiddos too – so tell them to follow along and let's dive right in!
Materials:
(I've included affiliate links for your convenience. I earn a small percentage from a purchase using these links. There is no additional cost to you. You can read more about affiliate links here.)
I ordered this set of brushes and paints and it's been the best thing ever! The brush quality is good and the watercolors are vibrant. If you are serious about watercolors, you will want to purchase the watercolor paper eventually – it's thicker and slightly textured and your artwork will look really good on it.
Instructions:
We are going to make beautiful watercolor peonies. I will show you the colors I used, but once you get the hang of it, you can use whatever colors you want! The steps are the same.
Step 1: Create the center of the peony
Using a medium-sized brush to dip into a light, watery peachy pink color. With your brush, create a circular backward "C" shape on the paper – it doesn't have to be perfect! In fact, it shouldn't be. Keep this part light and airy. This is going to form the center of our open peony flower.
Rinse your brush in the water and wipe it on the paper towel.
Step 2: Create the petals surrounding the center
Now grab a darker pink color with the same brush and form little curve shapes all around the "C" shape we created in step 1. These shapes should be rounded, like little smiles, and different in size. You are basically enclosing the center you created with these 'smiles'. Some of the shapes should go out – like petals opening up.
To give the flower more dimension, paint one petal in the front that's more rounded in shape. It looks like it's facing you. You can also add two smaller frown shapes in the back of the center to give the illusion of more petals in the back.
Step 3: Add the stamen
To finish, take a very small watercolor brush and a black or brown color and paint some small dots in the center. Then add a few thin lines coming down from these dots to represent the stamens. This final step will really help your flower come alive!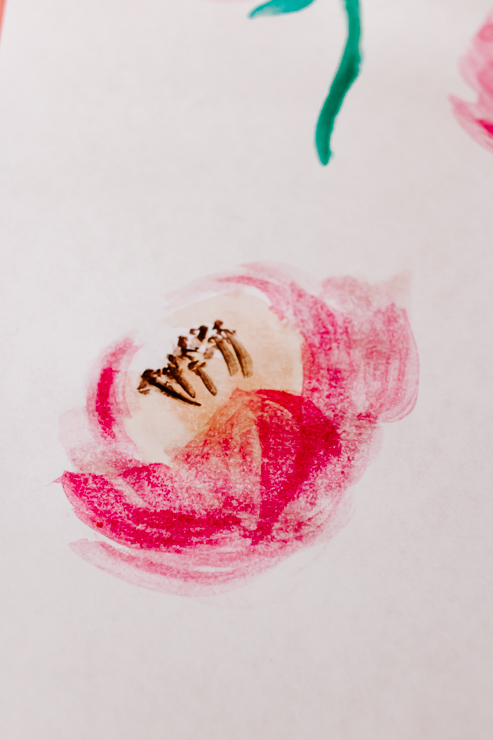 All you need to do at this point is add a light green line down from the flower as your stem. Leaves are optional but are simple to paint. Create a few strokes of green with a medium-sized brush under your flower.
Once you get the hang of it, just changing the shape of the center can create a whole new flower look!
And that's it! Aren't these watercolor peonies so beautiful?
Paint a whole page of these beautiful flowers and frame it after they dry. I could sit here and paint all day – the time passes so quickly when I'm watercolor painting. I love these activities that help your mind focus, because I always feel so refreshed afterward!
If you guys like this tutorial, I'd happily create more watercolor flower how-tos in the future, just let me know in the comments below.
Thanks so much for reading, see you next month!
~ See More of Karen's Tutorials ~
Hello!  I'm Karen, the creator of the Home Decor and DIY Blog: Decor Hint. I'm a Native of the East Coast, but I currently live in beautiful Seattle with my hubby, our two wonderful children, and our spunky wheaten terrier.
You can usually find me with some sort of craft in one hand and a coffee in the other. And I'm always rearranging furniture or moving lamps from room to room. I have a passion (read: obsession) for decorating, DIY, and gardening. In short, I love making my house into a home.
Like many, I'm inspired by what I see in home decor magazines, but I'm not so inspired by the price tags.  Consequently, I love finding and creating beautiful budget-friendly home decor items. In a head to head competition, I bet you'd never know the difference between the designer items and my DIY creations!  Many of my DIY projects focus on sewing, crafting, upcycling and organizing. Some of my favorite projects have been making pretty wreaths, sewing my own tassel hand towels, and crafting these trendy wood bead garlands. I can't wait to inspire you and spark your creativity through my DIY projects.
You can always connect with me on Pinterest, Twitter or Instagram.
https://prettyhandygirl.com/wp-content/uploads/2020/06/Painting-with-Watercolors-Peony-Flowers.jpg
300
700
Karen Decor Hint
https://prettyhandygirl.com/wp-content/uploads/2021/07/PHG-logo-tagline-2020-1030x211-R.jpg
Karen Decor Hint
2020-06-24 07:00:52
2020-06-24 14:28:32
How to Paint Watercolor Peonies