I'm so proud to introduce you to the Pretty Handy Girl contributors. Each writer has been hand chosen by me because I think they are DIY Rockstars! I hope you enjoy all of their amazing projects and recognize that together our goal is for you to be able to complete your own DIY project! Be sure to check out each contributor's blog and follow them on social media.
Hi! I am Anika and I blog at Anika's DIY Life (Anika's DIY Life). It is a blog about everything DIY – from basic woodworking, furniture makeovers,  Home Décor and fun crafts. My goal is to inspire and encourage DIYers to think outside the box and create décor solutions they love!
I live in Southern California with my husband of 10 years and two young children. I have always loved creating and making things since I was little but in the post teen years, life happened and I drifted away from it. About 6 years ago, on a quest to discover fun furniture for my toddler, I discovered the amazing world of DIY blogs! My very first woodworking build was a kids table and chair set, which is still my favorite! After following almost 50 blogs over 5 years and doing weekend projects, I finally got a chance to turn the dream of sharing my experiences and projects through a blog into reality!
I love lots of color and you will find a lot of unexpected pieces in my home like a faux fur upholstered bench and yellow nightstands in the master bedroom, a fun fabric covered storage ottoman and a red buffet. As much as I love building furniture, I also love easy and simple home décor and organization projects. I believe you can always find the perfect solution to your home décor or organization dilemma if you think outside the box and do it yourself!
I would love for you to connect with me on Pinterest, Facebook, Instagram, and Google+.
Read all of Anika's tutorials!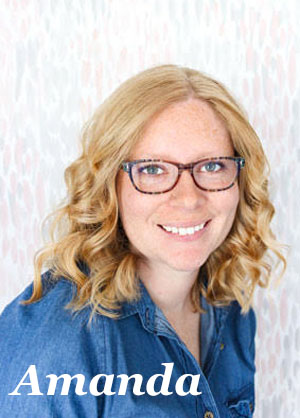 I'm Amanda, and I am the creator and voice behind the food and DIY blog, Domestically Creative. What started as a place to share updates with friends and family after we moved from Illinois to Tennessee and then to Texas, turned into a passion for finding creative and frugal ways to feed us and decorate our homes.
I have always had the "make it myself" attitude and I'm not afraid to bust out the power tools or get creative when it comes to decorating our home on a budget. You can usually find me scouring the local thrift stores, garage sales and estate sales looking for my next makeover (like this litter box cabinet), or dreaming up ways to make our new house feel more like home. My most recent project was giving my home office a much needed facelift. Some of the plans included creating a fun inspirational accent wall and adding pegboard to store my craft hoards.
I currently call Missouri home, where I live with my husband, dog, and 2 cats in a pretty dull, late 90's split level. My husband and I both love to travel the U.S and recently purchased a small travel trailer to tag along in our journeys. In our free time together we can usually be found working together on a home project, exploring a new place, or just lounging with our pup, Delilah.
I'd love for you to connect with me on social media via Facebook, Instagram, Pinterest and Twitter!
Read all of Amanda's tutorials here.
I'm Brittany, and I'm the creative behind by Brittany Goldwyn, a DIY, home, and garden blog. I'm a maker at my core, so I share a variety of original DIY tutorials focusing on home decor, furniture (building and makeovers), plants and gardening, and sewing projects. I'm passionate about inspiring others to embrace DIY as a way to bring creativity, style, and function to their lives and homes without breaking the bank. But you can't DIY everything (don't tell anyone I said that), so I also share ways to create a beautiful, intentional home on a budget, like this room makeover.I owe much of my DIY skills to my dad, a licensed contractor, but I also inherited his hardheadedness; we'd both rather spend 6 hours making something than spend 30 minutes buying it. Case in point, my cat tree made of real branches, which is my all-time favorite project. My second favorite? Probably my monitor stand, which took far less time to make!
I live in Maryland with my husband and our two very spoiled kitties, Henry and Blanche. We recently bought our first home—a builder-grade townhouse—and are hard at work making it our own.
You can connect with me on Instagram, Pinterest, Facebook, and Twitter.
Read all of Brittany's tutorials here.
Aloha! My name is Charlee, and I'm a woodworker and DIY'er, currently living on the island of Oahu.
I started my blog Attempting Aloha in 2010 when we purchased our home here in Hawaii. It started as just a craft blog, but with our home renovations, I learned a lot about woodworking and fell in love with power tools and building things.
We moved to Italy for a few years in 2013, and my focus switched to learning a new language and helping my kids as they trudged through public Italian school. Consequently, I took a short hiatus from blogging.
Now we're back in Hawaii and I decided to start a fresh blog, which is how Build and Create Home was boIf it's a home project, I've done it! Everything from small beginner woodworking projects to laying 1400 sq ft of tile. Or designing and building my butler's pantry from the ground up! I'm a firm believer that woodworking only takes a few tools and a little bit of confidence. Anyone can do it, and I'm happy to help you get started. I'm most active on Instagram, but you can also catch me on Facebook, too.
Read all of Charlee's tutorials here.
Hello, I'm Colleen!  I share my love of all things paint and step-by-step painting tutorials on my blog, Just Paint It.
I started painting after a long hiatus when my boys were small and my anxiety was large. Painting was my salvation. I'm primarily a self-taught artist, despite a brief class in college that discouraged me. Twenty years later, I finally picked up the brush again and created a painting for my boss. This lead to wall murals in our home. Soon friends wanted murals too. And before I knew it, I was a muralist. The rest is history.
My favorite DIY project to date has to be my blog. I love sharing and teaching there, and have met the most incredible people through blogging. I honestly believe that anyone can paint! Do you doubt yourself? Check out this simple 15 minutedipdot flower project. Or with a little more time,  you can learn how to paint a simple tree mural. Still need more persuasion? Try these quick 'n easy holiday projects and ways to spruce up thrift store finds.
My goal with my blog is always the same – to encourage and inspire others to find the same joy that I find when I paint. Trust me, if I can do it, anyone can.
You can connect with me on Facebook, Google+, Twitter, Pinterest & YouTube.
Read all of Colleen's Pretty Handy Posts.
Hi, I'm Cristina the blogger behind Remodelando La Casa (Home Remodeling), a blog dedicated to anything and everything to do with revamping a home.  I'm obsessed with design and decor, but most of all with all things DIY.
I started blogging in January 2012 after finishing my kitchen renovation.  I was very grateful for the amount of inspiration and help I got from other blogs to complete the job.   My way to say thanks and give back was by chronicling all the work so others behind me could benefit from it.  The kitchen was transformed but many other projects were (and continue to be) completed!
More recently, I renovated my teen daughter's bedroom, where I learned that not everything has to be new. I also learned to listen to the requirements of my "client" :-).
I live in the Washington D.C. area with my husband and two children.  I love paint changes, working with wood, sewing, biking, the beach, and having a hot cup of coffee with my husband.  You can connect with me on facebook, google+, twitter, pinterest, linkedin.
Read all of Cristina's Pretty Handy Tutorials.
We are Diane and Dean of (surprisingly) Dianeanddean.com, a DIY Home and Garden Blog. We love to DIY together. Some of our favorite projects have been this DIY Pottery Barn Inspired Farmhouse Table and a fun Cement Succulent Planter. Sometimes we take on huge DIY projects like this Backyard Gabion Wall.
Dean is a Landscape Architect, Sustainability Director, Master Gardener, Public Speaker, and former DIY Network co-host for Grounds For Improvement.
Diane is a writer, Certified Health Coach, Calligrapher, and she also has a Florida Real Estate license.
Together we want to inspire you with some achievable DIY projects! Feel free to join us on Facebook, Twitter, Pinterest, and Instagram.
See all of Diane & Dean's tutorials here.
Hi, I'm Jaime and I write JaimeCostiglio.com, a DIY project focused blog with an emphasis on building, painting and sewing.  All my life I've been painting, drawing, crafting and making things.  I grew up in Minnesota and then majored in Studio Arts at a liberal arts college on the East Coast.  While there, I worked in the costume shop for the theater department, met my now husband of 18 years and then went on to work for an interior design firm in New York City.  We have 3 young children and now that they are all school age I have shifted my focus to do what I love – build, paint and sew.  The real turning point came when we renovated our kitchen in the summer of 2010.  One project led to another and I started blogging about all my projects one by one which has ultimately led to a small business.
My goal with each project is to work smart, efficient and economical.  I love a good challenge whether it be designing a build to fit the space (entry locker unit), solving a logistical solution (portable lego tray), constructing a craft using unconventional supplies (plastic tablecloth rosette garland) or just a simple makeover with paint (front door makeover).  And I firmly believe you can do it too which is why write a majority of my posts as tutorials in an effort to share my experience with readers.
You can connect with me on facebook, twitter, Pinterest, YouTube, and Instagram.
Read all of Jaime's Pretty Handy Tutorials.
Hi, I'm Jacque and I have been creating for as long as I can remember. DIY is truly my passion.  I created the blog The DIY Village with my husband Matt.
My father was taught by his father.  In turn my father taught me how to create with my hands and not take the easy way out of building things.  As a child drawing and crafting were high on my list of priorities so as an adult it isn't much of a stretch that I still love to paint, craft, and DIY.  And with a completely renovated craft room, I'm always in the mood to create! My favorite part of doing this as an adult is the opportunity I have to share my loves with others, and hopefully inspire them to try things on their own!  I am constantly adding new things for Matt and I (mainly Matt) to add to our never ending honey-do list.  With two creative minds in one house we are never short on projects to work on!
Read all of Jacque's Pretty Handy Tutorials.
Hey, I'm Matt, 1/2 of the husband and wife team that makes up The DIY Village!  I'm a pretty simple guy that has a love for all things DIY.  Jacque and I live in East Tennessee. I graduated from the University of North Carolina, Greensboro.  I am a firefighter for a local fire department.
When I'm not fighting fires, I'm letting my creativity spark. Whether I'm working on a project involving home repair, giving new life to a piece of furniture, or even building something from scratch, I'm up for the challenge!  I consider myself a helper by nature, and hope that by sharing my DIY successes and even mishaps, that I might make your next DIY project a little easier to conquer!
You can connect with Jacque and me on facebook, google+, twitter, pinterest. flickr, hometalk.
Read all of Matt's Pretty Handy Tutorials.
Hi everyone, I'm Jeff Patterson, a dad and husband from Pittsburgh, PA (Go Steelers) who spends my not-so-spare time doing home renovations.
Over the last 10 years I've conducted some pretty cool repair projects on my own house and the rental homes we own.  I've also shared some time saving shower cleaning tips. All my projects are meant to be done over the weekend and can be accomplished by anyone who knows how to swing a hammer ;-). You can find me and my entertaining DIY videos over at Home Repair Tutor.
You can connect with me on facebook, google+, twitter, pinterest
Read all of Jeff's Pretty Handy Tutorials.
Hi, I'm Jessica, and I live in Upstate New York in an old Colonial home with my husband and DIY partner, Dan. By day I'm a worker bee, but by night I'm a knee-pad wearing, drill-wielding, spray painting do-it-yourself project queen. I'm also a graduate student working on my Ph.D. Do I sneak away and redecorate the mantle when I'm supposed to be studying? More often than I can admit!
In between all that I blog at Décor Adventures, where I share DIY tips, furniture makeovers, home improvement projects and more. That fun happens at our first home, which was built in 1900 and has lot of old house charm including fireplaces, original wood floors and trim, stained glass, and pocket doors. Generally you can find us renovating a bathroom, working in the yard, or figuring out what kind of project fun to have next.
I started Décor Adventures in 2009 as a creative outlet and a way to share what I love – home decor, crafts and DIY. It is a place for you to find decorating resources, creative ideas and to read about my project fun and mis-adventures along the way. I hope to give you useful, practical resources for styling and enjoying your life and home. You can find all of my projects here.
I'd love to connect with you on Facebook, Twitter, Pinterest, Instagram, and Google+.
Read all of Jessica's tutorials here.
Hi, I'm Jillian and I blog at I Am a Homemaker where my goal is to demystify DIY projects for everyone.
I live in New Hampshire with my wonderful husband and three kids who never quite know what the house will look like when they come home. I have been know to paint rooms and have half the house sold on Craigslist all before 3pm.
I inherited my love for DIY from my dad who was a carpenter and an all around "I can fix anything" kind of guy. He taught me that doing things yourself should be the first choice and you call in reinforcements when you need them. With some help from my husband to learn how all the fancy power tools work, I was off and running and I haven't looked back. Now, there isn't much I won't try to do myself with the proper research and a bazillion questions to anyone who will listen.
One of my true passions is building furniture. Two of my favorite pieces are my dining room table and a breakfast bar I made for my kitchen. There is nothing better than being able to build something exactly the way you want it to be and for half the cost of something pre-made!
You can connect with me on Facebook, Twitter, Pinterest and Instagram.
See all of Jillian's tutorials here.
Hi, I'm Julie from Love My Simple Home. I love to decorate my home with coastal influences and share the tutorials with you. For example, here's how to make your own driftwood sailboat. One of my passions is for interior design and sharing affordable and creative home decor ideas. I recently designed this beautiful coastal living room.
When I'm not designing and decorating, you can find me in the kitchen making scrumptious treats.
One of my favorite past times is shopping garage sales, thrift stores, or hauling something off the side of the road. Who can relate to those adventures? If you can, one of my best roadside finds is this Night Table in my Guest Bedroom.
You can follow me on Facebook, Pinterest, or Twitter.
Read all of Julie's tutorials here.
Hello!  I'm Karen, the creator of the Home Decor and DIY Blog: Decor Hint. I'm a Native of the East Coast, but I currently live in beautiful Seattle with my hubby, our two wonderful children and our spunky wheaten terrier. 
You can usually find me with some sort of craft in one hand and a coffee in the other. And I'm always rearranging furniture or moving lamps from room to room. I have a passion (read: obsession) for decorating, DIY, and gardening. In short, I love making my house into a home.  
Like many, I'm inspired by what I see in home decor magazines, but I'm not so inspired by the price tags.  Consequently, I love finding and creating beautiful budget-friendly home decor items. In a head to head competition, I bet you'd never know the difference between the designer items and my DIY creations!  Many of my DIY projects focus on sewing, crafting, upcycling and organizing. Some of my favorite projects have been making pretty wreaths, sewing my own tassel hand towels, and crafting these trendy wood bead garlands. I can't wait to inspire you and spark your creativity through my DIY projects.
You can always connect with me on Pinterest, Twitter or Instagram.
Read all of Karen's tutorials here.
Hi there! I'm Katie and I blog over at Addicted 2 DIY. I've been married to my husband and DIY partner in crime for almost 10 years and together we have two awesome little boys and one very spoiled dog. Before becoming a stay-at-home mom and wife, I was a firefighter, which is where my husband and I met. When I made the decision to leave that career for a career in momhood, it meant that we had to get creative with our single-income budget. Convincing my husband to buy a $1,000 sideboard wasn't going to happen, but figuring out that we could DIY just about everything for a fraction of the price opened up a whole new world of possibilities. When we started building projects like this pottery barn inspired console table, or our DIY laundry pedestal, I realized that I wanted to share my experiences with others. I began taking pictures of the step-by-step process and Addicted 2 DIY was born.
My goal in this DIY journey is to inspire and empower others to challenge themselves and build theconfidence to take on the projects they didn't think they could do. One of my biggest DIY challenges was building this kitchen island for my mom entirely by myself. It took a little longer, and definitely tried my patience, but I had such a great feeling of accomplishment when I was done. I'm by no means a pro at anything, but I love to share my experiences, mistakes, and tips that can hopefully help others along the way.
Read all of Katie's tutorials here.
Hi! I'm Kristen, from In Her Garage, and I am a self-taught woodworker and DIY fanatic from Minnesota where I live with my husband and our two daughters. Between being a wife, mom and, registered nurse, I try to make as much time for DIY as possible. My love for building came after our family built our current home in 2015. After we moved in, we needed furniture and instead of spending massive amounts of money to order the pieces we wanted I decided that I would build them myself. I started with a buffet table plan from the fabulous Ana-white and quickly set out to remodel my entire home office.
Since then I have started a side business building furniture for the people in my community. I love hearing my clients talk about the pieces they wish they had whether it be a rustic buffet table, a one drawer side table, or a toy box and then making it a reality for them. While starting my small business it made perfect sense that I would document my building journey so I simultaneously launched the In Her Garage blog and I love sharing my plans, tips and tricks.
Making something beautiful with your own two hands through a little preparation and determination is an amazing feeling and I hope to bring inspiration and know-how to those looking to tackle a big or small project.
I am so glad that you found me here and please feel free to connect with me on Pinterest, Instagram, and Facebook to see what I am working on right now.
Hi!  I'm Lara, the creator of The Unprofessional blog and YouTube channel. I am an aspiring handy-woman with little to no experience building, tiling, landscaping, demolishing, and what have you.  I've drilled holes in the wrong places, cut on the wrong lines and stripped more screws than I care to count.  And yet, I'm on my way to customizing my home, project by project.  I believe you can do pretty much anything with a few good tools, a stack of wood and a half-baked
idea.
I like to find challenges and solve them with my miter saw. When my 3-year-old son complained that he couldn't reach the picnic table, I designed an easy-to-build folding booster seat perfect for camping trips and beer gardens. When the low ceilings in my cape cod wouldn't accommodate a bulky barn door, I found an alternative approach to turn any interior door into a space-saving barn door. I love to share these solutions with others in hopes that the empowerment and love of power
tools spreads.
You can connect with me on Instagram, YouTube and Pinterest.
Hi, I'm Larissa and I blog at Prodigal Pieces. I'm a talented woodworker, crafter, gardener, painter, etsy shop owner —and as if that wasn't enough — I'm a home schooling mother of 6 children. I really do sleep, honestly!
Want to see more of my handywork? One of my passions is performing amazing furniture makeovers. For example, my Free dresser I turned into an adorable VW Bus.
You will definitely love my beautiful farmhouse bathroom on a budget. It's sure to knocks your socks off. My husband and I saved a lot of money on the bathroom, but didn't scrimp on style.
I'd love to meet you on Twitter, Facebook, Instagram, Pinterest, and HomeTalk.
Read all of Larissa's tutorials.
Hi there! I'm Lindi, and I blog at Love Create Celebrate. I'm a wife to the handiest man I know, and the mother of two beautiful girls. I am a Speech-Language Pathologist by day and a DIY blogger by night. I live in Northern Alberta, Canada where I became a self-taught crafter, decorator, builder, photographer – you name it! Love Create Celebrate is my outlet to share all of the things that I love, create, and celebrate with others. I'm always learning new skills and sharing my creative ideas, whether it's a quick decor DIY, a new furniture design, or an entire room makeover. I invite everyone to come learn alongside me. Hopefully you'll find something that will make you smile!
You can find me on Facebook, Twitter, Pinterest and Instagram.
Read all of Lindi's tutorials here.
Hello there! I'm Melissa and I blog at The Happier Homemaker where I share my journey to create a beautiful life through easy DIY home decor, crafts, and simple yet delicious recipes.
My background is eclectic with a stint in art school and years working in cancer research but I have spent the last seven years as a full time mom to mythree little boys.  I began my blog in 2011 as an outlet for creativity and way to connect with others during one of my husband's deployments with the Army and it has slowly turned from a hobby into a passion and profession!
We recently built a new home and we have been slowly taking it from builder grade blah to our dream home.  Along the way, I've decorated our home the DIY way, with projects like this giant wooden world map. Whether building and revamping outdoor patio furniture or creating a serene office retreat, you can be sure that the projects I share are easy to do and easy on the wallet!
Read all of Melissa's tutorials here.
My name is Sarah, and I blog at The Created Home, a DIY blog focused on woodworking and anything that needs doing around the home. My journey began when I renovated a home with my husband. What started with me asking him to teach me how to use a miter saw has blossomed into my own DIY workshop and a love of woodworking that I have carried into my own business.
I am passionate about helping others, particularly women, gain the courage to jump in and try new things. I love a good challenge, am terrible at holding still, and love to create. My favorite projects are unique and fun furniture builds, like my kids' cabin playhouse, and this pergola. I get excited about all things reclaimed wood, like this coffee table. I live in the beautiful Pacific Northwest with my husband, two toddlers, one goldendoodle, and an expanding herd of dwarf goats and hens.
You can find me on Facebook, Instagram, Pinterest.
Read all of Sarah's  tutorials here.
Hi! I'm Shara from the blog Woodshop Diaries (a DIY blog with a focus on DIY crafts, furniture building, and home improvement projects.) I'm an engineer by day, and a DIYer every other chance I get.  I live in small town West Kentucky with my husband, Danny, my dog, Lucy, and our assortment of barn cats that accidentally became pet
After we gutted and remodeled our kitchen in the "accidental fixer upper" two years ago, I was hooked and started wondering what other projects I could get into.  Since there are only so many rooms in our house, I started thinking of other projects besides remodels. That's how I began building furniture (like this coffee cabinet) and creating other fun crafts (like this Grinch pillow).  Soon the Woodshop Diaries blog was born, and I started posting tutorials on the projects I did to encourage others to do the same.  If I was having this much fun, surely someone else would enjoy it too, right?
I'd also love to connect with you on Facebook, Instagram, Google+, and Pinterest
Read all of Shara's tutorials.
Hi, I'm Sheri fromHazel + Gold Designs. Here are a few fun stats about me: I like love chocolate and peanut butter (together of course.) If you like stats, I have been crocheting for about 16 years, crafting for 20, and woodworking for about 4 years. I found a passion in making and being creative and began documenting my projects online at Hazel + Gold Designs. I love to work in various mediums such as painting, crocheting, woodworking, resin art, sewing, vinyl crafts, and more. If you like DIY jewelry projects, you must see how to make these unique wood and resin pendant necklaces. My readers seem to fall in love with my DIY Textured Headboard & Footboard, come see what all the hype is about.
When not working on projects, I enjoy spending time with my husband, four children, perfect dog, and ornery cat. You can find me on Facebook, Pinterest, Instagram and Twitter.
Read all of Sheri's tutorials.
Hi, I'm Vineta and I blog over at The Handyman's Daughter, where you can find tutorials, tips and inspiration for all kinds of DIY projects! I'm a stay-at-home mom in Seattle, Washington, where we recently purchased our 1946 Cape Cod style home. I've been slowly making it our own, from renovating the dated fireplace andkitchen to decorating our geeky family room and our son's Pokemon themed bedroom. Along the way, I've discovered a love for woodworking. Now, instead of searching stores for a piece of furniture that may only exist in my imagination, I can bring it to life in my workshop!
I've always enjoyed doing things for myself. I get that from my dad. Growing up, he always had a project, whether it was fixing a car, working on the house, or building something in the basement. The apple doesn't fall far from the tree, and I have many of the same passions as my handy dad, but with a feminine twist. I love to share my projects with readers, in the hope that they will be inspired to pick up a circular saw or paint brush themselves.
You can find me on Facebook, Pinterest, Instagram and Twitter.
Read all of Vineta's tutorials.