How to Add Molding Panels to a Flat Door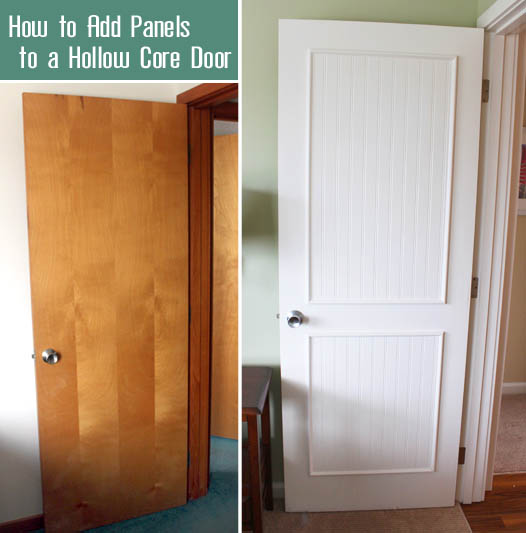 When my sister brought me on to the Topsail Beach condo renovation, she had a laundry list of DIY projects she wanted me to complete. One of them was dressing up the hollow flat doors with moulding panels. She showed me a pin that led to One Life to Love's DIY beadboard panel doors. After seeing the photo, I knew it would be a great DIY upgrade to make. But, we decided to use real beadboard (instead of beadboard wallpaper) because it had to hold up to the stress of being a rental.
To Begin:
Start by measuring and marking the doors to determine the size of your panels.
Draw lines 5″ in from the top and two sides of your door.  Draw the bottom line  6″ up from the bottom. Finally, leave 5″ between the top and bottom panels.
When marking your doors, use a pencil and level to draw your lines.
After we had our panel measurements, Caitlin and I headed to Lowe's. But, she refused to push me in the cart (party pooper!)
We pulled some 4′ x 8′ beadboard panels and took them to the lumber cutting area. We gave the Lowe's employer our measurements and asked him to cut the boards for us. While he cut our beadboard, Caitlin and I gathered the rest of our supplies.
Materials:
Beadboard panels
Moulding to frame panels
Pencil
Instructions:
Assess the condition of your door. If there are chips or dings, you need to fix them before proceeding.
Apply wood putty and allow it to dry.
After dry, sand the putty smooth.
Time to apply the beadboard panels. Squeeze construction glue onto the back of the beadboard panels.
Set the panels on the door and double check the level and plumb of the panel.
Press the panel firmly to spread the glue. Use the finish nailer to secure the panel around the perimeter.
Attach the lower panel next.
To trim the panel, measure and cut your trim molding to fit around the panel.
Set your top piece in place and secure it with the finish nailer.
Set the side pieces in place. Use painter's tape to hold the corners tightly. Use more tape to secure the side piece if necessary.
Attach the side molding with finish nails.
Attach the opposite side and the bottom molding pieces. Putty the nail holes and caulk the seams. Then prime and paint the doors.
Ooolala. How about that transformation?!
The newly paneled doors make a huge difference in the look of the condo.
It's all in the details.
Like what you see? Take the tour of the entire Topsail Beach Condo Renovation for more upgrade ideas.

Pin for later!
https://prettyhandygirl.com/wp-content/uploads/2014/01/how-to-panel-hollow-core-doors.jpg
533
526
Brittany Bailey
https://prettyhandygirl.com/wp-content/uploads/2021/07/PHG-logo-tagline-2020-1030x211-R.jpg
Brittany Bailey
2014-01-22 07:00:00
2020-12-29 16:51:48
How to Add Molding Panels to a Flat Door