The Kitchen Renovation of 2013 – 1 Leak. 1 Year. 1 Woman.
2013 Could be called the year of the kitchen renovation in our house. Or the year that nearly killed me. Or the luckiest year of our lives. I'm still debating the title. What I do know is that, I decided to take on my biggest DIY project to date. I re-built my own kitchen from bare studs and subfloor.
It started one morning as I was confronted with a foul odor. It's only describable as that odor that usually lives in the high school gym locker room. I thought my 9 year old son's feet were starting to stink. Unfortunately a stinky pair of shoes wasn't the culprit, it turned out to be a very minor leak that turned into a very big kitchen renovation. We persevered through 45 days without a washer and dryer and many months without a kitchen. But, it was like being a contestant in Survivor. I lasted the year of construction; the set backs and sore muscles; and in the end I was rewarded with a brand new kitchen!
Today, I walk into our beautiful kitchen and I know it was all worth it! It was worth all the sweat equity, the daily Advil doses, and the tree falling on the house. If you want to reminisce with me as I recap my kitchen renovation of 2013, here's your ticket to all the tutorials and posts:
The Water Leak (and What You Should Know about Mold and Polybutylene Pipes)
The Asbestos Discovery and What You Should Know about Asbestos
 The Moment I Decided to Take a Kitchen Renovation into My Own Hands
How to Level a Concrete Subfloor
Installing Warmly Yours Radiant Floor Heating Mats 
My Design Plans for the Kitchen
Words from the Trenches: How to Survive without a Kitchen
How and When to File a Building Permit
Ahhh, Just when we thought things were moving forward:
Termite Damage: How to Spot it and How to Protect Your Home from Termites
Progress! Framing Out the Wall and Moving the Ventilation
How to Install and Trim a Casement Window
How to Install Drywall (Sheetrock)
How to Install Recessed Lighting
How to Paint Your Ceilings Like a Pro
How to Make a Smooth Chalkboard Wall (even if you have imperfect walls)
How to Install a Herringbone Cork Tile Floor
Protecting the Refrigerator Ice Maker Line from Future Leaks in 2 Simple Steps
How to Build a Wall Mounted Hutch
Building a Counter Height Desk with a Habitat Desk and Free Table Top
How to Re- finish an Old Table Top to Make a Desk Top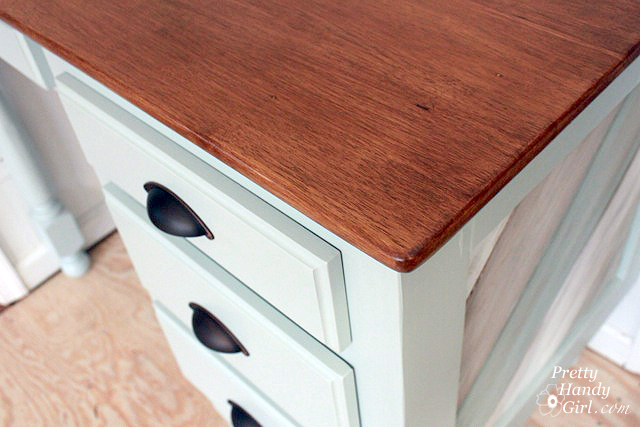 The Distressed Painted Side Panel Tutorial
How to Move a Floor Register (into the front of a Window Seat)
How to Install a Hard Wired Pendant Light
How to Build a Custom Wood Range Hood
Final Touches! How to Hang a Keybox
Faux Painting Aged and Chippy Corbels
How to Install Shelving on a Tile Wall
The Final Reveal (& Holiday Home Tour)
And that my friends pretty much sums up 2013! It was a very productive year. Thank you to everyone who left me comments and cheered me on. Your faith in me helped me persevere.
Now that the kitchen is done, you'd think I might take a break. Nope, not my style, I am looking forward to another DIY-ful year! How about you? What are your plans for 2014?

https://prettyhandygirl.com/wp-content/uploads/2021/07/PHG-logo-tagline-2020-1030x211-R.jpg
0
0
Brittany Bailey
https://prettyhandygirl.com/wp-content/uploads/2021/07/PHG-logo-tagline-2020-1030x211-R.jpg
Brittany Bailey
2014-01-17 07:00:00
2018-04-20 21:31:14
The Kitchen Renovation of 2013 – 1 Leak. 1 Year. 1 Woman.