Dragonfly Garden Decor using a Wire Whisk + Skewer
Summertime is coming and I'm enjoying spending more time in our garden. I'm always looking for cute craft ideas that I can do with the kids while school is out. When I saw this great idea for making a wire whisk dragonfly on Morena's Corner, I knew I had to try it. I altered Morena's plans slightly using plastic beads and used a skewer for the plant stake. The cost and materials are minimal to make this Dragonfly Garden Decor using a Dollar Store Wire Whisk and Skewer. This craft can be done with the kids, but you'll need to be the one to cut and bend the wires and watch out for the pokey edges with real little kids.
Dragonfly Garden Decor Materials:
Wire whisk
Wire skewer
Beads
Needle-nosed pliers
Dragonfly Garden Decor Instructions:
Begin by bending the first wire loop out to the side to create a wing.
Repeat with three more loops (2 on each side).
Use the needle-nosed pliers to cut one wire loop into two short pieces as shown below. (You might need to twist the pliers back and forth to cut the wires.)
Cut the middle loop in the center.
Curl the two longer wires at the ends to create the antennae.
Bend the shorter wires into curly cues that wrap back onto themselves for the eyes.
Slip a bead onto each of the curly cues. These are your dragonfly eyes. You might need to manipulate the curly cues to keep the beads from slipping off.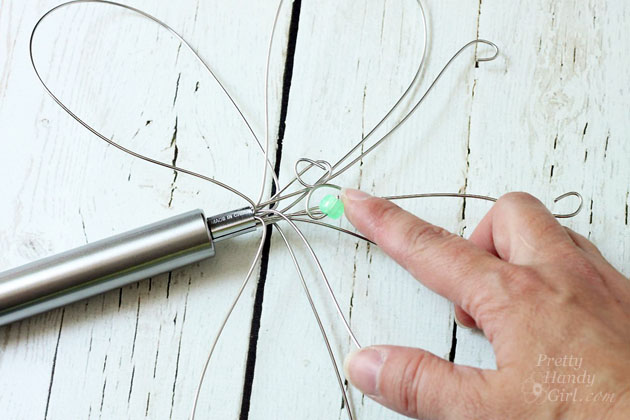 The dragonfly is complete and should look like this:
Bend the handle end of the skewer with the pliers.
Manipulate the skewer so you can slide the handle of your wire whisk into the skewer end.
Slide the whisk onto the handle until the dragonfly is balanced on the skewer.
Stick your dragonfly into a plant…
…or into your garden…

…or give your dragonfly as a gift to a friend.
Hope you enjoy and have a great summer!
Pin for later!
https://prettyhandygirl.com/wp-content/uploads/2015/05/dragonfly-whisk-finished.jpg
420
630
Brittany Bailey
https://prettyhandygirl.com/wp-content/uploads/2021/07/PHG-logo-tagline-2020-1030x211-R.jpg
Brittany Bailey
2015-05-25 07:00:00
2021-07-08 16:19:17
Dragonfly Garden Decor using a Wire Whisk + Skewer