Double Ribbon Valentine Wreath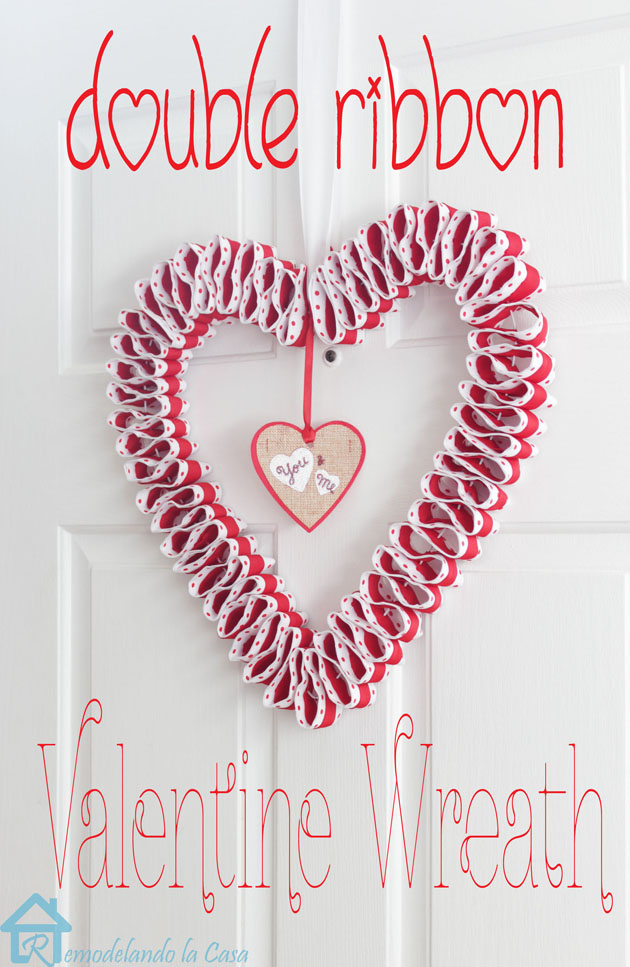 Hi, this is Cristina from Remodelando la Casa, I'm so glad to be here once again, sharing with you a cute and easy project just in time for Valentine's day.
While walking through Costco (it always happens there, you go for groceries but come back home with so many things that weren't on your list!), I spotted some gigantic spools of ribbon that for only 8 bucks, so I grabbed one and my project began taking shape inspired by a wreath created by Jessica.
Materials:
One wire hanger
15 yd. wired edge ribbon (1.5″ wide)
15 yd. wired edge ribbon (.62″ wide,  a contrasting color from the previous one)
Pliers
Awl
Small decoration to hang in the center of wreath
2 yd. decorative ribbon to hang the wreath in place
Scotch tape or glue gun
Instructions:
Using pliers, unravel the coil on the hanger.  Make a heart shape out of the hanger.
Unwrap your entire ribbon spools (I used 15 yds. of each, but you can certainly use less than that. Or only use one ribbon as my inspiration did.) Find the ends on both ribbons and secure them with tape, wrong sides facing each other.
Find the center fold on each of your ribbons, place the narrower ribbon fold over the wider one.
Now it's time to get the ribbon onto the wire. Since you're going to poke through four layers of ribbon, an awl helps score those holes without damaging the ribbon.
The first hole can be done at 1¼" from the center fold. Insert the wire. Continue poking holes every 2½"…
Let the ribbon zig-zag back and forth until it is completely threaded onto the wire.
Coil the wire ends, cut and bring the small coil upwards. Use hot glue or tape to tidy up the end of the ribbons.
Fluff and arrange the folds.
Attach a center decoration.
Finally, use the extra piece of ribbon to hang it on your door.
Have a Happy Valentine's day!
~learn more about Cristina~
Pin for later!
https://prettyhandygirl.com/wp-content/uploads/2014/01/zig-zaging-ribbon-wire.jpg
417
620
Cristina Garay
https://prettyhandygirl.com/wp-content/uploads/2021/07/PHG-logo-tagline-2020-1030x211-R.jpg
Cristina Garay
2014-01-31 07:00:59
2021-08-13 02:38:49
Double Ribbon Valentine Wreath