Hey everyone!! It's Shara here again from Woodshop Diaries to bring you a simple, versatile, and really fun project. It's a scrap wood caddy!
I hesitate to put a label on what type of caddy it could be because you can carry whatever you want inside. Cleaning supplies, tools, craft knick knacks, gardening accessories — the possibilities are endless!
The size is easy to customize and you only need a few tools and some scrap plywood. If you don't have any scraps, pick up a quarter sheet of 3/4" or 1/2" plywood at the lumber yard or big box store to make this.
If you're ready to get building, here's the plan:
Materials:
(I've included affiliate links for your convenience. I earn a small percentage from a purchase using these links. There is no additional cost to you. You can read more about affiliate links here.)
Hammer and nails or nail gun
Scrap ¾" or ½" plywood (or ¼ sheet if you don't have scraps)
Nails
Cut List:
(Keep in mind: you can customize for different size scraps or for a larger or smaller caddy)
(2) pieces 3/4" x 8" x 19" (front and back)
(1) piece 3/4" x 8" x 17 ½" (bottom)
(2) pieces 3/4" x 8" x 8" (sides)
(1) piece 3/4" x 8" x 12" (middle divider w/ handle cutout)
(2) pieces 3/4" x 8" x 6 ½" (middle dividers)
Instructions:
Step 1: Cut out middle divider with handle
Cut your scraps to 8" wide to make the build easier. (If you don't like 8", you could make it another size, but the cut list will change slightly.)
Take a piece of 8" wide x 12" tall and mark the center. Measure and mark 2" to each side of the center and 5" down. Draw diagonal lines to connect the marks as shown:
Use a miter saw to cut the diagonal corners off.
Draw a handle hole. To make this an easy task, drill two holes first (using a drill bit or hole saw) to get the blade in.
Then cut along your line.
Sand your edges smooth.
Step 2: Cut out the front and back sides
Cut two pieces of your plywood to 8" x 19". Find the center of one of the pieces lengthwise. Flip the middle divider from step 1 upside down and center it on the 8″ x 19″ plywood. The top of the divider should line up 3" from the bottom of the plywood. Trace the diagonal cut out onto the plywood and cut out using a jig saw. Trace the same shape onto the second 8″ x 19″ plywood piece and cut out to match.
Step 3: Assemble the bottom
Cut the bottom piece* (8" x 17 ½") and 2 side pieces (8" x 8").
*If you are using 1/2" scrap plywood instead, be sure to add an extra 1/2" to the length of your bottom piece.
Glue and nail the pieces together as shown below. You can use hammer and nails, but a nail gun would be ideal to save time and prevent pieces from moving while you assemble.
Step 4: Attach sides
Glue and nail the front and back pieces from step 2 to the sides and bottom from step 3.
Step 5: Assemble the middle dividers
Cut the 2 middle dividers from the cut list (8" x 12"). Measure and mark the vertical centers of the divider pieces. Make sure that the piece with the handle is centered on the middle dividers. This will make your inside "compartments" the same size.
Glue and nail these pieces to the handle cut out piece from step 1.
Step 6: Add dividers
Slide the dividers into the box you made in step 4 and make sure to center it. Nail the dividers in place through the front and back of the caddy. You can add a couple nails in the bottom as well, just be careful that you don't miss and have stray nails coming up through the bottom of your caddy.
Give your caddy a good sanding and it's good to go. You can add paint or stain, but I left mine natural.
This caddy could be used for cleaning supplies. . .
. . . craft supplies. . .
. . . tools or any small things you want to organize.
Don't you love a good scrap wood project? Me too! For more fun scrap wood projects, check out this DIY personalized lazy Susan made from 2x scrap boards, or this floating mirror shelf made from a scrap 2×4.
You may also like these simple scrap wood caddies: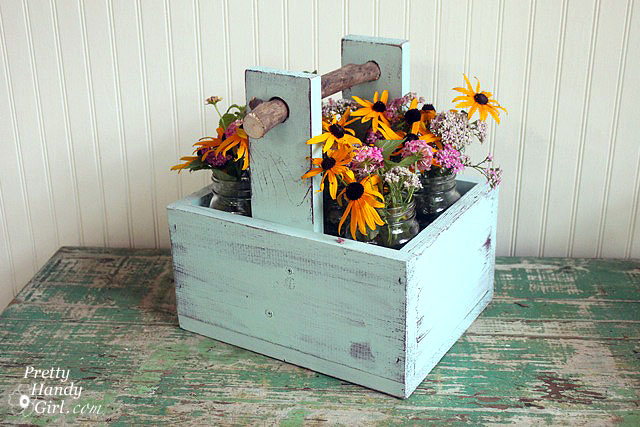 Until next time, happy building!
https://prettyhandygirl.com/wp-content/uploads/2017/06/IMG_2616-1280x853.jpg
557
740
Shara M
https://prettyhandygirl.com/wp-content/uploads/2021/07/PHG-logo-tagline-2020-1030x211-R.jpg
Shara M
2017-06-28 07:00:06
2017-06-28 00:33:35
DIY Scrap Wood Caddy