Pantry Reveal with Coffee Bar and Hidden Wine Storage
Today's the day I'm finally sharing the Pantry Reveal, complete with a Coffee Bar and Hidden Wine Storage! Let me warn you, this isn't your ordinary pantry. This space is multi-functional. The dreams of a better and more organized pantry started four years ago while I was in the thick of our kitchen renovation. For 48 months I've mulled over the plans to have food storage that works better for how my family lives.  At first I used painter's tape to try to figure out better spacing (excuse the poor photo quality. This was taken before I improved my photography skills):
The shelves were only 12″ deep in a 36″ deep closet. That's 2/3 of the pantry not being utilized. I'm sure you or someone you known has a similar 6 foot wide pantry with bi-fold doors. Be sure to share this post so they know there is hope for a more organized pantry.
As another year past, my plans began to take shape utilizing more of the depth of the pantry:
Then my plans evolved into this chicken scratch sketch:
After the plans sat in my head for a while, I used Sketch Up to utilize every square inch of space in the closet side. . .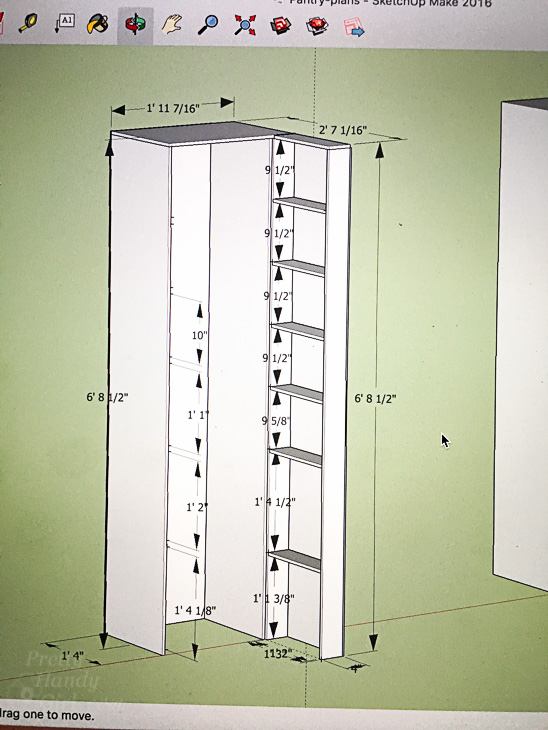 . . .which you probably saw when I showed you how to build chalkboard front drawers
and how to use vintage rulers as shelf stops.
The closet side of the pantry holds roughly 2/3 of what the original 6 foot wide pantry did!
The other two thirds of the pantry area was set up with upper and lower cabinets and a walnut counter top. I ordered the cabinets from Kith Cabinets (the same manufacturer that made the rest of our kitchen cabinets) because I worried that I wouldn't be able to match the quality if I built them myself.
The upper cabinet is deceiving because it is actually 18″ deep (as opposed to a normal 12″ deep upper). Which means we have a lot more storage within those cabinets.
We have some amazing storage now! Large pull out shelves hold all the chips, pretzels and snacks. I debated ordering  a three drawer cabinet, but ultimately knew I'd prefer the deeper storage that the trays offered.
At some point, I'll build custom dividers for the chips and snacks. The baskets work well, but there is a 3-4″ gap behind them that I could use. (I'm all about utilizing that space wasted space!)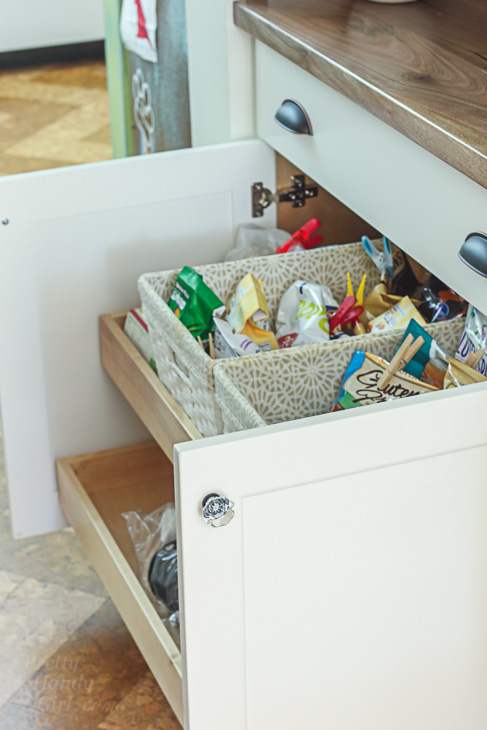 The drawer is perfect for coffee stirrers, extra k-cups, plastic utensils, straws and more.
Speaking of coffee, it's a wonderful feeling having a dedicated coffee station now.
When guests come to our house, the first stop (after the mudroom) is the coffee bar! I wish I had a photo of the bi-fold pantry doors before. They were uninviting and bland. This is essentially what they looked like:
BORING!
This is what greets us now:
You may recall our DIY Chalkboard Calendar wall. We still use it for the kids' and family's activities. It helps the boys feel more connected with our schedule and lets them keep up with events and upcoming travel.
But wait, that's not all! Are you ready to see the hidden wine storage?
Hold onto your wine glass!
How cool is that?
We can remove the doors if we want.
This makes the perfect spot for self serve wine at an open house party.
Normally we access half the wine storage at a time.
The real star of this pantry makeover is the rustic reclaimed wood plank wall. (I need to mention that I was approached by Timberchic about working with them on a sponsored post. A year passed before I contacted them back with the idea to use their wood panels in my pantry makeover.)
Those planks are a super DIY friendly product called Timberchic. The wood is salvaged from logs lost during lumber transport in the Maine river and lake systems. You can read the amazing story here and learn how Timberchic is helping the local ecosystem.
The planks can be purchased in 3″ and 5″ lengths.  I chose 5 inch planks in a variety of natural and whitewash, then cut them into thirds for my project. (I've suggested that Timberchic should sell these thinner planks. Be sure to send them a tweet letting them know you like the thinner look too!)
In the meantime, I put together this little video to show you how easy it is to install the Timberchic panels:
Now we have a beverage center for day or night!
What do you think? Do you like the new pantry, coffee bar and hidden wine storage area?
I'm not sure I can still call this a pantry. A Pantry with Coffee Bar and Hidden Wine Storage?
or does it qualify as a butler's pantry?
I don't know for sure, but I do know that I love all the storage. . .
. . .and the view when we come into the kitchen.
Do you have a 6 foot bi-fold pantry? Why not turn it into something you've always dreamed about.
Disclosure: This is a sponsored post for Timberchic. I was compensated for my time and promotion of the Timberchic products. As always, I'm very particular about the brands I represent. I only work with products I love and want to share with my closest friends.
https://prettyhandygirl.com/wp-content/uploads/2017/06/open-wine-storage-door-animation.gif
487
730
Brittany Bailey
https://prettyhandygirl.com/wp-content/uploads/2021/07/PHG-logo-tagline-2020-1030x211-R.jpg
Brittany Bailey
2017-06-05 07:00:00
2021-06-10 13:33:54
Pantry Reveal with Coffee Bar and Hidden Wine Storage