I'm always looking for ways to simplify my holiday decorating and re-use what I have. This DIY Jingle Bell Garland project is perfect for that!  Perusing the holiday collections at my favorite home stores gave me the idea of making this simple bell garland. It's a lovely nod to Scandinavian decor if you like that style.
Hello, Pretty Handy Girl Readers! Now that the holiday season is upon us, I thought it would be fun to share an easy DIY project to help you decorate your homes this year.
All you need are two inexpensive items to make this. (You might even have them already. Hint: Look in your gift wrap stash!)
That's right – these bells are actually cheap gift toppers from Target.  Yes, they are functional and they sound beautiful (like Jingle Bells!)
This garland will take you all of ten minutes to create, and another five to hang it up. How's that for simple, inexpensive, and quick!
Let's get creating!
Materials:
(I've included affiliate links for your convenience. I earn a small percentage from a purchase using these links. There is no additional cost to you. You can read more about affiliate links here.)
Instructions:
Follow these steps to make lovely little bell garlands. I'll include tips for hanging, decorating, and storing as well.
Step 1: Cut a long piece of string
Whether you are using baker's twine, jute, or ribbon, cut a long piece to get started. My piece ended up being about 30 inches long. You can always snip any excess off at the end.
Step 2: Thread your bells on your string:
Time to thread those bells on! My gift toppers came with a little loop to attach them. I'm sure your bells will, too. All you need to do is tie a little knot to make sure they stay. You don't want the bells sliding all around on you.
I decided to space my bells out a bit, but you can also string them close together. But, if you do, you'll need more bells!
Step 3: Hang up your garland
Once all your bells are knotted and secured on the string, it's time to hang it up.
Initially, I was using scotch tape. However, my garland kept falling! (Consequently, I've been hearing a lot of fallen jingles in this house today). I ended up using 3m clear light clips and they are not falling anymore. You can tie both ends of garland onto the light clip and hang it up that way. If you are also decorating with garland, this helps to hide the clips as well.  It has not fallen since! Yay!
Where to hang your bell garland?
Call me traditional, but I like these bell garlands draped across a window or hung from a mantel. They feel so Christmas-y to me!
Some other ideas would be to drape them across a mirror or over a pretty piece of artwork.
Have open shelving? Drape them on your open shelving like it was a mantel!
What about storing your garland?
After the holidays are over, it's time to pack up all the decor! But wait — how do I store this garland without it getting tangled?
So glad you asked! I found the simplest way to store these garlands is to tape one end to a piece of sturdy cardboard, then wrap the garland carefully around the cardboard and finish by taping the other end.
It's secure and it won't tangle on you! You might also appreciate these 9 Holiday Storage Hacks for your other holiday items!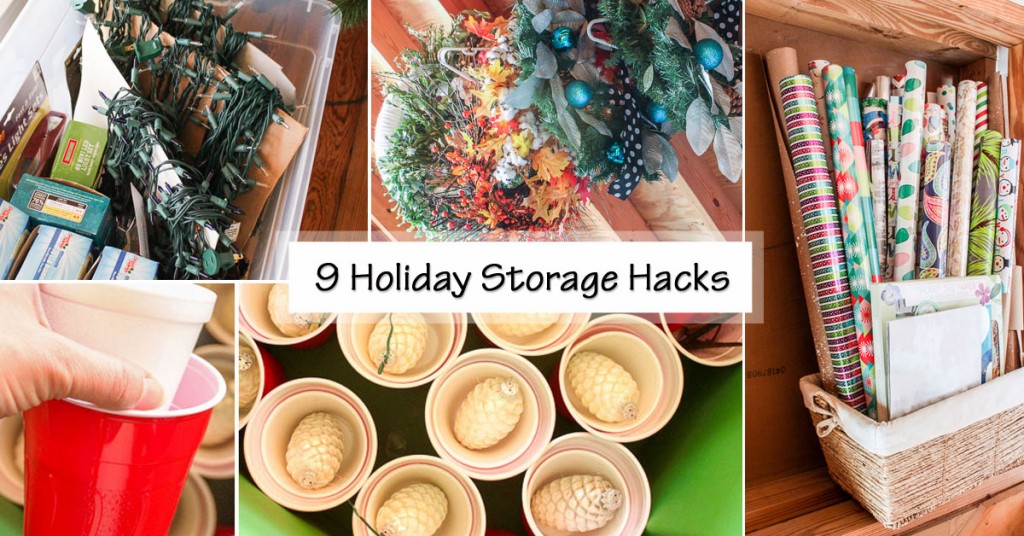 I love the way this bell garland turned out. However, I think a nice satin ribbon in red or white might be my go-to for next year. I love the contrast between the gold bells and the silky ribbon. In the meantime, pin this tutorial to share with a friend!
Looking for more Holiday Decorating Ideas? Check out these DIY frosted votive candle holders and this rustic Christmas tree crate.
I hope you are all having a wonderful Holiday Season so far! See you right back here next month.
~ See More of Karen's Tutorials ~
Hello!  I'm Karen, the creator of the Home Decor and DIY Blog: Decor Hint. I'm a Native of the East Coast, but I currently live in beautiful Seattle with my hubby, our two wonderful children, and our spunky wheaten terrier.
You can usually find me with some sort of craft in one hand and a coffee in the other. And I'm always rearranging furniture or moving lamps from room to room. I have a passion (read: obsession) for decorating, DIY, and gardening. In short, I love making my house into a home.
Like many, I'm inspired by what I see in home decor magazines, but I'm not so inspired by the price tags.  Consequently, I love finding and creating beautiful budget-friendly home decor items. In a head to head competition, I bet you'd never know the difference between the designer items and my DIY creations!  Many of my DIY projects focus on sewing, crafting, upcycling and organizing. Some of my favorite projects have been making pretty wreaths, sewing my own tassel hand towels, and crafting these trendy wood bead garlands. I can't wait to inspire you and spark your creativity through my DIY projects.
You can always connect with me on Pinterest, Twitter or Instagram.
https://prettyhandygirl.com/wp-content/uploads/2019/10/Mantel-with-greenery-and-bells-for-Holiday-decorating.jpg
493
740
Karen Decor Hint
https://prettyhandygirl.com/wp-content/uploads/2021/07/PHG-logo-tagline-2020-1030x211-R.jpg
Karen Decor Hint
2019-11-27 07:00:31
2019-12-16 11:06:57
DIY Jingle Bell Garland