Color Harmony in Decorating
One of the most frequent complaints from homeowners is struggling to choose colors for their home. When you walk into the paint store, the color selection can seem overwhelming. Choosing a rug or furniture can be equally daunting. Today I'll give you some tips and tricks for creating color harmony in home decorating. You'll learn a little knowledge about color theory, complements and harmonies that make choosing colors much easier. Plus, you can use the same theories in almost any visual field. From  graphic design and web design to choosing your outfit for a big event. Pretty soon, you'll be able to put together pleasing color palettes with ease.
I'm sure you've stumbled across art, paintings or photos that use visually stunning color palettes. Chances are that the artist or designer put thought into each color and how they work together. Let me introduce you to color relationships and harmonies!
You've heard the term complementary colors, but do you know what defines a complement? Here are the definitions of the various color relationships or harmonies and some great sample palettes you can use in your home!
Complementary Colors:
One of my favorite color combinations are the gorgeous pinks in a bouquet of peonies paired with an aquamarine ball jar.  Something about this palette stops me in my tracks every time! The reason this pair grabs my attention is that those two colors are complementary.

Photo courtesy of Two Twenty One

Red/orange and blue/green are directly across from each other on the color wheel which makes them complementary or a perfect pair. (Kind of like wine and chocolate…right?!)
Here is another example of a complementary color palette. Blue and orange are stunning together. All the blues are balanced by a few pieces of fiery orange that demand attention in Sarah Richardson's nursery below.

Photo courtesy of Sarah Richardson via HGTV.ca
 Split Complementary Colors:
Elise from Grow Creative is my newest favorite eye candy blog. She is a watercolor artist and photographer. You should definitely subscribe to her blog for a visual pick me up every time she posts! Her watercolor painting of a cactus contains a great example of the split complementary relationship.

Photo courtesy of Grow Creative
Although, she only used a little of the bright red-orange color at the tips of the cactus, the bright color holds its own opposite the blue and green split. Without the orange, this painting would still be beautiful with an analogous palette (see the explanation of an analogous palette here.)
In the photo below of the Thistle from Grow Creative, the opposing colors have a wonderful split complementary relationship.

Photo courtesy of Grow Creative
The purples and green steal the show for sure, but the small hint of yellow gives this photo more complexity.


Analogous Colors:
While attending the La-Z-Boy event, I fell in love with Beth from Home Stories A to Z's room design. The dark and light contrast of the navy with the crisp white doors stole my heart for sure. But, the decor colors really complete this stunning palette.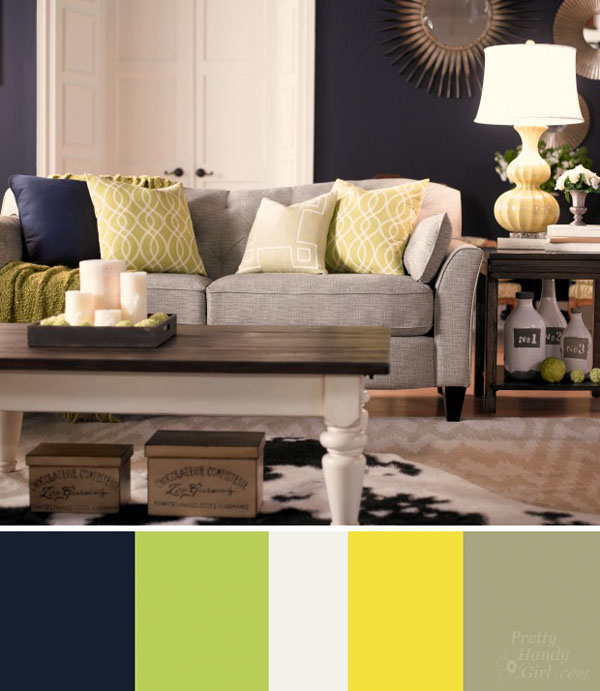 Photo courtesy of Home Stories A to Z

The key colors in her room are navy, light green and yellow. The white and grays are neutral therefore, they work with any color. Together you have a great example of an analogous palette.
Another example of an analogous palette is seen in this photo of a paper floral table runner by Fiskars:
Choose colors that are adjacent to each other on the color wheel for a gorgeous analogous palette. These colors together are sunny, warm, energetic, but most of all harmonious.
Tetrad and Triad Palettes: 
Now we're getting into a few of the more complex palettes. They aren't hard to use, but do require a little more thought in terms of amounts and value. The bold palette in this dining room works well because they are presented against a neutral black and white backdrop.

Photo courtesy of John David Edison Interior Design in Toronto, ON
The blue, yellow and pink colors form a perfect triangle on the color wheel making them a great example of a triad relationship.
This bouquet my husband gave me for my birthday is a wonderful example of a Tetrad palette at work.
The four colors (red/yellow/blue-violet/green) are equally spaced on the color wheel. Using all these colors in a room design can be gorgeous, but you should choose one main color and a secondary color that will dominate and let the other two colors take up less visual space. As an alternative, you could balance the bold colors with a large amount of a neutral color(s) as shown in the dining room above.
Monochromatic:
After explaining some complex color relationships, I wanted to leave you with a very simple palette. The monochromatic palette is comprised of one color used throughout a room with differing values (shades of that one color achieved by adding white or black.)
My screen porch has a monochromatic palette. Using a variety of shades of blue with white creates a calming palette that's easy on the eyes (and invites one to sit for a while and relax.)
For a little more punch, you can pair one color with black and white.

Photo Courtesy of MintSix Boutique Homewares and Styling in New Zealand

Mint Six Boutique creates a beautiful example of a monochromatic palette with several shades of red and coral in this bedroom.
The coral color steals the show, but is highlighted by the contrasting black and white in the room. Using strong contrasts in your home are sure to create visual impact.
Where to Get a Color Wheel:
Creating new color palettes is easy if you use a color wheel. You can purchase a color wheel on Amazon for less than $10! Once you have one, you can use it to choose colors for a room palette, coordinate your outfit for a big event, tablescapes, logo design and much more.
Before you have one of these great color tools on hand, you can visit ColourLovers. It is a website that allows you to browse color palettes:
(Feel free to follow me on COLOURlovers, as I upload my new favorite color palettes.)
Or you can create your own palettes. One of the best tools on their site is Copaso (found under tools). You can use it to upload pictures and/or create color palettes from scratch. To see suggested complements and harmonies, select one of the buttons below the color wheel.
Find photos that have color palettes you love (Houzz and Pinterest are two great places to start). Then upload the photo in the Copaso program. The program lets you pixelate the photo so you can select exact colors (you can also fine tune the hue and value until you reach your desired color.)
I uploaded this beautiful seaside home from Houzz to create a new palette of seaside colors that appeal to me:

Photo Courtesy of Donna Elle Seaside Living in Nantucket, MA
Next time you are thinking about shopping for home decor, paint colors or furniture, have a plan before you go. Use color harmonies and complements to help you solidify your color palette. Planning ahead will help avoid that overwhelmed feeling.
Pin this post to refer to next time you are trying to figure out good color harmonies!
Enjoy picking fabulous color palettes from now on!

https://prettyhandygirl.com/wp-content/uploads/2014/06/color-wheel.jpg
300
576
Brittany Bailey
https://prettyhandygirl.com/wp-content/uploads/2021/07/PHG-logo-tagline-2020-1030x211-R.jpg
Brittany Bailey
2019-03-31 07:00:00
2020-08-11 16:06:32
How to Pick Color Palettes: Color Harmony in Decorating