State Pride Magnetic Key Holder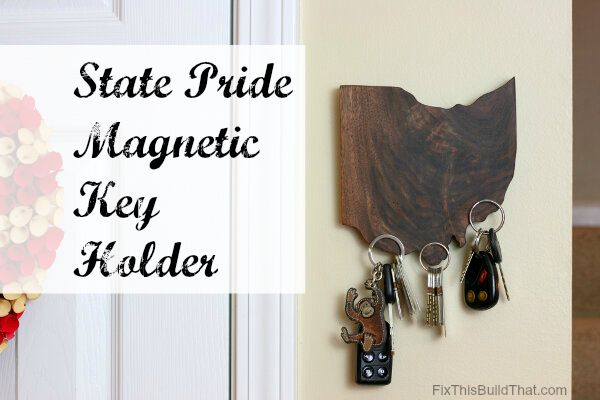 Today on the Rockstar DIY stage is Brad! Brad is our first guy rocker to join the tour. He has an amazing creative brain and woodworking skills that will blow your mind. Brad has created this State Pride Magnetic Key Holder for you to build. And if you look close you'll notice that it's magic because there are no hooks in sight!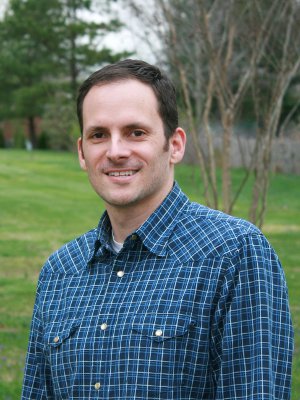 I told you he'd blow your mind. Brad normally rocks on his home turf at FixThisBuildThat.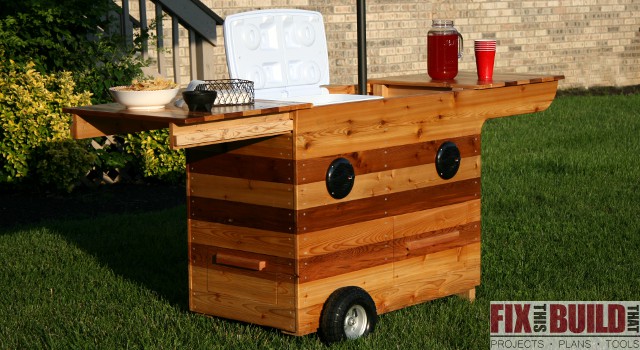 You may have seen his amazing Party Station recently. This cart comes complete with a spot for your beverage cooler, storage drawers and speakers. See, I told you he rocks!
I hear the whine of the scroll saw now, so let's give it up for Brad!
Hey, everyone! Like Brittany said, I'm Brad from FixThisBuildThat.com. My site is all about helping you with Woodworking & DIY Projects, Posts and Plans. And today I'm happy to be here on Pretty Handy Girl to show you how to make this fun State Pride Magnetic Key Holder. If you want to check out some of my other work you can see one of my most popular posts, the Adjustable Shoe Storage Bench.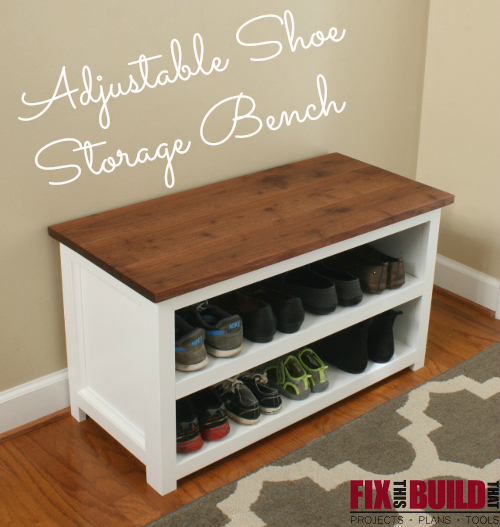 I've always been in love with state signs and cut outs and I've made several large state signs. But I wanted do something smaller, and I also wanted to solve the issue of always looking for my keys. In my house finding a set of keys is a little like playing Marco Polo…except the keys don't usually call back!
I had a really nice piece of figured walnut I wanted to use for something and that's when it hit me. State sign + really nice wood + key holder = Awesome project. I'd seen some similar things around the interwebs so I knew the perfect project to solve my issue.
Here is what you'll need for this project.
Materials:
Approx 6″x6″ piece of 3/4″ wood (size varies by state)
12 neodynium super magnets – 0.47″ dia x 0.10″ thick
Quick set epoxy
Picture hanger hardware
Spray adhesive
Jigsaw or scroll saw
Drill
1/2″ forstner drill bit (brad point or twist will work too)
Sandpaper
Stain/Finish of your choice
Instructions:
Here is the piece of wood I started with. It is approximately 6″ by 6″ rough cut walnut that was just under 7/8″ thick. I had to do some serious sanding to this thing, but knew there was beautiful grain underneath to uncover.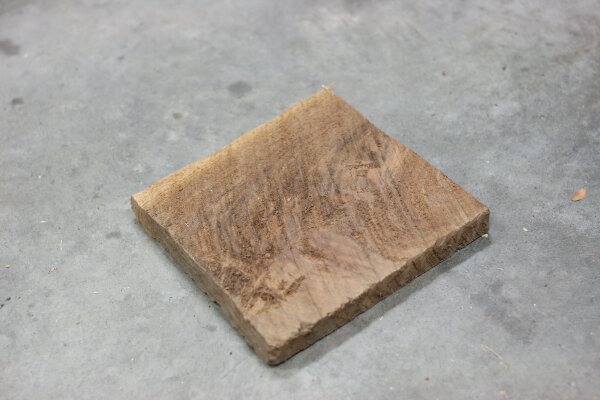 After a ton of sanding I got it down smooth to 3/4″ and here is what was underneath it…gorgeous! (I added a little mineral spirits to show off the grain)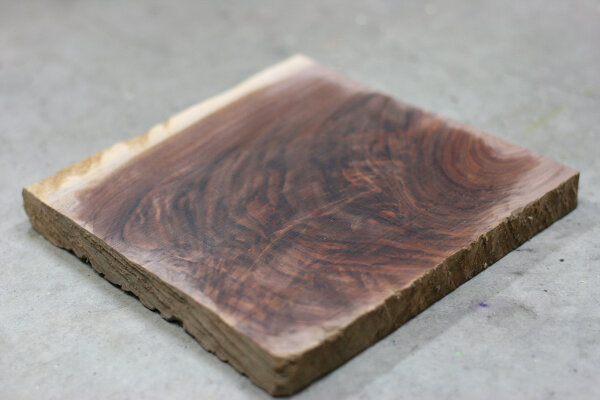 If you have a special small piece of wood this is the perfect project for it. If you don't have any nice hardwoods laying around this could be your perfect chance to try working with walnut, cherry, maple, mahogany or something else. Go to your local woodworking or lumber store and see if they have any small offcuts. If you want to stay with wood from the home center then a 1×6 or 1×8 will do just fine as well.
I decided to use Ohio as my state for this project. My wife and I lived there for 13 years, but really it's just because it fit way better on my board than Tennessee would have 🙂 To get the state shape onto my wood I used a printed outline of Ohio. I found a site called Coloring Castle that has state outlines for kids to color. The outlines are softened a little so it was just what I wanted.
I copied the image of Ohio and pasted it into Powerpoint and sized the image until it fit my board the way I wanted it. You can use a host of different programs or photo editors to do this.
After I printed out the Ohio shape I decided to take a little creative license with the shape of the state. I wanted straight sides and didn't want to mess with some of the more intricate tight curves like the peninsula up top. So I just drew in new lines where I wanted to cut. Empower yourself and redraw state lines as you see fit!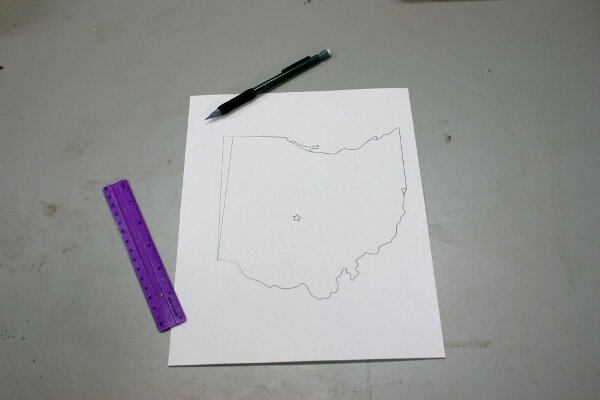 Next you need to temporarily glue the outline to the wood. Cut the shape out leaving about 1/4″ around the edges. Then spray a light coating of spray adhesive onto the backside of the cutout. Don't go crazy here or you won't be able to get the paper off without scraping or sanding. Practicing with some scrap wood and paper will give you a feel for how sticky your specific spray adhesive is.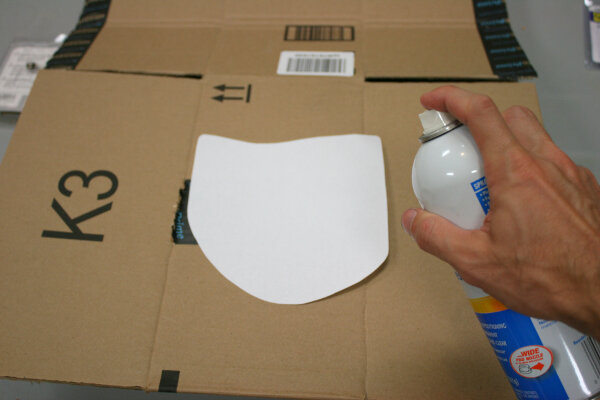 Position the outline where you want it on your board and press it down firmly.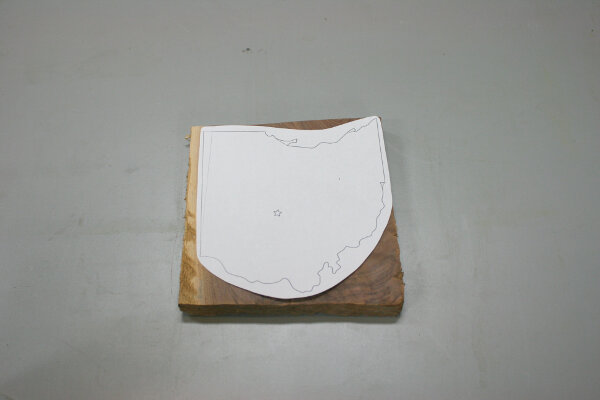 Now it's time for the power tools! Using a jigsaw or a scroll saw, cut out around the outline of the state. The smoother your cuts are here the less sanding you'll have to do later.
Start by taking off the big hunks you won't need and then work into the details.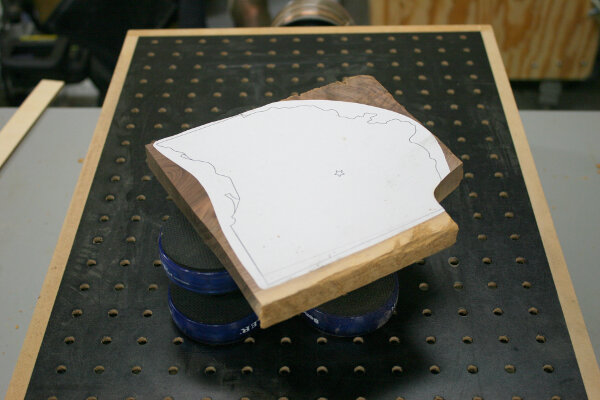 One thing that will help in this process is making relief cuts along your outline. Make relief cuts perpendicular to your cut line, stopping the relief cut before you touch the outline. This will help your blade from binding when cutting.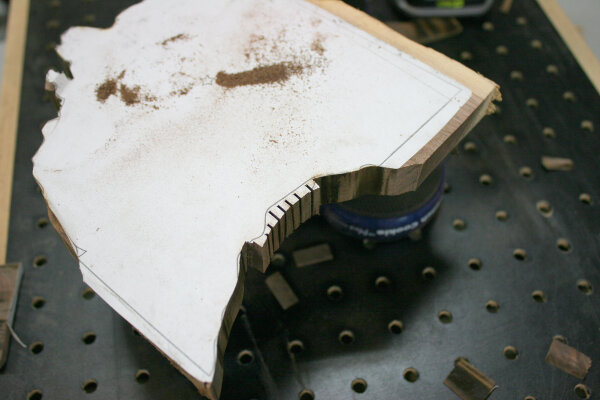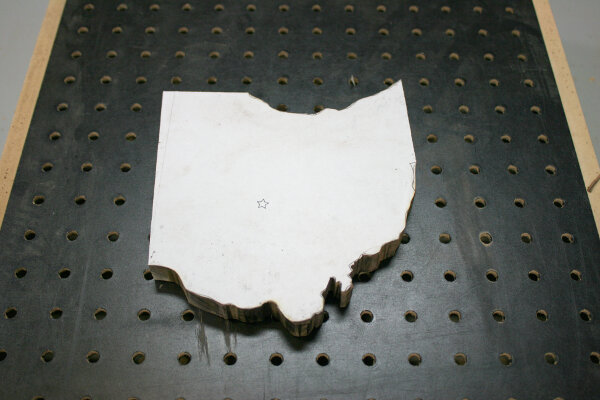 Another thing that helps is to pick the right blade. The jigsaw blade I used is a thin blade with a high tooth count. This gives you a smoother finish and lets you make tighter turns. Here is the one I used.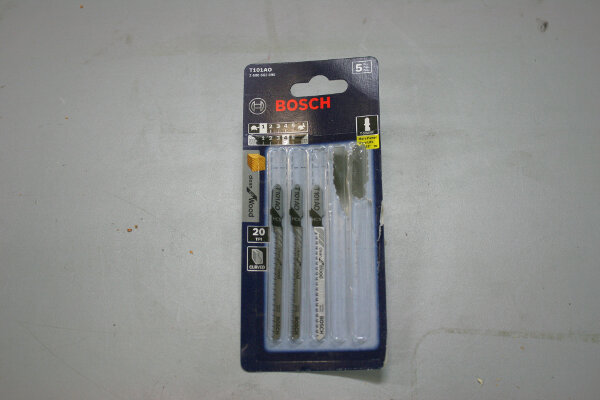 After you've completely cut out your shape you can peel off the paper to reveal your board. Hey, that looks like Ohio!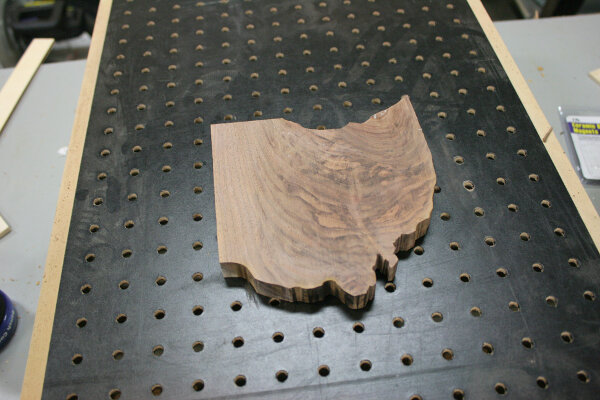 Now is the not so fun part…sanding. As careful as I tried to be, I still had a ton of rough edges that needed a lot of sanding. And sanding into these small crevices is not fun or easy. Take your time and use sandpaper, files, rasps, whatever you have to get into those areas. If you made Colorado then you should be in good shape here.
After sanding all the edges I went back and sanded the whole piece to 150 grit and smoothed the edges.
Next it's time to put the magnets in the board. The neodynium magnets I got from the big box were just under 1/2″. Size your holes for the magnets based on the ones you buy. Here are the ones I used.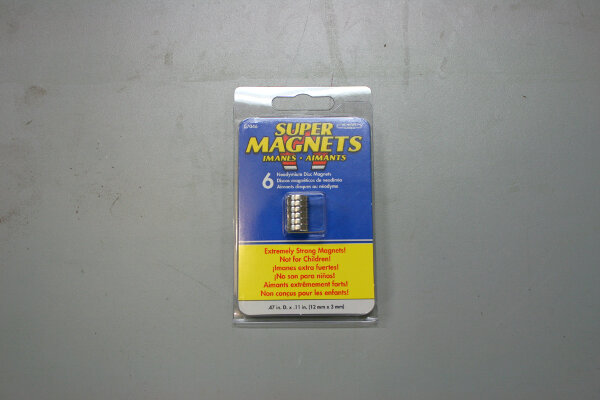 As for placement, I went with 3 holes that were along the bottom of the state. This will let the state still be fully visible even when keys are hanging. The goal with the drilling is to go through the back as deep as you can without puncturing the front of the board. The less wood left, the better the magnets will hold.
I used a 1/2″ forstner bit to drill my holes. Go slowly and keep checking your depth. The pointed spur on the end of the bit is going to be the piece that wants to poke through first. Again, doing some practice here on some scrap boards will help you a lot.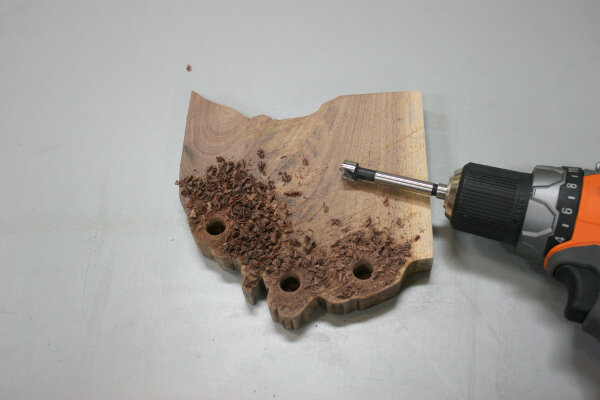 After some testing I found it took 4 of the 1/2″ neodynium magnets to firmly hold my wife's keys. Luckily it didn't take 5 because the 4 just fit in the full depth of the holes. If your key ring looks like a prison warden's then you might need to use bigger magnets.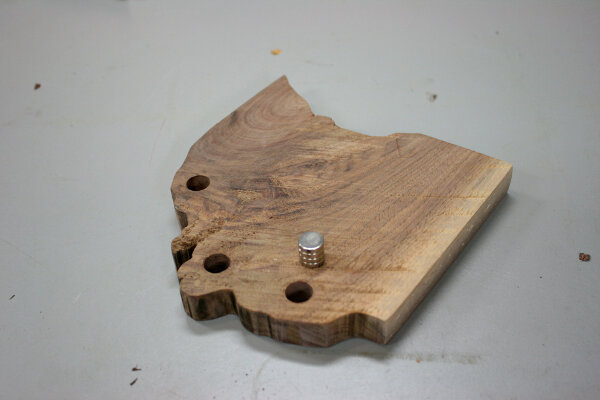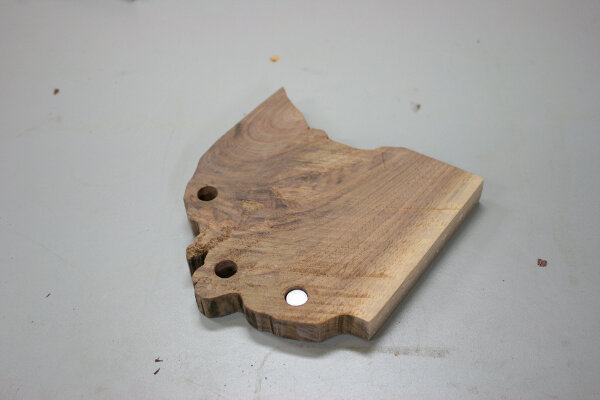 To set the magnets, first clean them off with acetone or rubbing alcohol and get all the dust out of the holes. Then use some quick set epoxy and firmly seat the magnets at the bottom of the hole with epoxy holding them in place on all sides.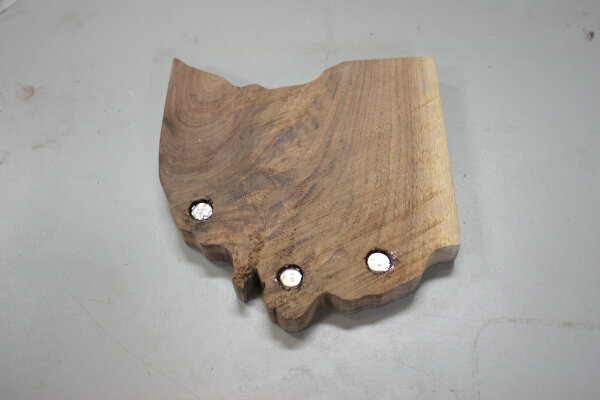 After the epoxy dried I put a finish on the holder of equal parts Boiled Linseed Oil, Polyurethane, and Mineral Spirits mixed together. This is a great finish to bring out the beauty of wood. Just wipe it on and let it sit for about 5 minutes then wipe off the excess. If you are using pine then you can stain and finish to your choosing.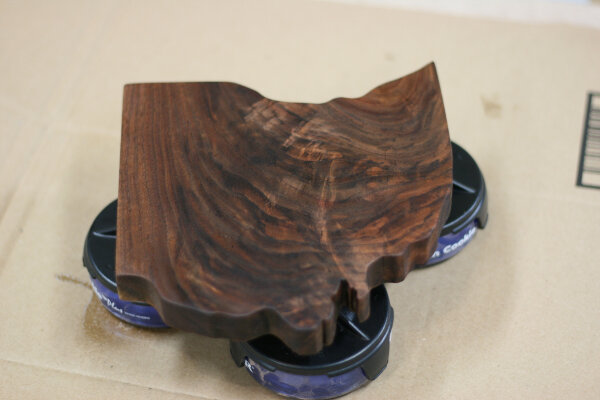 The last piece left is to put some mounting hardware on the back and take it for a test drive.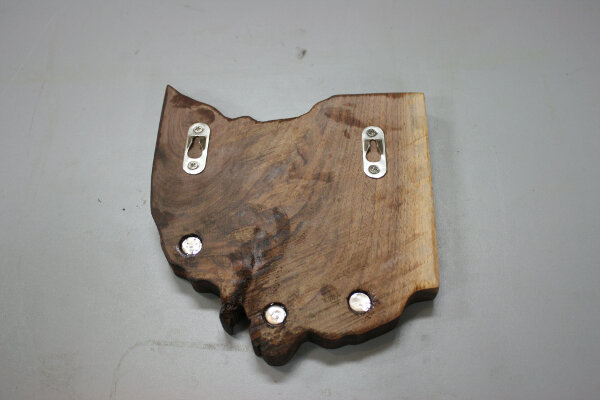 It works great, and hopefully there will be no more hunting for keys in our house…Marco….Marco. Choose your favorite state and make one of the State Pride Magnetic Key Holders for yourself.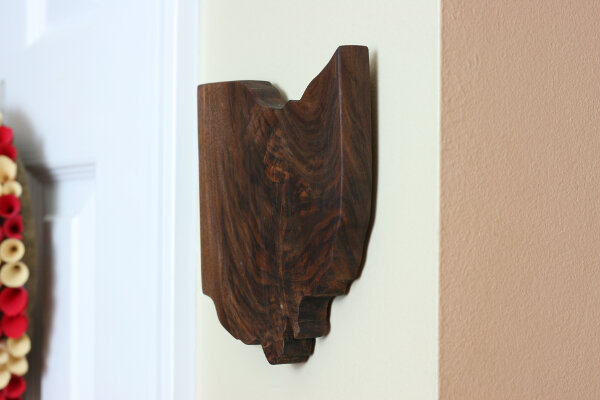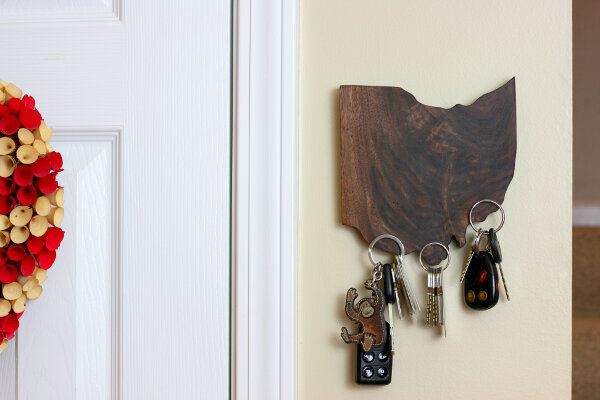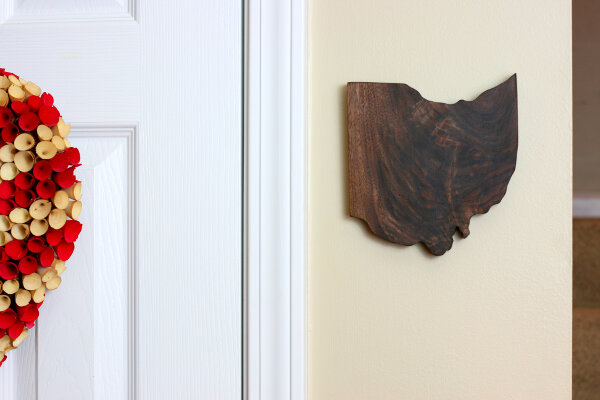 Thanks for having me and come check out my site FixThisBuildThat.com if you want to see more projects!
How cool is that "magic" State Pride Magnetic Key Holder? I knew you'd like this rockstar performance. Stay tuned for more Rockstar DIY celebrities!

Here is a list of the project performances so far:

Pin for later!
https://prettyhandygirl.com/wp-content/uploads/2017/09/state-pride-magnetic-key-holder-22.jpg
400
600
Brittany Bailey
https://prettyhandygirl.com/wp-content/uploads/2021/07/PHG-logo-tagline-2020-1030x211-R.jpg
Brittany Bailey
2015-10-02 07:00:00
2021-08-04 01:48:48
State Pride Magnetic Key Holder