Portobello Market in Notting Hill, UK
Hey y'all! I'm baaaccckkkk! Did you miss me? Probably not, because I pre-scheduled a month's worth of posts for you while we hopped across the pond for a European vacation! It was the chance of a lifetime, the boys and I toured London, Keswick and Scotland while P. Handsome Guy worked in his company's London office. I'll be sharing some of my journeys with you in the coming weeks. In the meantime you can check out some of my sneak peek photos on Instagram or Facebook.
But, now I want to take you with me to Portobello Market in Notting Hill, England. OH MY GOODNESS! When Pretty Handsome Guy said I'd love the Portobello Market, he knew my tastes to a "T" or should I say "Tea". 😉 In fact, once we arrived, it was evident that I wanted to absorb and photograph as much as I possibly could!
We took the London Underground (the tube) to the Notting Hill station on a Saturday morning (the only day the street vendors are set up.) Upon our ascent above ground, it was evident that we had entered the ritzier suburb of London made famous by the movie, Notting Hill.
Doors are painted cheerful colors, the front stoops were adorned with patterns of tile, and container gardens are abundant.
The architecture of these grande estates is beautiful and dripping with detail.
Unfortunately we had two tired, jet-lagged boys tagging along. So, Handsome Guy did what he does best, he gave me the afternoon to peruse at my own speed and took the boys to Hyde Park to play some soccer (or should I say Football for the British crowd.) Each vendor had their specialty: Antique lamps, silverware, leather sporting goods, books, old printing blocks and much much more. Instead of jabbering away, I'll just let you browse for yourself.
In one section of the market are the food vendors. This happened to be very entertaining to watch. The woman below sings out her menu in an operatic volume voice.
Then she turns around a split second later and stirs the gigantic pot of paella (at least I think that's what the dish is.)
  I found myself seeking a quieter spot to eat and wandered into a little bakery to get away from the crowds and grab a quick bite to eat.
The rustic shelving is exactly what I am craving for our kitchen (minus the plumbing pipes.)
Back outside the market was in full force as far as the eye could see.
Just a warning that apparently some vendors do not like having pictures taken of their wares. One vendor reacted like Sean Penn by getting in my face trying to tell me that photography was akin to stealing. He went on to explain it was like wearing shoes around and not buying them and that it was the same in the States. I looked at him in sheer bewilderment and said, "Nope, not the same." This is the picture I "stole" of his antique books.
So, be forewarned some vendors can get their trousers in a bunch if you take pictures. On the opposite end of the spectrum was sweet Alison who owns the shop Jensen & Ballantine. If you are in Notting Hill please look up her shop, pop in and say "Hi!" Tell her I sent you. 😉
She has the most fabulous antiques, furniture and home décor! I was so busy snapping pictures that I overlooked those gorgeous blue glasses. Now I'm kicking myself for not buying them!
The rest of the photos are from the Jensen and Ballantine shop. Enjoy!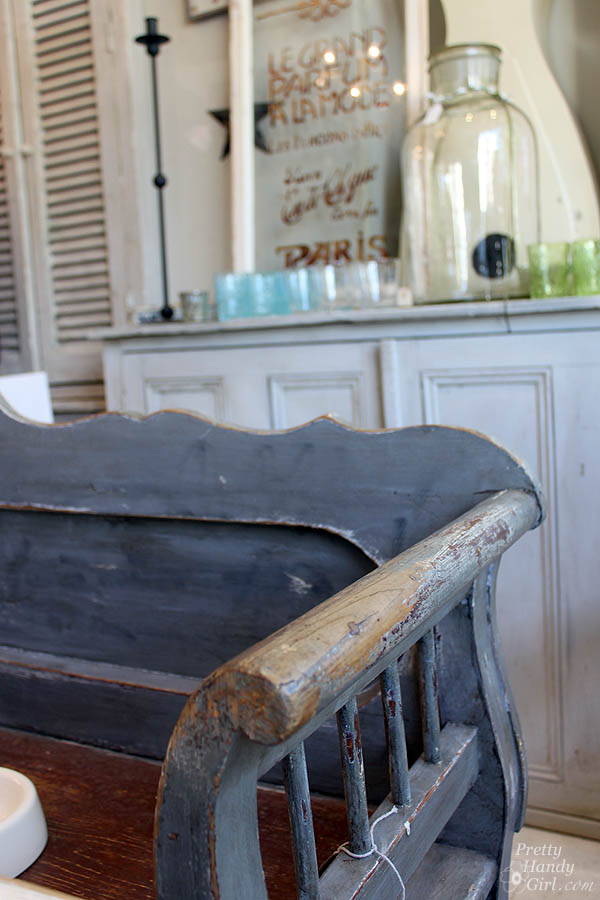 If you find yourself in London on a Saturday, head over to Notting Hill for the Portobello Market. It's a must see! And if you can't make it on a Saturday, the shops in the area are open the rest of the week as well (with the exception of the street vendors.)
Cheerio!
https://prettyhandygirl.com/wp-content/uploads/2021/07/PHG-logo-tagline-2020-1030x211-R.jpg
0
0
Brittany Bailey
https://prettyhandygirl.com/wp-content/uploads/2021/07/PHG-logo-tagline-2020-1030x211-R.jpg
Brittany Bailey
2013-07-12 07:00:03
2013-07-11 22:19:30
Portobello Market in Notting Hill, UK