Earlier this month, I ran across a roundup of super creative DIY outdoor games that Sara from MomEndeavors had put together!  After seeing how this crazy talented group of bloggers were able to build their own DIY outdoor games, I decided to try my hand at one that I've played for years at the firehouse when we're not busy running calls.  So, here's my quick tutorial on how to build your very own DIY Washer Toss Game!
Materials Needed:
(I've included affiliate links for your convenience. Brittany earns a small percentage from a purchase using these links. There is no additional cost to you. You can read more about affiliate links here.)
3/4″ Plywood
(2) 4″ PVC Couplers
(6) 2″ Washer with a 7/8″ inner diameter
Paint
Spray Paint (2 different colors)
Utility String
Sharpie
Scissors
Kreg Jig or Kreg Jig Jr
Sandpaper
Cut List
(4)  3/4″ Plywood, 3-1/2″ x 16″

(4)  3/4″ Plywood, 3-1/2″ x 14 -1/2″
(2) 3/4″ Plywood, 14-1/2″ x 14-1/2″
Here's a quick illustration to help you visualize how the box will go together!
Rip the plywood down to the 3-1/2″ strips, then cut them to length as indicated.  Next,  move your materials to a level work surface and begin assembly!
To attach the sides of the washer toss box together, you'll need to drill pocketholes using a Kreg Jig and a drill.  While holding the pieces together with a Kreg Right Angle Clamp, secure them in place with 1-1/4″ Kreg screws.  If you aren't familiar with the specifics on using the Kreg jig or pocketholes, take a look at this tutorial on How to Use a Kreg Jig.
Once you've got your sides assembled, lay the frame on top of the tool box liner and trace the inner dimensions using a sharpie marker.
Cut the liner using a standard pair of scissors and set it aside for later use.
Lay the plywood base into the assembled frame and secure it in place using the same pockethole technique as described above.
Using a multi-purpose primer, apply a coat to your washer toss box.
Once the primer has dried, you're ready to add some color to your game!  Valspar has a new line of summer paint colors that would be perfect for accenting your outdoor game!
I chose to go with Pine Green for my boxes and Du Jour for my personalization.  To save some money, consider purchasing one of their sample jars of paint.  It should be more than enough to complete your washer toss project!
While the washer toss box is drying, go ahead and paint the washers  Find two points that you can use as anchor points for securing a length of utility string.  Secure one side, then slide the six washers onto the line, make sure it's taut, then tie off the other end.
Separate the washers evenly along the line and then paint three of them with one color of Valspar Spray Paint, then the remaining three with your second color.
While you've got the spray paint out, go ahead and give the PVC coupler a coat of paint!
Now it's time to give your washer toss game a little character!  We chose to use a custom vinyl stencil to help make ours unique!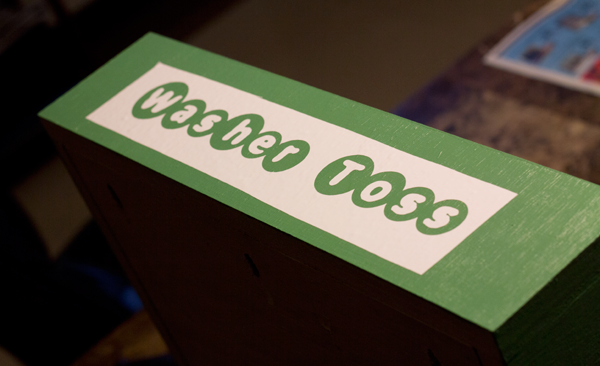 Now with everything painted, place the cut tool box liner into your washer toss box, set the PVC coupler onto the liner as close to the center as possible.  Since the liner is slip resistant, there's no need to secure the coupler in place with any kind of adhesive.
Rules of the Game:
Set the two washer toss boxes 21 feet apart.
Players stand behind each box. When tossing, players may not step past the front edge of the box that they're standing next to.
Player 1 will toss all three of their washers, followed by Player 2.
The goal of the game is to land a washer in either the PVC coupler or "cup" (which is worth 3 points), or in the box (which is worth 1 point.)
Only one player may be awarded points per round.  So whomever scores the most points in a round, gets to add their points to their game total. The winner is the first player to reach 21 points.
Now that you've got your very own washer toss game, it's time to get some friends over for some outdoor fun and enjoy the rest of your summer!
https://prettyhandygirl.com/wp-content/uploads/2021/07/PHG-logo-tagline-2020-1030x211-R.jpg
0
0
Matt Knowlton
https://prettyhandygirl.com/wp-content/uploads/2021/07/PHG-logo-tagline-2020-1030x211-R.jpg
Matt Knowlton
2013-07-10 07:00:07
2019-12-29 14:28:34
DIY Washer Toss Game