Hello! It's Jessica from Decor Adventures.  One very popular home decor item that we are going to get pretty handy with this month is antlers. If you love rustic or outdoor style, this project is perfect for you. You'll see all kinds of animal antlers on walls or holding jewelry or scarves. They can be both functional and practical. Antlers can be found at flea markets or second hand stores if you are lucky. They come in all sizes and shapes, plus you can paint them any color to match your style.
It's much easier than you think to mount antlers on your own. You don't need a degree in Taxidermy or any special tools, a drill will do!
Materials
Antlers
Long bolts
Nuts to fit bolts
Drill and drill bits
Hanging hardware
Paint (optional)
MDF or wooden board
Instructions
I mounted two sets of antlers that I got at a yard sale. One was a one-piece set and the others were two separate pieces. Most antlers you get will have some of the bone attached to the end of the antler. This is the part you will attach to a board to mount them. If you find them second hand they may already have holes drilled in them from when they were previously mounted.
One set I painted white and the other gold. It's easy to spray paint antlers, so pick your favorite color or leave them natural if you like.
1. First, prepare the board you'll mount the antlers on. These can be found at craft stores or you can cut your own from MDF. It should be slightly larger than the base of the antlers you'll mount. You can paint the board if you would like. The silver one below already had the mounting holes drilled in it when I took this picture, but you can get an idea of the size board you need.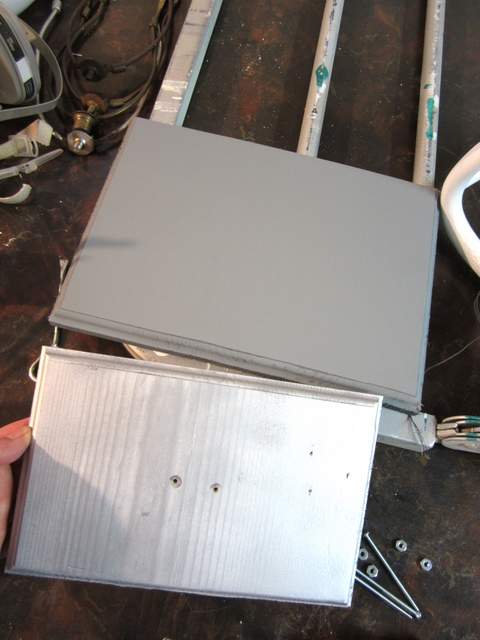 2. Place the antlers on the board as you'd like them positioned. Make sure the tips are even and not lopsided to one side.  Using your drill, carefully drill into the bone of the antler and through the board. Do this for each antler if they are separate.
4. Take your bolts and screw them through the antler and into the board, securing them in the back with the nut. If the bolts are too long, you can cut them with bolt cutters or a hacksaw.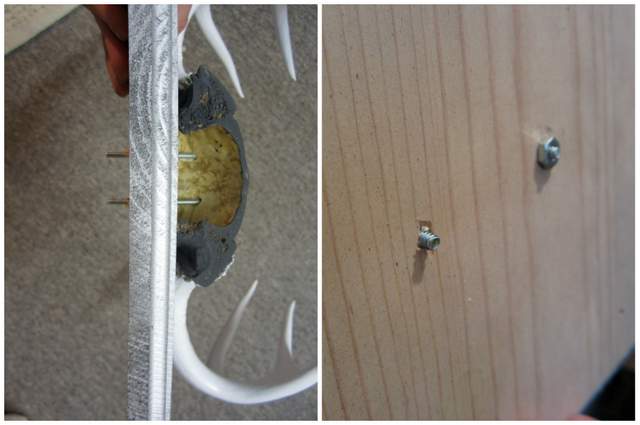 5. Now you can secure the hanging hardware on the back of the board and hang them up!
I have a set that I painted gold in my home office and another I'll be hanging in our basement bathroom. Maybe I'll put a hand towel on them!
Now when you see antlers at the flea market, you can pick them up and put them up in your home in just a few minutes.  See you at my blog, Decor Adventures soon!
Pin for later!
https://prettyhandygirl.com/wp-content/uploads/2015/02/Mounted-Deer-Antlers.jpg
640
427
Decor Adventures
https://prettyhandygirl.com/wp-content/uploads/2021/07/PHG-logo-tagline-2020-1030x211-R.jpg
Decor Adventures
2015-02-04 07:00:29
2021-09-03 18:14:39
How to Mount Antlers