Elementary School Library Reveal
For a month I've been working on the school library makeover that was facilitated by a donation from Overstock.com. This morning I got my emotional reward. I walked into the library ready to put on the finishing touches in the room. There were a few kids in the main section of the library reading. But, when I turned the corner and gazed into what used to be the dark back corner…
…I was surprised to see a dozen kids sprawled on the rug, dog beds and bean bags.
They were all piled back there and quietly reading! My heart almost burst. The librarian told me it's been like that since we finished painting. The kids love to hang out there. And not just the younger grade levels, all the kids love it! My heart is just singing with joy.
Today was the day that I added some LED Christmas lights on top of the bookcases.
And added the corner branches (cut out of thin plywood and spray painted silver) to help define and create a cozy space.
The librarian asked if I could add some metal label holders to the benches. Instead of using them to house shoes, she uses them to pull special theme books each season.
She wanted to label each cubby according to the month's theme. It was a simple little DIY project. I added little scrapbook metal label holders. But, swapped out the brads for tiny screws.
Instructions: Mark the center of each cubby with a pencil mark. Pre-drill holes for the brackets. Screw tiny screws into the bench. Add a label and you're done!
Just a simple little change took this mudroom bench from shoe storage to book storage.
The librarian told me that the kids are actually motivated to put the books back in their cubby after they are done. Wow. That's a miracle ;-).
Another piece that makes it easy to keep this area picked up is the new bamboo laundry hamper that stores all the furry friends!
I love that it looks like a tree stump!
I have to tell you about this hand-woven soft shag rug! It's probably one of my (and the kids') favorite tactile things in the room.
It looks like grass but is made up of lots of silky fibers. The kids are so adorable as they kick off their shoes and immediately run their fingers and toes through the fibers.
I also love the cloud sconce which we all agree looks more like a moon than a cloud.
It provides ambient lighting to illuminate the back area. And is softer than the harsh overhead fluorescent lights.
The final touches on the space were to add LED string lights on top of the book cases. They add a whimsical glow to the walls and reflect off of the silver trees.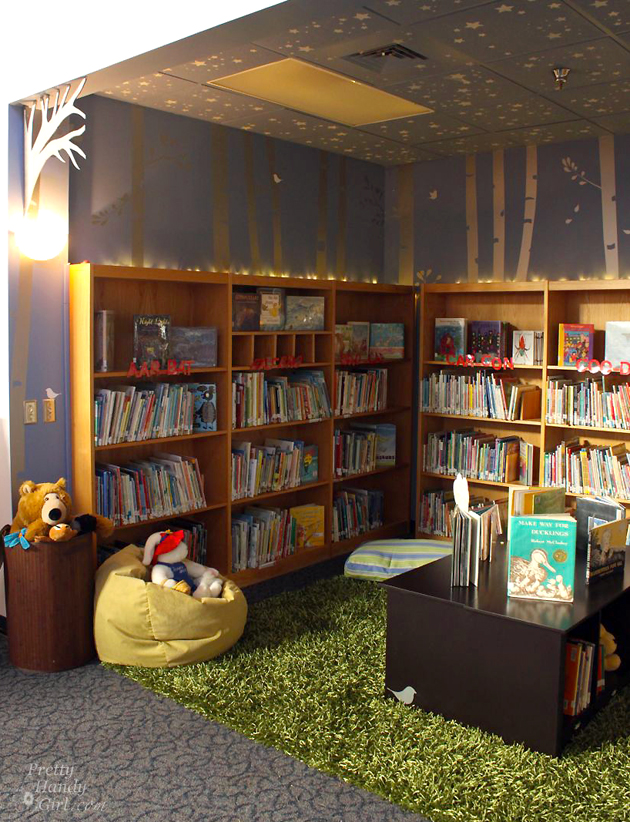 Those silver trees, aren't they amazing?! Depending on where you stand in the room, they are either lighter or darker than the wall color. My friend Leen the Graphics Queen cut them and then came to install them with her husband! Those two were so sweet to donate the vinyl graphics to the project!
There is plenty of plush seating in the reading area with bean bags and dog beds.
This was such a rewarding experience. The librarian and I are so grateful to Overstock.com for donating the funds to give this space a makeover.
Do tell me, what's your favorite part of this makeover?
Want to know mine? This is my favorite part of the makeover:
I love the sight of a kid that is loving reading.

Disclosure: Overstock.com donated a $1000 credit to shop Overstock.com and purchase items for the library makeover. I was not told what to write or what project to complete. Learn more about my disclosure statement policy here.
https://prettyhandygirl.com/wp-content/uploads/2013/11/full-library-view.jpg
409
630
Brittany Bailey
https://prettyhandygirl.com/wp-content/uploads/2021/07/PHG-logo-tagline-2020-1030x211-R.jpg
Brittany Bailey
2013-11-20 07:00:00
2021-08-09 19:41:23
Elementary School Library Reveal