Tour of the 2020 HGTV Dream Home in Hilton Head – Part 2
Welcome back to part 2 of the 2020 HGTV Dream Home tour. I hope you enjoyed seeing the kitchen, living room, foyer, and master suite on Monday. Today I have photos of the mudroom/laundry room, the upstairs bedrooms, lounge room, and the backyard. Bryan Patrick Flynn is the interior designer for this dream home and he did a fantastic job of combining bright colors, natural elements, and classic style.
(Disclosure: I'm not sponsored by Cabinets to Go, the HGTV Dream Home sweepstakes is sponsored by them. I was provided with an invitation to tour the home and Cabinets to Go paid my hotel expenses.) There's so much to see, let's get started!
Tour of the 2020 HGTV Dream Home in Hilton Head – Part 2
When I left you on Monday we had just finished touring the master suite. Let's head over to the opposite side of the house.
Down the hallway from the foyer you get a peek into the combined laundry room/mudroom space. Like the rest of the house, art and sculptural installations line every wall. These vintage oars warm the cool blue walls. Want to know a secret? You can make your own faux vintage boat oars for next to nothing by following my tutorial here.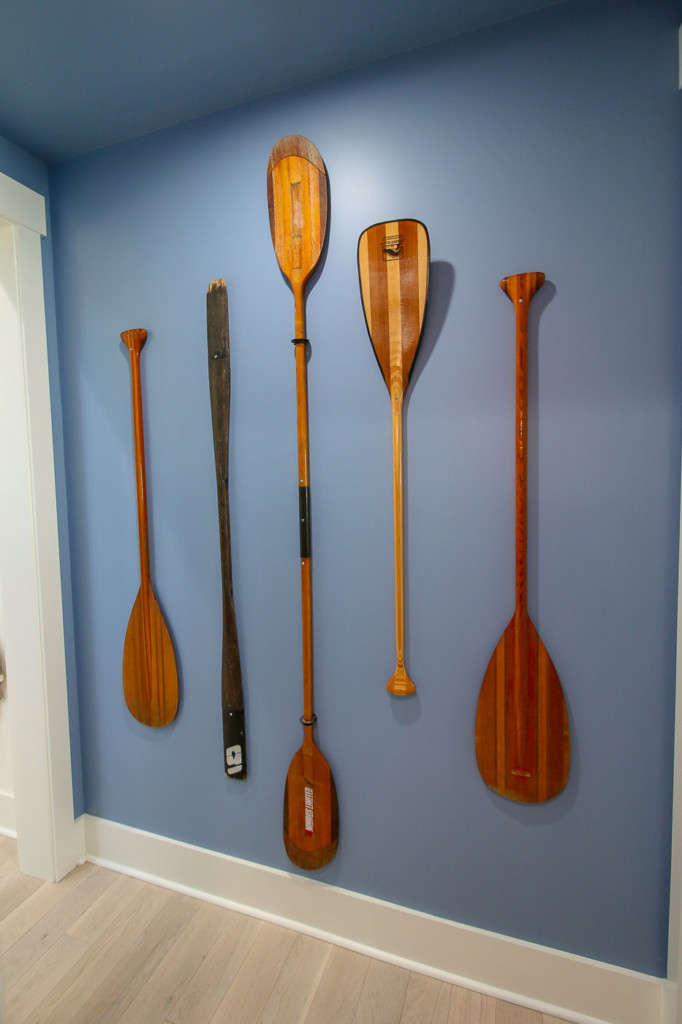 On the opposite side of the hallway are these beautiful paintings by Felicia Higdon, a local painter.
And now you've reached one of my favorite spots in the house. Although it's a hard-working room, this mudroom and laundry room is bathed in sunlight and has a view of the marsh teaming with wildlife. I could see my kids hanging out at this table playing games while us parents talk about "boring stuff" in the living room area.
The wall color in the mudroom/laundry room is Restful HGSW2285 by Sherwin Williams
In the corner of the room is a large dog crate, but I bet you could remove the spindles and add some shelving for additional storage if you don't have a dog (or your dog refuses to be crate-trained. Ahem…Bandit!)
On the other side of the door is the laundry center. The cabinets are from the Chelsea Linen line from Cabinets to Go.
Across from the washer and dryer is a deep utility sink that doubles as a dog washing station (if you have a small dog. LOL.)
The unexpected elegance in this room is a showstopping tile backsplash wall that climbs to the ceiling. I'm thinking my laundry room needs a tile backsplash like this or at least a fun wallpaper that emulates this look. After all, my laundry room is the first thing you see when you come in our side door.
Here are the mudroom/laundry room sources for you. (I've included affiliate links for your convenience. I earn a small percentage from a purchase using these links. There is no additional cost to you. You can read more about affiliate links here.)
Silver Sky Encaustic Tiles | Woven Mirror | Chelsea Linen Cabinets | Wicker Storage Basket | Cabinet Pulls | Wall-Mounted Coat Rack | Port Hole Mirror | Pedestal Table | Round Area Rug | Laundry Goods Tote | Dog Crate | Coastal Round Basket Set | Dog Bed
Now that we've seen downstairs, let's head upstairs to see the two bedrooms, the lounge room, and more!
At the top of the stairs is a little game area and through the open doorway awaits a multifunctional (aka lounge) room for relaxing and TV binge-watching.
The vintage deconstructed airplane wing is amazing, is it not? I bet that was an exciting find during a long antiquing excursion. It makes me want to go junking right now!
The wall color in this room is Gristmill Greige HGSW2485 by Sherwin Williams.
If you saw anything you liked, here are links to the sources in the lounge room: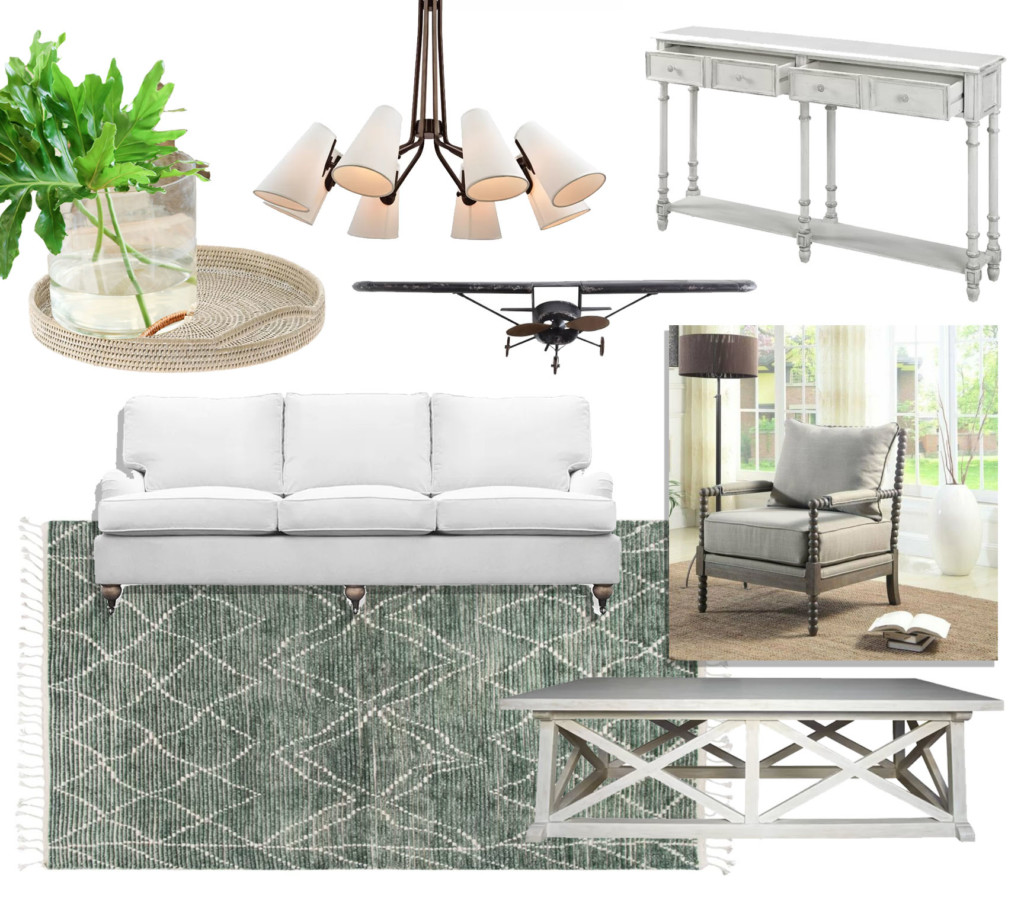 Hurricane Vase | Rope Serving Tray | Chandelier | Console Table | Airplane Wall Art | Sofa | Hand-Woven Area Rug | Armchair | Coffee Table
Just off the multifunctional room is an elevated porch area. If I could, I'd hang out here all day and all night.
The circular patio seating is beautiful, but give me a hanging daybed here and I foresee lots of naps and relaxation on this porch.
Back inside are two more bedrooms. This island-themed room has bright colorful walls while maintaining a breezy coastal vibe. The entire room (from walls to ceiling) is painted Restful HGSW2285 by Sherwin Williams.
Normally I'm not a fan of print fabric headboards, but this tropical frond upholstered headboard works beautifully in this room.
Want to create your own tropical retreat? Here are the sources for you:
Upholstered Bed | Ceiling Fan | Sea Coral Wall Art | Natural Jute Rug | Green Throw | Pillow | Lamp | Fiddle Leaf Fig | Directors Chair | Round Side Table | 3 Drawer Dresser
Across the hall from the tropical bedroom is a coordinating bathroom. The room functions perfectly inside a standard five-foot wide bathroom space.
I enjoyed the textural effect created by using different size tiles that share the same color palette.
The Metro Gloss White vanity is a beautiful shiny and sleek white cabinet from Cabinets to Go. It surprised me the same driftwood cabinets weren't chosen in this room, but the white vanity continues the white trend in here.
The loft connecting the two bedrooms is furnished with serious competition in mind! You're sure to pull up a chair for a board game or challenge your kid to a game of foosball!
The second bedroom upstairs is monochromatic with beautiful shades of blue. The color is Mint to Be HGSW2327 by Sherwin Williams. You might recognize this color from the kitchen ceiling. I feel like the color is more blue than mint, but no one asked me.
The vibe in this room is purely restful and calm.
Here are the sources for this beautiful blue-toned bedroom:
Sculpted Bed Frame | Navy Loom Rug | White Sculptural Wall Decor | Sail Ceiling Fan | Navy Quilt & Sham Set | Diamond Pillow | Navy Throw | Table Lamp | Table Top Clock | Rope Mirror | 3 Drawer Bedside Chest  | Rattan Lounge Chair | Herringbone Dresser
The second bathroom upstairs is tiled in beautiful navy subway tile. Although the ceiling is sloped, the room still feels big enough to house a gaggle of sandy kids.
Like the navy subway tiles? Here's the blue tile source.
The Finian Blue HGSW2384 by Sherwin Williams paint color complements the tile nicely.
I think I mentioned before how much art is in the dream home. By far, my favorite art is the graphic paintings by Colleen Elizabeth.
This completes the tour of the rooms upstairs. Want to head out back for the crowning jewel of this property?
The back deck spans the full length of the house and offers a commanding view of the pool and marsh beyond.
The floating spheres light up at night! I bet that would be a sight to see.
You'll never run out of places to sit, eat, and relax with three seating areas on the back porch and more in the back yard.
But, wait, there's one more area to chillax. The spot that called to me was near the water's edge. As the wind swayed, the hammocks gently rocked in the breeze. How could you walk away from this beautiful setting?
Sadly it's time to leave, but I enjoyed taking the tour with you. What was your favorite room? You do know you can enter to win this HGTV Dream Home in Hilton Head, SC? Enter to win this house by entering daily here. The last day to enter is February 19th, 2020. Good luck!
Disclosure: I'm not sponsored by Cabinets to Go, the HGTV Dream Home sweepstakes is sponsored by them. I was provided with an invitation to tour the home and Cabinets to Go paid my hotel expenses.
https://prettyhandygirl.com/wp-content/uploads/2020/01/hgtv-dream-home-2020-upstairs-second-bedroom.jpg
933
1400
Brittany Bailey
https://prettyhandygirl.com/wp-content/uploads/2021/07/PHG-logo-tagline-2020-1030x211-R.jpg
Brittany Bailey
2020-01-31 07:00:00
2020-05-28 13:38:22
Tour of the 2020 HGTV Dream Home in Hilton Head – Part 2