Day 8 – Replace Foil or Plastic Flexible Dryer Duct Hoses
Welcome to Day 8 of my 31 Days of Handy Home Fixes. Today I have a VERY IMPORTANT tip to prevent a fire from starting in your laundry room.  I'm going to show you how to replace your flexible foil or plastic dryer vent duct with a much safer semi-rigid ductwork. Before we go any further do you know what type of dryer duct hose you have? Go run and check. I'll be waiting right here when you get back.
Day 8: Replace Plastic or Flexible Foil with Semi-rigid Dryer Duct:
Does your vent hose look like this semi-rigid type:
Or the shiny foil flexible type:
Which do you have? If your dryer ductwork is semi-rigid or solid metal ductwork you can skip the rest of this post and come back tomorrow.
What's the difference? Well, let me show you what each of these ducts look like after one year of use:
Which one do you think is safer? Exactly! The semi-rigid doesn't collect lint as easily as the flexible duct! Therefore, you have less of a chance of the lint catching fire.
To replace the duct hose, measure the length of ductwork you need to replace. You can order semi-rigid flexible aluminum duct
 from Amazon or head to your local home improvement store to purchase it. Be sure to pick up any dryer vent adjustable elbows
 and hose clamps
 you might need as well.
Remove the flexible duct and replace it with the new semi-rigid. For more detailed directions you can follow my tutorial for installing semi-rigid dryer hose.
Don't forget to continue to clean out your dryer vent ducts 1-2 times a year! It's an easy maintenance task you can do yourself (once you get the dryer out from the wall…which may be the hardest task.)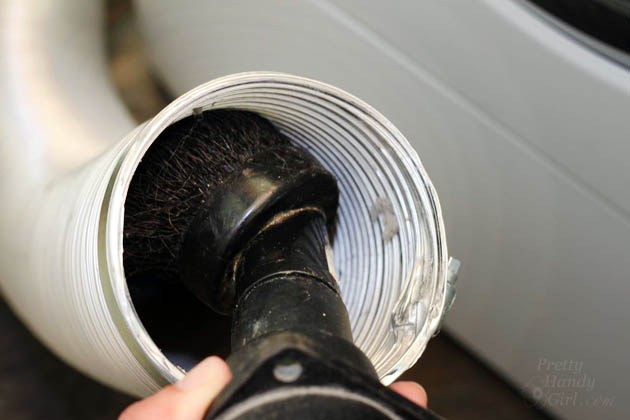 Pin for later!
I'm participating in Nester's 31 Days Challenge. Check out all the other bloggers who are participating!
Don't miss a single tip! Sign up to get all the tips in your email:
Other tips in the 31 Days of Handy Home Fixes series:

https://prettyhandygirl.com/wp-content/uploads/2014/10/vacuum-out-dryer-exhaust.jpg
420
630
Brittany Bailey
https://prettyhandygirl.com/wp-content/uploads/2021/07/PHG-logo-tagline-2020-1030x211-R.jpg
Brittany Bailey
2014-10-08 19:00:00
2021-07-16 03:12:52
Day 8 – Replace Foil or Plastic Flexible Dryer Duct Hoses