Day 7 – Clean Out Your Dryer Vent Duct
Welcome to Day 7 of my 31 Days of Handy Home Fixes. We're sticking with the laundry room theme for a few days. Today I have a tip to help protect your home from a fire. Cleaning out your dryer vent duct is an extremely important home maintenance task. The good news is that you can do most of this maintenance yourself. I recommend cleaning out any lint build up at least once a year (preferably in the late summer before the drier and static filled air sets in.) Twice a year is best.
Day 7: Clean Out Your Dryer Vent Duct:
 Pull the dryer away from the wall and disconnect the vent duct tube from the wall and the dryer. Normally the duct is held on with a hose clamp. Use a flat head screwdriver to loosen the bolt attached to the clamp.
Remove the duct and use your shopvac to clean out both the dryer and wall ports.
Then clean as far as possible in both ends of the duct hose.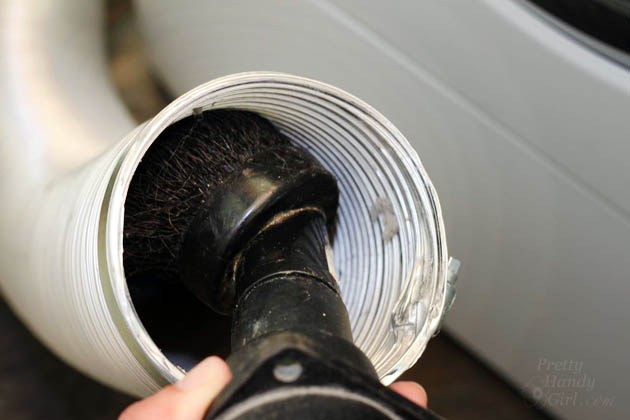 If your duct is long or difficult to clean out, you can purchase a long dryer vent duct cleaning brush
like this one:
While you have the dryer pulled out, vacuum off the back of the dryer, the washer, and the wall behind both. Eliminate as much lint as possible. A clean laundry room is less prone to fires.
Re-attach the ductwork to the wall and the dryer. Tug gently on the hose to make sure it is secure. Gently push the dryer back towards the wall being careful not to crush the tube.
If you can reach the exterior vent, go ahead and clean it out also. Make sure the vent closes properly when the dryer isn't running. Otherwise you may get birds, rodents or bugs in your vent. That reminds me when we had our new dryer delivered. As the delivery guys were removing the old one. I heard the sound of the dryer crashing down, followed immediately by squealing and screaming. Apparently a mouse had made his way into the dryer but electrocuted himself. His dead body dropped out on the floor just as the guys were picking up the dryer. I'm telling you, that guy was the size of a line backer and he was terrified of a dead mouse! I tried so hard not to laugh, but couldn't control myself. Needless to say, I double check the exterior vent more often now.
Tomorrow I'll be showing you one more way to keep your laundry room from becoming a fire hazard.
Pin for later!
https://prettyhandygirl.com/wp-content/uploads/2013/02/detach_dryer_hose_from_vent.jpg
427
640
Brittany Bailey
https://prettyhandygirl.com/wp-content/uploads/2021/07/PHG-logo-tagline-2020-1030x211-R.jpg
Brittany Bailey
2014-10-07 19:00:00
2021-07-16 03:13:54
Day 7 – Clean Out Your Dryer Vent Duct