How to Install Knobs on New Cabinet Doors and Drawers
I know when you buy a new vanity or just have new cabinets installed it's hard to get up the guts to drill through the pristine doors and drawers to install new knobs on then. I get it, really I do. You are worried you'll drill in the wrong spot. Or you might mess up the finish if your drill bit slips. Well, you're in luck! Today I have the goof proof tutorial for How to Install Knobs on New Cabinet Doors and Drawers!
Materials:
(contains affiliate links)
Instructions:
Take one last look at the pristine cabinet doors and drawers. Now, grab the tape measure and let's get busy!
Mark the location for your new knob or pull. For knobs, you want to center the knob equidistant between the top and sides of the cabinet door. If you have a decorative frame, the knob can line up with the miter joint. For drawer pulls, center the knob left to right and top to bottom.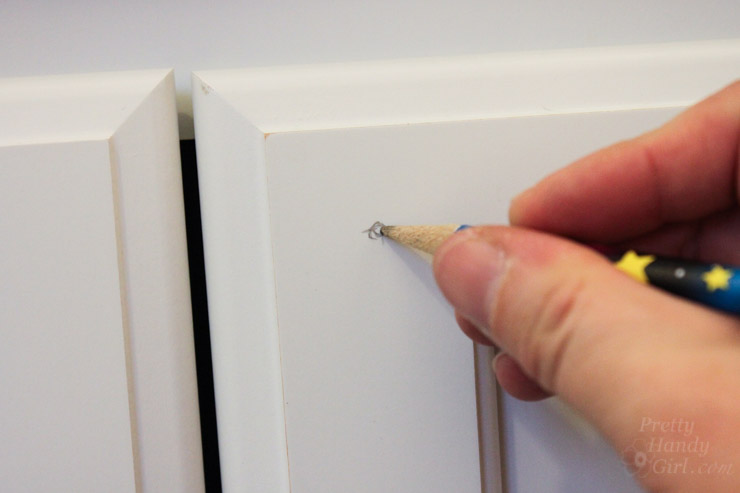 Measure the location you chose.
Transfer the measurements onto the scrap board.
Select your drill bit by comparing it to the screw for your knob or pull. Make sure they are the same diameter.
Drill your hole through the pencil mark on your scrap wood.
Cover the marks on the door/drawer with painter's tape. This will prevent your drill bit from slipping and eliminate potential chipping.
Tape your scrap wood template onto the cabinet door.
Drill through the template and through the door.
Remove the template and tape to reveal that perfectly positioned hole.
Press the screw through the hole (sometimes you might need to drive it in with your drill and phillips head bit.
Tighten the knob onto the door.
Flip the template over and repeat for the other cabinet doors.
That wasn't hard was it?
Enjoy your perfectly positioned knobs and pulls.
What other projects are you hesitant to take on? Maybe I have a tutorial for that!
Update! I found an even easier way to install cabinet knobs and pulls:

You'll don't need to put off installing those knobs any longer!

https://prettyhandygirl.com/wp-content/uploads/2016/04/knobs-on-cabinets-feature.jpg
300
730
Brittany Bailey
https://prettyhandygirl.com/wp-content/uploads/2021/07/PHG-logo-tagline-2020-1030x211-R.jpg
Brittany Bailey
2016-04-25 10:00:00
2017-09-14 20:57:03
How to Install Knobs on New Cabinet Doors and Drawers