Are you Going to Haven? Let's Meet!
Are you Going to Haven? Let's Meet!
Hey y'all! I'm going to Haven again this year, and I hope we get to meet each other! If you're just coming over from Debbie's at Refresh Restyle, welcome! If you stumbled here by accident you may be wondering. "What's Haven?"
HAVEN is a DIY & Decorating professional blogging conference which takes place July 12th – 14th in Charleston, SC. Each year, approximately 350 Home and DIY bloggers get together for three days to learn, network, meet sponsors and have a great time. I've met and developed friendships with so many bloggers at Haven.  Frankly, I look forward to Haven every year because it is the one time a year I get to hang with old friends and make new ones. And I get to chat with others who understand that blogging isn't a full-time job, it's your life!
This year I'm honored to be a mentor at Haven. The mentor program is one of the best additions to the conference because it allows you to meet with a long time Haven attendee and get to know several other bloggers in your mentor group.

Who are you?
In short, I'm Pretty Handy Girl, your friendly DIY instructor and occasional goof ball.
But, I'm also a licensed general contractor, an illustrator, and a chronic upcycler. I know what you're thinking, and it's true — I've been known to save a few things from dumpsters: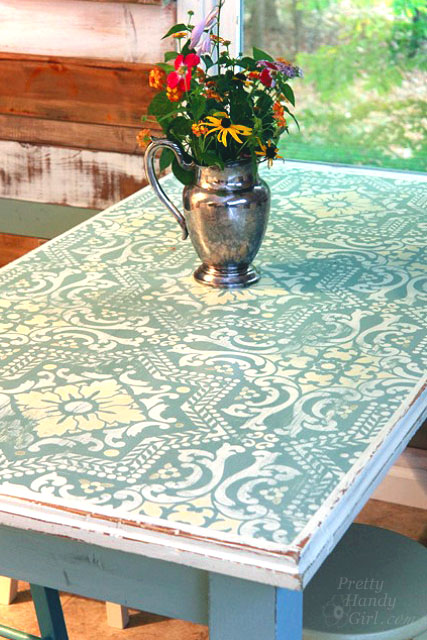 I live in Raleigh, NC in a house I loved for 7 years before we were given the opportunity to buy it.
You are more than welcome to come into my home and see the progress I've made. My current favorite project has to be our pantry transformation.
I completely rebuilt the 6′ wide, standard bi-fold door pantry into my dream pantry. You have to see what is hiding behind all those doors!
But, enough about me and my home. I want to give you a little advice.
What is your best advice for a new Haven Maven attendee?
Let me tell it to you straight. When you first get to Haven, you may feel those old high school insecurities rising up. It can look very cliquey when you notice lots of groups chatting and laughing. Try to remember that many attendees have known each other for almost a decade and they only get to see each other once a year (if that.) Stop, look around, see if you can find someone who is also standing alone, (or a small group of two or three.) Go on over and say "Hi". Ask where they are from and what's their blog name. Taking that first step can be difficult, but the rest is usually easy.
You may feel awkward and feel like you don't fit in. But, let me tell you, this conference is where you do fit in!
Where else can you say you are a blogger and know you won't hear someone reply, "Oh that's nice, I wish I could have a blog too. But I have to work at a real job." And where else can you surround yourself with people who know that you may still be in your PJs by 1 pm, but damn it if you didn't work your ass off on a killer blog post!
What should I wear?
Most attendees wear business casual outfits, but you can also rock the jeans and t-shirt if you feel more comfortable in them. I will probably get dressed up…
…but just know that on a day-to-day basis I usually look like this:
or this…
Any Advice for New Bloggers?
When asked for advise to give to new bloggers, I recommend to start your blog as if you are going to be a hugely successful blog one day. Broken down, that means be professional in how you present your brand. From day one, have a nicely designed business card and website. Never work for free. If you are writing a sponsored post, make sure you are being compensated. You may want to read the 3 things I'll never do for a sponsored post!
Don't label yourself as small or little. EVERY…SINGLE…BLOGGER…STARTED AT ZERO PAGEVIEWS! Say that out loud! Here are the analytics from my first year. See that? June 2010 = ZERO!
You will start at zero too, but think big and you'll be big! Just give it time.
Will you be at Haven?
Please come to Haven this year! I want to meet you…and because the Haven Conference rocks!
Want to learn more about the other Haven Mentors? Head over to Diane with In My Own Style next. Or visit all the mentors below.
Monday: Rhoda of Southern Hospitality | Charlotte of At Charlotte's House | Sheila of Maison de Cinq | Liz of Liz Marie Blog | Aniko of A Place of my Taste
Tuesday: Chris of Just a Girl | Haneen of Haneen's Haven | Ashley of The Handmade Home
Wednesday: Traci of Beneath my Heart | French Country Cottage | Erin of Erin Spain
Thursday: Laura at Duke Manor Farm | Sarah at Thrifty Decor Chick | Stacey at Not Just a Housewife | Debbie at Refresh Restyle
Friday: Brittany at Pretty Handy Girl | Diane of In My Own Style | Beth at Home Stories A to Z | Lauren at Bless'er House | Katie at Bower Power
https://prettyhandygirl.com/wp-content/uploads/2018/06/haven-mentors.jpg
1024
990
Brittany Bailey
https://prettyhandygirl.com/wp-content/uploads/2021/07/PHG-logo-tagline-2020-1030x211-R.jpg
Brittany Bailey
2018-06-08 07:00:00
2018-06-08 21:53:21
Are you Going to Haven? Let's Meet!