Sewing a Dog Safety Reflective Bandana
I realized recently that I haven't given any updates on our adoption of Pretty Handy Dog (aka Buddy.) I'm happy to say that Buddy has been with us for a year and a half now, and he has adjusted to living with us (crazy boys and all) just fine. After the first year, he began to truly show us his personality. He can be goofy and wrestle and run around like a maniac once in a while. But, normally, this is how he rolls:
He rolls into a tight ball and snores like a sailor! He's also what you call a velcro dog and doesn't let me out of his sight. We've heard from sitters that after I leave, Buddy will pace and cry by the door. When the sitter asks the kids if Buddy needs to go to out they answer, "No, he's just crying because he wants Mommy." Ahh, another Momma's Boy ;-).
With the weather being in the 100's here in NC, I've resorted to walking Buddy at night. Actually, I'm normally a night walker. On these nighttime excursions, I wear a reflector vest for myself, but I always worried that cars have a hard time seeing my mostly black dog. So, I thought it would be a good idea to make him his own dog safety clothing. A reflective bandana seemed like the perfect idea.
Materials:
Stiff fabric or regular fabric with interfacing (I used the front of a clearance Target table runner)
Reflector band (or buy reflector tape)
Thread
Scissors
Webbing strap and buckle
 Instructions:
Fold the stiff fabric in half and cut a large triangle (with a squared off top) out of your fabric. Make sure the triangle is 1.5 – 2 inches larger than the finished size.
Rip apart the reflector band by removing the velcro and the backing.
Iron the seams on the fabric.
Stitch the seams down.
Lay the webbing strap at the top of the bandana and fold over the squared edge. Pin it in place.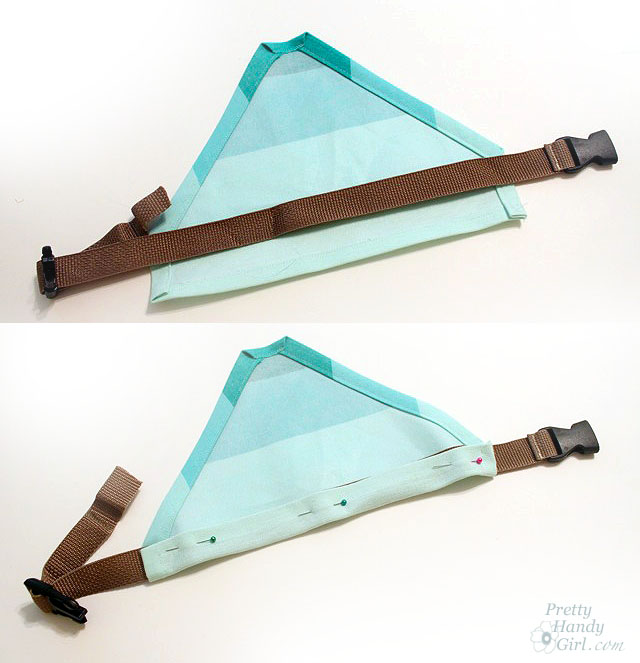 Stitch the webbing strap into the bandana fabric.
The bandana should look something like this:
Flip the bandana over. Cut the reflector band in half and position it onto the bandana. Pin the reflector tape in place.
Stitch around all the edges of the reflector tape. You may have to raise the sewing machine foot a little if it sticks on the reflector tape. This is how the finishes bandana looks.
 Buddy seems to like it. He wears it proudly on our night time walks.
Are you curious how it works? Take a look at this nighttime photo! It works great. And he seems to like his new nighttime dog costume.
But now Buddy has had enough of the incessant photo taking. I'll leave him to take his sixth nap of the day.
https://prettyhandygirl.com/wp-content/uploads/2012/07/Dog_reflector_bandana_pin.jpg
617
666
Brittany Bailey
https://prettyhandygirl.com/wp-content/uploads/2021/07/PHG-logo-tagline-2020-1030x211-R.jpg
Brittany Bailey
2012-07-09 07:00:00
2012-07-09 08:34:25
Sewing a Dog Safety Reflective Bandana