How to Paint Your Room Twice as Fast – HomeRight PaintSticks Review
Remember when I declared that I only use a handful of painting products that I've used for 15 years? I usually detest "new and improved" painting gadgets. I've tried many and they are usually a flop or not as efficient as my current arsenal of painting tools. So, you'll understand that when HomeRight first approached me about trying their PaintStick products, I declined. After saying no, I started seeing many rave reviews from other DIY bloggers. As I began anticipating the task of painting our master bedroom, I began to rethink trying the HomeRight PaintStick Paint Applicator. I was definitely tentative. Finally, I agreed to try out both the PaintStick original and the PaintStick EZ Twist. I warned HomeRight that I have high expectations and that if they weren't met, I wouldn't blog about their PaintSticks.
I guess you know where this is going because here I am to tell you that I really loved both PaintSticks! And I will be using one every time I paint a room from now on! Seriously, these products are a game changer.
For one, you don't have to worry about the messy task of pouring paint into a tray and moving the tray with you as you paint. Both HomeRight PaintSticks come with a paint can cover and fill tube that fits on your gallon paint container.
This keeps the paint from drying out and eliminates the need for a tray. The fill port on both PaintSticks is covered with a sponge type gasket that allows the fill tube to go through, but keeps the paint inside the PaintStick.
But, my FAVORITE aspect of the PaintSticks is that I can roll half a wall without stopping! No joke. With the traditional roller and tray I can usually paint a 4′ x 4′ square and then have to reload my roller. No more! The PaintStick literally allowed me to paint an 8′ x 7′ section (almost 4 times as much) without reloading.
And refilling the tube is almost as fast as rolling. I cut my painting time down drastically. Here's a video HomeRight made showing a side by side "Paint Off" race between the EZ Twist PaintStick and a roller and tray (and a paint sprayer). It's pretty accurate in my experience.
The only negative, is that you will spend a little more time cleaning up. The PaintSticks have to be disassembled and cleaned out when you finish painting. But, this process doesn't add enough time to come near exceeding the time it would take to paint conventionally with the roller and tray.
What's the difference between the PaintStick and the EZTwist PaintStick? It all comes down to how the paint is pushed through the stick.
The PaintStick has a plunger type handle that squeezes paint into the roller as you push on the end of the stick. The EZ-Twist pushes measured amounts of paint into the roller as you twist the stick. I personally found the EZ-Twist to be my favorite. It kept me from getting push happy and pushing too much paint into the roller (leading to drips). Plus, you have the option of using it exactly like the PaintStick with the flip of a toggle switch, the twist action is turned off (used mainly for filling the tube with paint though.)
Both the PaintStick and the EZ Twist are easy to assemble. Push the specially perforated PaintStick roller cover and foam spacer onto the frame.
Both PaintSticks have a splatter shield, which catches any drips or spray making the process of rolling a room much cleaner. I personally wouldn't forgo laying down drop cloths, but if you were a risk taker, have at it.
The PaintStick EZ Twist does have a snap cap on the outer endcap that I found easier to remove for cleaning purposes (see the left photo below.)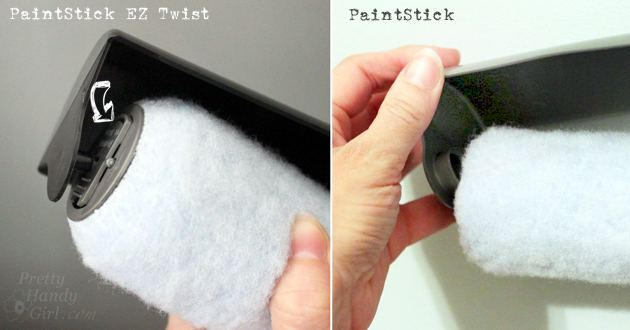 Assembly of the stick is easy. Push the roller assembly into the handle and tighten the threaded nut.
Both PaintSticks start out by rolling a stippled pattern until enough paint is pushed through (about 1/3 of the tube to start) and begins to coat the roller. At that point, painting becomes quick and easy. And you'll use less paint once the roller is saturated.
Both PaintSticks are available at Lowe's Home Improvement and other home improvement stores. The PaintStick retails for $29.99 and the EZ-Twist PaintStick retails for $30.99
Painting our master bedroom was much faster with the PaintStick EZ-Twist and original PaintStick. I still had to cut in around the edges, but I'm comfortable doing that without taping.
Next up on the agenda: Create a fun painting technique where the dark gray wall meets the rest of the room. They say ombré is in style and I've fully embraced it!
See the tutorial for creating fogilicious ombré next here!

Disclosure: This product review was sponsored by HomeRight. I was sent a PaintStick and PaintStick EZ Twist to try and was compensated for my time. As always, I'm extremely picky about the products I promote. If I don't like a product, you won't see it mentioned. All projects and opinions are my own. I was not told what to write or say about the PaintStick or the PaintStick EZ Twist.
https://prettyhandygirl.com/wp-content/uploads/2014/07/Paintstick-vs-EZTwist.jpg
785
500
Brittany Bailey
https://prettyhandygirl.com/wp-content/uploads/2021/07/PHG-logo-tagline-2020-1030x211-R.jpg
Brittany Bailey
2014-07-04 07:00:00
2021-08-09 19:16:08
How to Paint Your Room Twice as Fast – HomeRight PaintSticks Review