Master Bathroom Design Plans for Saving Etta
Master Bathroom Design Plans
It's hard to believe I need to start thinking about all the materials and fixtures I'm using inside the master bathroom of my flip house. We are just finishing up framing this week and I have my plumber and HVAC contractors lined up to start roughing in the ducts and plumbing lines next. But, I need to have the tub and shower fixtures chosen so the plumber can install the water and waste pipes for the bathrooms and the kitchen. I'm learning on the fly about contingent tasks and it feels a little crazy right now. This week I learned I have to have the plumbing roughed in before the roof is installed. Details, they matter!
If you follow me on Instagram or Facebook, you've seen a fair amount of progress on the house. If you've been following the Saving Etta chapters, I admit I'm behind the times. I received a comment from a reader who was angry that the chapters weren't in real time. My explanation for this is that I just can't do it all. Managing a project this size has left me with very little time to keep the blog updated. When I release a Saving Etta chapter, I want it to be well written for your enjoyment. With that being said, I hope you'll forgive me if it takes a while for the Saving Etta chapters to get caught up (truth be told they may never be current.)
With that explanation out of the way, I want to share my mood boards. Today, let's delve into my vision for the master bathroom. I hope you like the design direction I'm taking and will weigh in on a couple of questionable ideas I have.
In full disclosure, I'm working with Jeffrey Court Tiles. They are one of the fantastic sponsors for the Saving Etta project. If you've been to Home Depot lately, and wandered through the tile section, you probably swooned over some of the Jeffrey Court tiles. I bet you didn't know that there are many more tiles varieties on their website!
Let's start with the floor tiles. I recently discovered these beautiful Montpelier marble mosaic tiles. The pattern is intricately designed with tiny squares. Gorgeous, right?!
For the floor of the shower, I want to use these dark marble hex tiles. Not only will they add some contrast, but they also add some depth to the space. Plus, hopefully they will look clean even when dirty ;-).
The walls of the shower will be classic white subway tiles. I'm trying to maintain a historic and timeless feel in all three bathrooms. The shampoo niche will have more of the Montpelier mosaic tiles from the bathroom floor.
Being that this is the master bathroom, I want to add something extra special for the homeowners. Therefore, I've decided to install a super quiet exhaust fan from NuTone with a Bluetooth Wireless Speaker inside! You read that right, a fan with a hidden speaker inside. NuTone is also one of the Saving Etta sponsors. But, I would have used a NuTone fan regardless. They make quality exhaust fans that last for decades! We still have the original NuTone bath fans in our 40 year old house.
Finally, I'd like to add some hanging pendants in the master bathroom, but I'll need to hang them high enough so they don't get knocked around. Luckily, the master bathroom has 9 foot ceilings. What do you think about this idea? Are pendants in a bathroom weird? Will they be an annoyance or a upscale feature?
These are the pendants I bought from Houzz.com: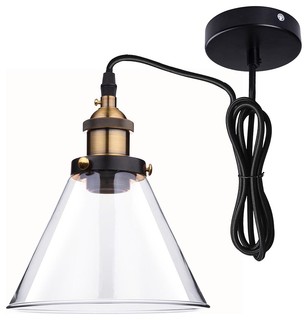 Finally, I haven't been thrilled with the vanities available and want to make my own vanity. But, time will tell if I have the time to make it happen. There is so much to be done on the house and I'm hoping to have it finished by fall. It really would be amazing to be able to clone myself. In the meantime, I'm just going to keep chugging along.
Please let me know what you think about this design plan in the comments. Do you have pendants in your bathroom? Are they cool or a pain?
Image Sources:
Farmhouse Bathroom designed by Anne Sneed Architectural Interiors, featured on OneKinDesign
Tile Shower designed by Allison Willson, photography by Stacey Brandford
Montpelier Mosaic Tiles by Jeffrey Court Tiles
Black Marble Hexagon Tiles by Jeffrey Court Tiles
White Subway Tiles by Jeffrey Court Tiles
Hanging Cone Pendant Lights from Houzz.com
Very Quiet Bath Exhaust Fan from Nutone
Sensonic Bath Fan Speaker Accessory from Nutone
I can't wait to share the rest of the mood boards with you. Stay tuned.

Disclosure: NuTone and Jeffrey Court are both sponsors of the Saving Etta project. They will be providing complimentary products for the project.
https://prettyhandygirl.com/wp-content/uploads/2018/05/Master-bathroom-moodboard.jpg
792
612
Brittany Bailey
https://prettyhandygirl.com/wp-content/uploads/2021/07/PHG-logo-tagline-2020-1030x211-R.jpg
Brittany Bailey
2018-05-21 07:00:00
2019-04-13 15:22:23
Master Bathroom Design Plans for Saving Etta