How to Build a Floating TV Shelf
How to Build a Floating TV Shelf
Hey guys!  It's Shara here again from Woodshop Diaries and I'm so excited to show you this cute new floating TV shelf I made to hold your TV and components!  It's modern, sleek, and does its job without taking up a lot of space.  It also has two open cubbies to house DVD players, wireless routers, modems, etc.
This shelf is very easy to build and doesn't require any special tools.  You can have it done in a couple hours and hung on the wall in about five minutes.
So are you ready to learn How to Build Your Own Floating TV Shelf?
Floating TV Shelf Materials:
Circular Saw (or table saw)
(1) 2″x 4″ x 8′ OR (1) 2″x 6″ x 8′
2′ x 4′ x ¾" plywood
Finish of your choice (paint or stain)
Floating TV Shelf Cut List:
(1) 1 ½" x 3 ½" x 48″ (back of TV shelf frame)
(3) 1 ½" x 3 ½" x 10½" (TV shelf supports)
(2) ¾" x 12″ x 48″ (top and bottom of shelf)
Floating TV Shelf Instructions:
Step 1: Assemble Floating TV Shelf Frame
Depending on how tall you want your shelf, you can either use a 2″x 4″ (which would make the opening in your shelf 3 ½" tall).  Or you can use a 2″x 6″ (which would make the opening 5 ½" tall).  If you have a table saw, you can rip whatever size board to the custom height you want.  (For this build, I ripped a 2″x 6″ down to 4″ wide for my frame.)
Once you determine the width you want, cut a piece at 48″ long.  Then, cut your three pieces at 10 ½" long.
Glue, clamp and screw two of the short boards onto the ends of the long board.
Then glue and screw the third short board in the center using 2 ½" screws.  (Remember to pre-drill before screwing.) Your assembled shelf should look like this: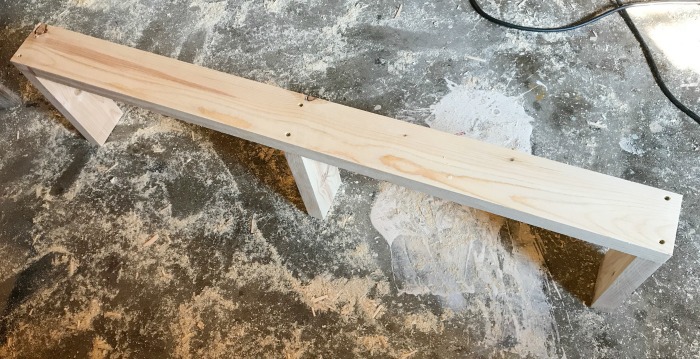 Step 2: Holes for Cables and Cords
Use a 1 ¼" or larger hole saw to drill a hole through the middle of the center shelf support.  This will allow cords to run between sections depending on where the power cords need to go.  (Make sure to avoid the screws holding the board in place when drilling your hole.)
Step 3: Add Plywood Top and Bottom to Frame
Use table saw or circular saw to cut the ¼ sheet of plywood in half to give you two 12″ x 48″ pieces. Sand the edges smooth. Apply edge banding to the plywood edges.  You can follow Brittany's tutorial for finishing off plywood with edge-banding if you need more instructions.
Remove any excess banding with a sander to make your edges clean and smooth.
Determine where you will need holes for cords in the top and/or bottom of your floating shelf. Drill your holes in the plywood where needed.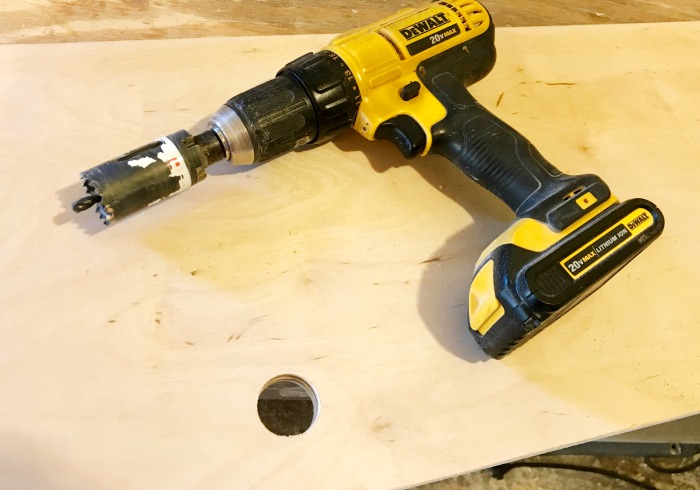 Center the plywood on the shelf. Use 1 ¼" wood screws to attach the plywood to the shelf supports.  Flip the shelf over and repeat the process for the bottom.
Step 4:  Finish the TV Shelf
Putty all screw holes and sand the shelf well.  Paint or stain as desired.  (I stained my shelf using Minwax Early American and then dry-brushed white paint on top. Finally I used the sander to distress the shelf in random spots.
Step 5: Install
Grab a helper to hold the shelf during installation. Find the location you want your shelf to hang. Use a level to make sure the shelf is level. Locate at least 2 studs (3 is better) behind the shelf and use at least four (two per stud) 2 ½" screws to attach through the back of the shelf into the studs. And that's it.  You're done!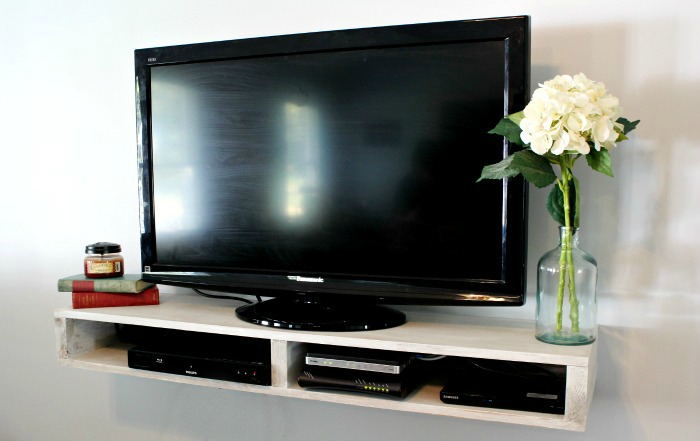 Such a simple, yet stylish and functional project!  What do you guys think?  Is this something you would try in your living room or bedroom for somewhere to set your TV without taking up a large footprint?  I love this idea!  I hope you enjoyed this project!
Pin this tutorial to share the DIY inspiration:

~Read more of Shara's Tutorials~
https://prettyhandygirl.com/wp-content/uploads/2017/09/floating-tv-shelf-close-up-horizontal.jpg
441
700
Shara M
https://prettyhandygirl.com/wp-content/uploads/2021/07/PHG-logo-tagline-2020-1030x211-R.jpg
Shara M
2017-09-27 07:00:52
2018-10-17 18:59:18
How to Build a Floating TV Shelf