Add Energy Efficient LED Fixtures in Recessed Can Lights
If you're like me you are in tune with saving money and saving the environment. Over time I've been switching several light fixtures and bulbs in my house to more energy efficient LED bulbs. During the past few years there have been many developments in LED light technology. Recently I discovered a two pack of retrofit LED fixtures for recessed can lights and knew I had to try them. Stick around to learn How to Add Energy Efficient LED Fixtures in Recessed Can Lights!
In the past I've tried several CFLs when they were in vogue, but I hated the light they cast and they didn't last as long as I had hoped. Plus, they were a pain to dispose of. Luckily LEDs have taken over the light bulb space in a big way. Although some of the LED bulbs had a purplish cast to them in the beginning, I've found some bulbs that I like and do a fairly decent job of imitating traditional incandescent bulbs. Then there's these light bulb beauties:
But, let's not get side tracked. I want to show you how you too can Add Energy Efficient LED Fixtures in Recessed Can Lights! Let's get started because this should only take 2 minutes!
Materials:
(I've included affiliate links for your convenience. I earn a small percentage from a purchase using these links. There is no additional cost to you. You can read more about affiliate links here.)
Instructions:
Measure the diameter of your recessed can to make sure you have the correct sized retrofit lights. (Our cans are 4 inch diameter.)
Turn off the light switch. Remove the bulb. You may also need to remove the trim kit (usually held on with clips or springs.)
Locate the screw base from the LED retrofit kit. Screw it into the socket where the light bulb would be inserted.
Locate the LED retrofit light fixture.
Snap together the wiring clips.
Feed the wires into the recessed can.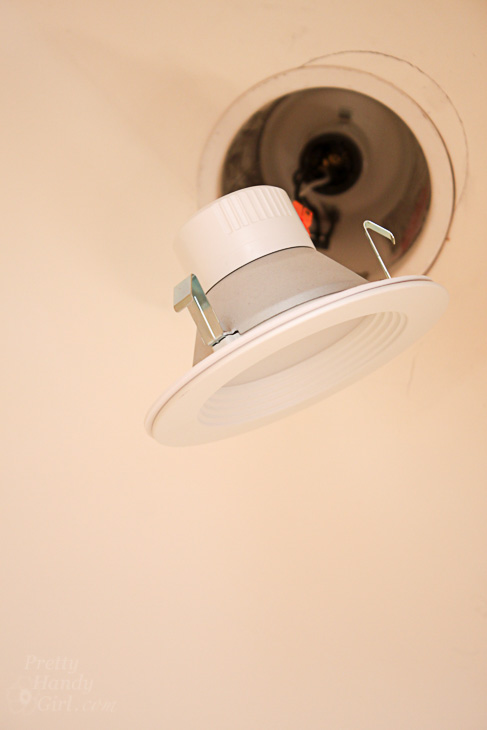 Press the retrofit light energy-efficient LED light into the recessed can.
Turn on the light switch to test that the fixture is working. Enjoy many hours of savings as you use less energy and enjoy bright warm light.
That was an easy tutorial, right? You may also like my tutorial to convert any recessed can light into a junction box for a hard-wired light fixture.
Or the 5 minute way to add a pendant light to your recessed light can.
There's no more excuse for looking at ugly recessed can lights! 😉
https://prettyhandygirl.com/wp-content/uploads/2017/03/swap-recessed-can-led-light-horizontal.jpg
450
1000
Brittany Bailey
https://prettyhandygirl.com/wp-content/uploads/2021/07/PHG-logo-tagline-2020-1030x211-R.jpg
Brittany Bailey
2017-03-24 10:00:00
2017-03-24 13:10:31
Add Energy Efficient LED Fixtures in Recessed Can Lights