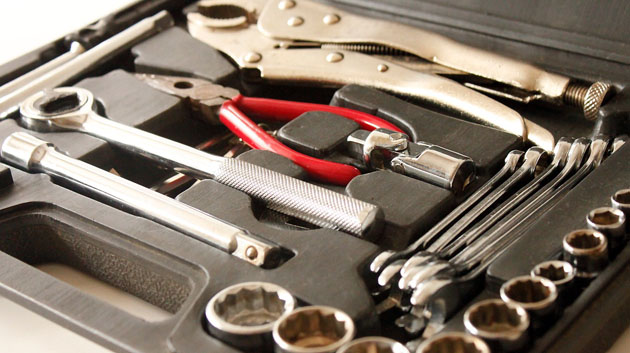 Learn about the must-have tools in my toolbox & how to invest in quality tools without breaking your budget.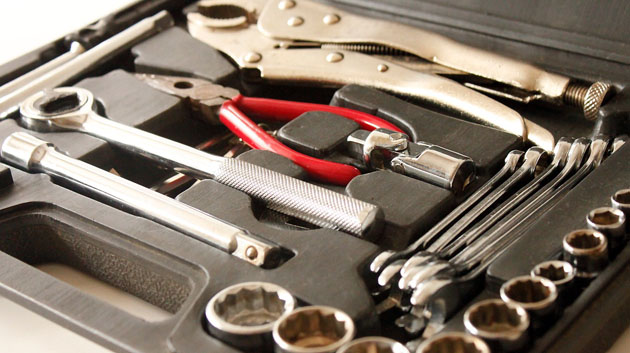 My Toolbox & How to Invest in Quality Tools
As a general contractor and an avid DIYer, I've used many tools from many different manufacturers. As a general guideline, you will get what you paid for when you purchase tools. That being said, there are a few hand tools that have lasted me decades and performed beautifully, even though I bought the less expensive models.
Over the years I have upgraded some of my tools for a better model because I found less expensive power tools didn't last as long or they didn't perform as well as the mid-grade or contractor grade tools. Therefore, when I invest in tools for my toolbox, I aim for brands I trust to last a long time and perform well for years to come.
As a homeowner who plans on using tools for the occasional weekend projects, you will be well served by mid-grade power tools and be able to save money by skipping the contractor-grade power tools. But, let's talk about the different levels of power tools.
 Contractor Grade Power Tools:
What do I consider a contractor grade tool? These are the tool brands that cost more because they are built to perform better under tough job site conditions. For the most part, they can handle excessive use, changing weather conditions, and the abuse of being thrown around and dropped on a regular basis.
DeWalt
Hilti
Festool
Milwaukee
Makita
Bosch
Because they are built to last, you can expect to pay top dollar for contractor grade tools.
Entry-Level Power Tools:
What I consider entry-level tools are the power tools with a cheap price tag and therefore cheap construction. You'll find a lot more plastic on these tools and they aren't built to handle being dropped a lot. Often entry-level tools won't have the same power as the contractor-grade tools. Another quality you give up with an entry-level tool is accuracy. I've found that blades may not be calibrated or tend to drift from a set angle. In addition, the user may find the tools hinder the ability to get quality results on a project (but new DIYers will mistakenly assume it was their fault instead of the tools.)
I don't need to name brands for the entry-level tools, you'll know which ones they are by the price tag compared to the other tools in the same category. Plus, I'm not an advocate for buying entry-level tools.
Buy Mid-Grade Tools and Save More Money:
I am a big advocate of purchasing mid-grade tools vs. entry-level. Why you ask? It boils down to a simple explanation. If you save money by buying an entry-level tool, you will likely have to replace that tool within a few years for one of these reasons:
Breaks
Precision isn't where you want it to be
Not Powerful Enough
Here's a good example: Sue wanted to buy a miter saw and to save money she bought an entry-level miter saw with a single bevel for $130. This saw lasted her a few years, but then parts started breaking off the saw (and she realized she could save time by upgrading to a sliding miter saw with dual bevel cutting capabilities.) Now she will likely have to spend $400 for a mid-grade miter saw. All in, she's spent $530 for miter saws. Whereas, if she had purchased the $400 saw upfront, she would not need to replace it because it should last longer and will perform the tasks quickly and with precision.
This same equation holds true for less expensive power tools. Pay $50 for a cheap jigsaw and it will likely break or not perform the precise cuts. In a year you have to buy a new jigsaw for $125. Wouldn't you have been better off spending a little more upfront to buy the mid-grade tool?
Mid-Grade Power Tool Brands:
Porter-Cable
Rigid
Kobalt
Craftsman
Metabo (was Hitachi)
This is only a small list of mid-grade brands. Within each tool there will be other brands to choose from. I recommend purchasing from a well-established manufacturer (no off-name brands.) And do your research on the tool you are going to purchase before you buy it. Reading Amazon reviews is one of the best ways to learn about the quality and reliability of a power tool.
How to Decide on the Right Power Tool for You
If at all possible, visit the tool department of a local store. Hold the tool in your hand, or feel the grip. As a woman, I find some power tools are made too large for me to comfortably grip. And if a drill or hand-held tool is too heavy, I'll opt or a lighter weight version. For that reason, occasionally I've eliminated a tool from consideration even though it was an excellent tool.
You can also ask a salesperson for help or opinions. Don't tell them you are new to power tools. Just ask for their opinion and let them talk. Ask what tool they would purchase if they were buying one for themselves. You should aim to buy a quality tool (especially power tools) that will last your lifetime. As mentioned above, a cheap tool will either break or not have the power to do the job you need it to do.
Battery vs. Corded Tools
Up until a few years ago, I would have recommended corded tools for all power tools except a drill. The reason being a battery-powered tool couldn't compete with a corded power tool. However, battery technology has come a long way and personally I've begun the switch to mostly battery-powered tools. The benefit of not having to drag a power cord around and not blowing a fuse are big time savers for me!
If you choose to purchase a battery-powered tool, you'll probably want to stick with the same brand (and battery line) for all your power tools to make it easier for storage and keep your costs down on purchasing batteries. (Be sure to look at the variety of tools available for the battery line you are considering. I also recommend choosing the largest volt batteries you can handle, as they will have a longer run time and more power. Although Ni-Cad batteries are almost a thing of the past, you should always purchase Lithium-Ion batteries which don't loose charge memory as much as the Ni-Cad batteries did.
What Tools Do You Really Need?
(I've included affiliate links for your convenience. I earn a small percentage from a purchase using these links. There is no additional cost to you. You can read more about affiliate links here.)
Every DIYer and homeowner needs a few basic tools to use on screws, nuts, and bolts. Plus, some pliers, a hammer, and tape measure.
A multi-piece set (shown below) is a great place to start if you have a limited budget.

This will give you a wide variety of tools for minimal cost. The set shown above can be purchased on Amazon.com for approximately $50 – $60.
If you decide to buy hand tools a la carte, these are what I recommend for your toolbox.
Homeowner essentials:
One of the most indispensable tools every DIYer needs is:
Cordless Drill, Impact Driver with screwdriver bits and a small set of drill bits
Glossary of Tools:
Screwdriver bits:
Hand Tools:
For Electrical DIY:

For the committed DIYer:
Once you begin a few DIY projects, you'll likely be hooked on it. To expand your toolbox, you'll want a few more tools:
My Tools:
For your convenience, I've created a list of all my tools in one spot here.
Remember, aim to buy a quality tool (especially power tools) that will last a lifetime. A cheap tool will either break or not have the power to complete the job you need it to do. However, you don't need to buy contractor grade tools or break the bank to get a good tool. Look for mid-grade tools.
How to Save Money on Tools:
There are two times a year you can count on good deals on tools:
Father's Day
Black Friday (Christmas time.)
If you can wait for either of those time frames, you're likely to score some good deals on tools. Another potential time to find tool deals is on Amazon Prime Day.
Price Matching:
Many of the big box home improvement stores will usually price match tools that are priced cheaper at a competitor if it is the same make and model. Be sure to bring the ad with you. Below are Lowe's and Home Depot's price match terms:
In-store pre-purchases: If you find a current lower price on an identical, in-stock item from any other retailer, we will match the price. Just bring the ad, printout, or photo with you to the register for validation. (This may involve the associate contacting the competitor).
Online purchases: Our Price Match Guarantee includes the price of the item(s) plus shipping cost. Price Match items must be available from competitor to ship to customer's location. We will only honor requests submitted directly from the person who made the purchase.
Shop any Lowe's store for in-stock products. Then, find an in-stock, identical product (brand, size, model number) from a local or online retail competitor with a lower price. Present a Lowe's store associate with a printout, local ad, photo, smartphone display, or app showing the competitor's lower price. Price matches for online items will only be compared to competitors' localized pricing online. A Lowe's store associate will verify the product is in line with our policy and match the price on the spot.
Second-Hand Tools:
Some of my best tools were purchased from a retired woodworker who was selling all his tools because he was moving. YOu can look for used tools in local online marketplaces like Facebook Marketplace or Craig's List. Also look on Ebay for second-hand tools. Although it's a little riskier buying second-hand tools (because you don't know how well they were maintained), saving a lot of money might be worth the risk.
I hope this list gives you some good information so you won't feel overwhelmed when buying tools. Feel free to email me or ask me questions in the comment section.
Happy DIYing!
Power Tool Tutorials:
Learn how to use power tools in under 10 minutes!
InLinkz.com