Millie's Remodel: A 1950's Ranch Renovation
Millie's Remodel: A 1950's Ranch Renovation
This is my latest home renovation project and another opportunity to use my general contracting skills to turn a dated and neglected house into a beautiful new home. Follow along with Millie's Remodel: A 1950's Ranch Renovation.

It's been about six months since I picked up a hammer and worked on a house project. After the Saving Etta project finished, I took some much needed time off from house building and enjoyed the holidays with my family. But, after a month or so, I found myself getting antsy. If I'm going to be honest, I was actually feeling a little melancholy without something to do. While planning on some major upgrades to my own house, I kept my eye out for another house to flip. There were several contenders, but my offers were not accepted. Unfortunately the investors' real estate market in Raleigh is HOT. Meaning there are lots of investors and houses for sale, but the prices have been pushed too high for me to make a profit on a flip house.
After several months, I began to think about changing my profit equation and began looking for a rental property. This would allow me to adjust my budget and look for houses in up and coming neighborhoods that could be renovated and rented while waiting for the value to go up.
About a month ago, a little brick ranch popped up in my real estate search. Actually there were two brick ranches, but after touring both, this quaint 1950's brick ranch appealed to me more.
The carport isn't exactly adding much charm, so I plan to sell it as soon as I can.
The living room/dining room is separated by carpeting and laminate flooring. The goal will be to integrate the two and make it feel more like one open room.
I peeked underneath the carpet and laminate to discover wood floors under both! Unfortunately, the laminate was covering glue down linoleum and the wood flooring is underneath that. Before I can start demolition I'll need to test for asbestos.
The kitchen is small and cramped with two doorways leading into it.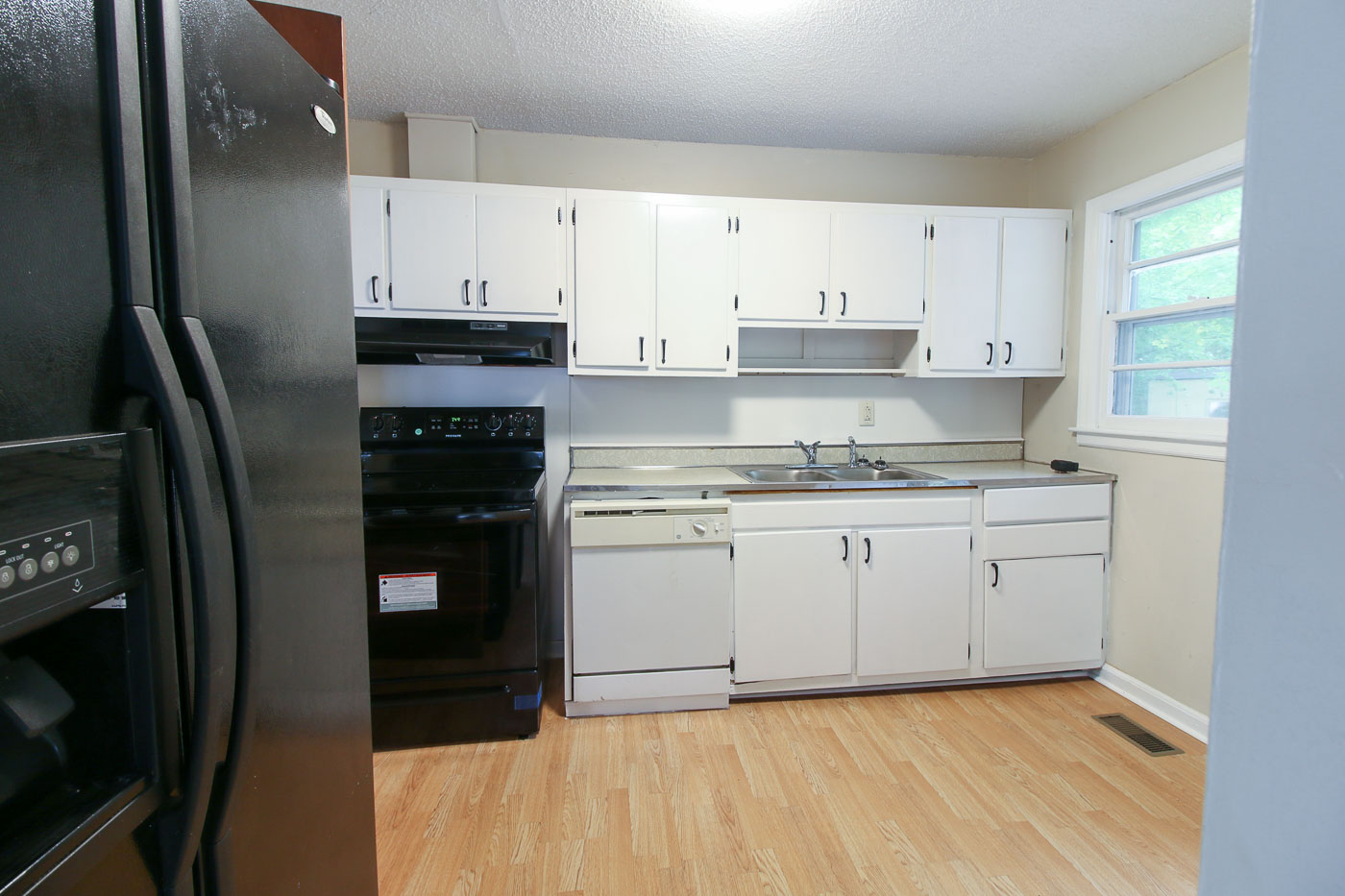 I'm hoping we can remove the corner wall behind the refrigerator and open it up to the living area. This should provide a nice open concept kitchen and bring more light into the kitchen. But, first I'll consult with my structural engineer.
All three bedrooms are approximately the same. This is the smallest bedroom with only one window. As I did in the living room, I pulled back the carpeting to reveal wood floors underneath. Hooray! They look like they are in rough shape, but can probably be refinished.
The second bedroom is slightly larger and has two windows providing lots of light.
Bedroom number three is at the back of the house and could have a nice view of the backyard, if we move the shed (you'll see a picture soon.)
The only bathroom in the house really needs to be brought into this century.
Although the tile floor looks structurally sound, the tile is cracking and sinking under the toilet, so we'll need to address that. Also, the vanity is one of the shortest vanities I've ever stood in front of. I have big plans for this bathroom, including trying to save the old cast iron tub.
One of the plans I have is to add a small powder room in the current laundry room. Be sure to watch this video to see where this will happen.
Here's a view of the backyard. You can see the ugly eyesore of a shed behind the house. It's definitely ugly and in need of some TLC or just a complete demolition.
The deck on the back of the house was built off the back landing. It's not beautiful but it seems to be structurally sound (or will be after I add some extra structural screws to the posts), so I'll leave it as is.
The biggest issue with the house is the very old HVAC unit. My inspector advised me not to run the heat because the combustion fan doesn't work and this is a big safety issue.
That completes the photo tour. If you'd like to see inside the house and hear my ideas for the renovation, watch this video:
I can't wait to hear your feedback about this project. What do you think of the house? Any ideas for me?
Thank you to the sponsors of Milllie's Remodel for helping me give this old gal a makeover!
See ya later with more updates soon.
https://prettyhandygirl.com/wp-content/uploads/2019/07/millies-remodel-exterior-front-before-closer-view.jpg
933
1400
Brittany Bailey
https://prettyhandygirl.com/wp-content/uploads/2021/07/PHG-logo-tagline-2020-1030x211-R.jpg
Brittany Bailey
2019-07-05 07:00:00
2019-11-03 17:49:48
Millie's Remodel: A 1950's Ranch Renovation