How to Build a Raised Garden Bed with a Cucumber Trellis
It's spring-time and the perfect time to start a garden. Build this raised garden bed with or without a cucumber trellis and start gardening tomorrow!
How to Build a Raised Garden Bed with a Cucumber Trellis
Is there anything better than vegetables grown in your garden? They are hard to top! Cucumbers are very easy to grow, but do best if you give them a little extra care. When we decided to build a second raised vegetable garden, we decided to plan in advance to make it a strategic cucumber garden with a raised wooden trellis. We're excited to show you how to build a DIY raised cucumber garden.
Hey y'all! We are Morgan & Sean McBride, and we blog at CharlestonCrafted.com where we are crafting our first home into our dream home and empowering you to try DIY. We share with our readers a variety of projects aimed at helping new homeowners make their homes their own. Some highlights include: our completely DIY coastal kitchen makeover; our tropical hammock oasis; and our budget laundry room refresh! Our most recent big project was our DIY concrete stone-look patio, which we are obsessed with. I'm likely to be found sharing behind the scenes and lots of laughs over on Instagram Stories, so pop over and say hey!
How to select a location for your cucumber garden:
The number one thing to remember when selecting a location for your cucumber garden is to make sure it receives plenty of light. At least five hours of morning sun is ideal, and afternoon sun on top of that is good too. You also need to be prepared to water your cucumber garden a lot because they need a lot of water, plus they are growing in the summer, when it is hard to keep these things hydrated.
Materials:
(I've included affiliate links for your convenience. I earn a small percentage from a purchase using these links. There is no additional cost to you. You can read more about affiliate links here.)
One- 4″ x 4″ x 4′ post
Two- 2″ x 8″ x 10′ boards
One- 2″ x 8″ x 8′ board
Instructions:
Build your garden upside down. Start by cutting your 4″x4″ into four equal pieces one foot long each using a miter saw.
Cut your 8-foot-long 2″x8″ in half with a circular saw or miter saw.
Lay out your 10′ boards with your now-4′ boards on either end and place your 4″x4″ pieces in the corner. (It helps to lay a small piece of scrap wood in each corner to keep the 2″x8″s raised a half inch or so, but make sure the posts stay on the ground.)
Attach your four posts to the inside of each board keeping corners flush using the decking screws.
Dig four post holes in your garden location and install your flipped over, constructed raised bed by placing the long ends of the posts in the holes.
How to build a cucumber trellis:
Materials:
Three- 2″x2″x8′ boards
One- 2'x8′ lattice
Brad nailer
1″ brad nails
Circular saw
Instructions:
A cucumber trellis is super easy to build. First, build the frame by cutting two 4-foot-long pieces out of one of the boards and three 3-foot-long boards out of the other two.
Use your nailer to attach the three foot boards to the inside of the four foot boards with two lining up on the outside edges and one exactly in the center.
Next, lay your lattice down on the frame and cut it along the edge with your circular saw. It should be 3 feet, 3 inches. Do that again with the excess to create a second piece for the other side.
Lay the two pieces of lattice down on the frame, marrying them next to each other in center. Use your nailer to go around and nail down the lattice to the frame.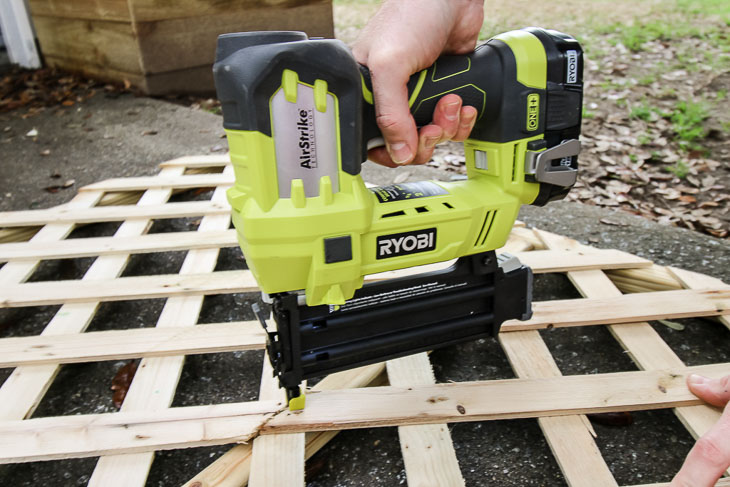 Now, cut two 2-foot-long boards with a 45 degree angle from the remains of the 2″x2″ to serve as your legs.
Finally, position the two legs on the back of the frame and nail the frame down to the legs.
Add garden soil to fill your raised bed about 3/4 of the way full and then add the cucumber trellis on one side. You want to pick a spot that is accessible from the side so that you can easily reach under the trellis.
We are so excited to plant cucumbers in this garden this spring. The trellis will keep them off the ground and give the cucumber plants the support that they need to grow successfully. As a bonus, we also plan to plant lettuce under the shade of the cucumber trellis, where they should thrive out of the direct summer sun.
Thanks for having us and be sure to come visit us at CharlestonCrafted.com.
You can also connect with us on facebook, instagram, pinterest, youtube, twitter, and etsy.
A Note from Pretty Handy Girl:
I love this project that Morgan and Sean built, especially with spring right around the corner. It's definitely time to start preparing your garden for the growing season.
You may have noticed that the lumber used for the raised planter bed and trellis is pressure-treated lumber. You should know that there is some debate over whether it is safe to use pressure treated lumber for an edible garden. Personally I like to use Cedar or other naturally rot-resistant materials to prevent the chemicals from leaching into your food. You can also choose to prime or line the inside of the bed. I'll leave the decision up to you.
You may also like this tutorial for building a rot resistant raised planter bed:
https://prettyhandygirl.com/wp-content/uploads/2018/03/cucumber-trellis-frame-in-planter.jpg
487
730
Brittany Bailey
https://prettyhandygirl.com/wp-content/uploads/2021/07/PHG-logo-tagline-2020-1030x211-R.jpg
Brittany Bailey
2020-05-11 07:00:00
2020-05-11 15:58:56
How to Build a Raised Garden Bed with a Cucumber Trellis