Create a Living Wall Lattice Privacy Screen
Did you see the Living Wall Lattice Privacy Screen I created for our new patio? It was so easy to install that I'm kicking myself for not thinking of the idea sooner. I'm just happy to have it now as it gives us a little more privacy and a cozy intimate feeling on our patio.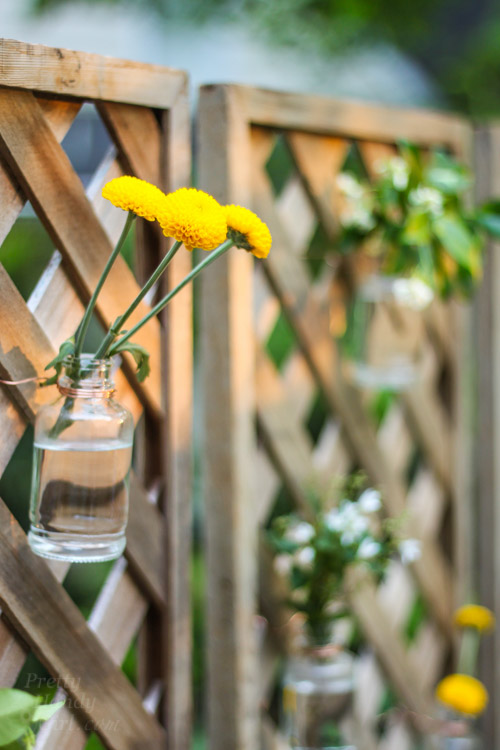 I have to laugh because one of my subcontractors commented on it while repairing a complicated section of our deck railing (the tree guys destroyed it by dropping a large limb on it.) He said he thought it was cool and did I find the idea on Pinterest? I just laughed and told him, "No, but it will be on Pinterest soon because I rule on Pinterest." I'm sure he had no idea what I was talking about.
Let's get this tutorial going so you can pin it and help add it to that huge idea catalog in the cloud called Pinterest.
Materials:
(contains affiliate links)
Instructions:
Decide where you want to install your privacy screen. It's best to install on a solid surface like a fence. If you don't have a fence to attach to, you can set two 4×4 posts into the ground. (For permanence and rock solid construction, set the posts in a concrete base per the depth required by the building code for your geographical area.) Connect the two posts with two horizontal 2×4's using steel hangers.
Drive one screw into the top horizontal rail to secure your first panel.
Check the lattice panel to make sure it is plumb.
Drive a second screw into the other side of the panel. Repeat with two more screws attaching the panel to the lower horizontal 2×4 of your fence.
Hang your other panels using the same technique.
Wrap copper wire around the neck of your bottle or vase. Leave a couple inches of wire after twisting the ends. Hold the bottle up to the lattice screen and pull the wires through to the back of the screen.
Twist the copper wire ends to secure the bottle.
Hang as many bottles as you'd like. Add water (a small spout watering can works best) and fresh flowers.
Enjoy the living wall lattice privacy screen you created.
When the flowers are spent, remove them…
…and dump the water by twisting the bottle.
Leave the bottles upside down when not in use to prevent water from becoming a mosquito breeding ground or to prevent water from freezing and breaking the bottles.
Do you have a spot you can enjoy a living wall? This is a super easy project that can be completed in under an hour!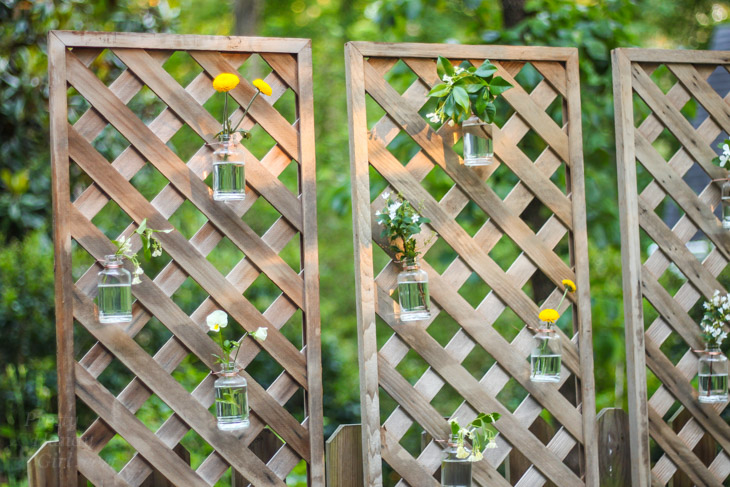 Liked this tutorial? You'll also love this temporary trellis pergola.
https://prettyhandygirl.com/wp-content/uploads/2016/05/living-wall-lattice-privacy-screen-feature.jpg
300
730
Brittany Bailey
https://prettyhandygirl.com/wp-content/uploads/2021/07/PHG-logo-tagline-2020-1030x211-R.jpg
Brittany Bailey
2016-05-23 07:00:00
2019-04-24 16:14:20
Create a Living Wall Lattice Privacy Screen