Can This Battery-Powered Lawn Mower Really Replace a Gas-Powered Mower?
Can This Battery-Powered Lawn Mower Really Replace a Gas-Powered Mower?
I have underestimated the abilities of battery-powered mowers for years. But, recently I received the STIHL RMA 460 Battery Powered Mower to test out. Did it live up to the claims? Would I sell my gas-powered mower? You be the judge.
Before we begin, I want to tell you that STIHL sent me this RMA 460 battery-powered mower to try out and use. You may recall that STIHL was a Saving Etta project sponsor. However, this post is written solely on my own decision to share my experience with the mower. 
If you want to watch the video, you'll get all the information and some of the reasons I like the STIHL RMA 460 mower.
For more details and photos, read on.
Here's My Honest Opinion of the STIHL RMA 460 Battery-Powered Mower:
Folding the mower handle down is super easy. You just need to loosen the two knobs on either side.
It's the first mower I've been able to lift into my truck unassisted. Although the mower isn't weightless, at 60 pounds I can easily lift it and set it in my truck by myself. Before using the RMA 460, I needed my husband's help to get our gas powered mower into the truck. When I got to the job site, I usually finagled one of my subcontractors to help me unload it.
Another advantage of this battery-powered mower is not having to haul a gas can around. And anyone who uses gas-powered lawn equipment knows you inevitably end up smelling like gasoline after finishing the work.
Battery and Start Up Features of the RMA 460:
The STIHL RMA runs on the AK-series batteries. One port for the battery being used and the other port holds a spare should the first one run out. Although the mower runs on the entire AK line of batteries, I highly recommend using the AK30 for the longest run times. To see how much battery life is left, press the button on the top of the battery. The display will show how much charge is left.
The mower has a removable locking key to prevent accidental starts. (As a side note, I do wish the key had a string or somewhere to store it with the mower to prevent it from getting lost.)
The switch inside the mower activates the ECO MODE which should help the battery last longer in shorter grass. When the mower senses taller or thicker grass, it will return to full power mode for faster cutting.
Raising the mower height is easily accomplished by grasping one handle to lower or raise all four wheels at once.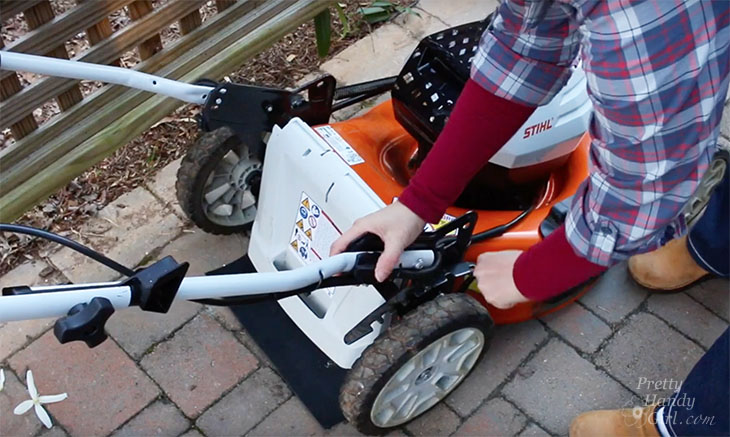 To start the mower, press the orange button and pull back the handle bar. You can see how easy it is to start. No more yanking on a rope to start a mower! This mower is much quieter in comparison to a gas-powered mower. To stop, simply release the handle bar.
Can the STIHL RMA 460 Handle Super Tall Grass?
I had been using the STIHL RMA 460 mower for a month or so to cut the lawn at my flip property. But, then we went on a family vacation for over three weeks and I came home to this mess.
Be sure to watch this video to see how the mower did against the jungle of a front yard.
Although I had to make several passes for each section, the mower powered through the super tall grass. Before you lawn aficionados get on my case, I easily could have used the bag to collect clippings, but the property was still under construction and I wasn't trying to protect the weedy grass that was there. If it were our lawn (which is already beautiful and well established), I would have bagged the clippings to prevent them from damaging the lawn. If you look close, you might notice that even with the height of the grass, there were no mounds of grass clippings left behind. The mulching feature on this mower did an outstanding job! To say I was impressed is an understatement.
How to Insert the Grass Collection Bag on the Mower:
Simply lift the back flap on the mower and remove the plug. 
Then hang the bag from the mower and you can collect your grass clippings.
Will You Sell Your Gas-Powered Mower Now?
I have to tell you my husband has been cutting lawns since he was a teenager. He's rarely impressed by new lawn mowers, but I caught him trying out the RMA 460.
When I asked him what he thought, he told me he really liked it. But, old habits die hard with this guy. He still prefers his gas-powered mower. (Must be a manly thing.)
Our teenage son has recently started cutting lawns and the STIHL RMA 460 is the only mower he wants to use.
Before trying this STIHL mower, I never thought I'd be happy using a battery-powered mower to cut our grass, but I'm a convert. Plus, it feels good knowing this mower is more environmentally friendly. For now our gas mower stays in the shed for my husband, but my son and I will only use the STIHL mower.
How Much Lawn Can the RMA 460 Cut?
Per the STIHL website, the RMA 460 Mower using the AK30 battery should be able to cut just under 3,000 sq. feet of lawn (depending on height and moisture content.) We have about ¼ acre of grass to cut and the mower cuts it using one and a half batteries (assuming this is for weekly trimming on non-wet grass.)
What do you think? Could you sell your gas-powered mower and replace it with the STIHL RMA 460 battery-powered mower?
Pin this image to share with a friend:
Disclosure: STIHL sent me this RMA 460 battery-powered mower to try out and use. I was previously sponsored by STIHL on another project, but this post is my own decision to share with you my experience with the STIHL RMA 460 mower.
https://prettyhandygirl.com/wp-content/uploads/2019/03/man-mowing-lawn-stihl-rma-460-mower.jpg
487
730
Brittany Bailey
https://prettyhandygirl.com/wp-content/uploads/2021/07/PHG-logo-tagline-2020-1030x211-R.jpg
Brittany Bailey
2019-03-18 10:00:00
2019-11-03 17:42:22
Can This Battery-Powered Lawn Mower Really Replace a Gas-Powered Mower?