3 Ways to Shorten Light Fixtures for Low Ceilings

Hey all, do you have eight foot ceilings or lower? Have you lamented the fact that the light fixtures you love will be too tall for your height-challenged ceilings? Well put that light fixture back in your cart because I'm here today to show you how to make light fixtures work for your low ceilings with 3 Ways to Shorten Light Fixtures for Low Ceilings.
I may only be 5'6″ tall, but my brother-in-law is 6'4″ and my own brothers are both well above six feet tall. Recently my brother-in-law was visiting and he hit his head on our foyer light. He told me it's an annual occurrence. I was mortified he never told me he hits his head every time he visits! Immediately I got to work shortening the light fixture.
I measured the light and then raised it an inch taller than his height.
At the same time, I had been contemplating changing our mudroom light fixtures. I was growing tired of them and wanted something that would cast more light in the room. I found the perfect pendant lights, but knew I'd have to alter them to make them shorter for our low ceilings.
To shorten light fixtures, you'll need a few supplies.
Materials:
(I've included affiliate links for your convenience. I earn a small percentage from a purchase using these links. There is no additional cost to you. You can read more about affiliate links here.)
Optional:
Solution 1: Contact the Manufacturer
To shorten a light fixture, you can contact the manufacturer and ask if they can provide you with a shorter down rod or parts to assist you with reducing the height of the fixture. For the Kichler Pendant light I purchased, the customer service rep was able to locate a shorter down rod,  a threaded loop, and a chain which allowed me options for shortening the fixture.
Solution 2: Use Chain instead of a Down Rod
Your second option for shortening a light fixture is to use a chain and remove links until you achieve the desired height.
If your light fixture doesn't come with a chain, you can purchase some in a variety of finishes at your home improvement store.
Did you know removing links can be done easily by using two screwdrivers or pliers and a screwdriver to push in opposite directions against the inside of a link to open it up.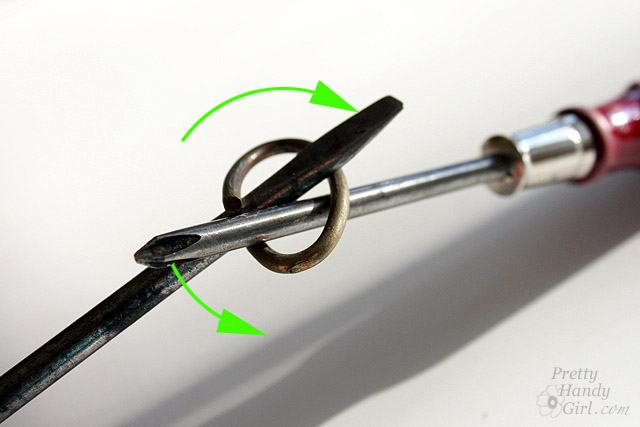 To close the links, use the pliers to squeeze the link ends back together. After your chain is the appropriate length, feed the wires through the links and the threaded loop in your light fixture.
Solution 3: Make Your Own Connector
Occasionally a light fixture may still be too tall (or your ceilings too low) and you may need to remove the chain or down rod all together and make your own connector.
First measure the finished height you want your fixture to be. Remove the chain and/or down rod. Feed the excess wire through the threaded loop. Attach the light fixture directly to the threaded loop with a quick link, or you can use heavy gauge wire to create your own link. (Watch the video below to see how.)
Hopefully one of those 3 Ways to Shorten Light Fixtures for Low Ceilings will work for you. Let me know if you found this tutorial helpful!
If you want more details on how to install a pendant light, I have several tutorials in my Electrical category.
Or you might find one of these tutorials helpful:
How to Install a Wired Pendant Light
https://prettyhandygirl.com/wp-content/uploads/2019/05/3-ways-shorten-light-fixture-feature.jpg
353
730
Brittany Bailey
https://prettyhandygirl.com/wp-content/uploads/2021/07/PHG-logo-tagline-2020-1030x211-R.jpg
Brittany Bailey
2019-05-06 10:00:00
2019-11-03 17:45:28
3 Ways to Shorten Light Fixtures for Low Ceilings