How to Sew Reversible Recipe Placemats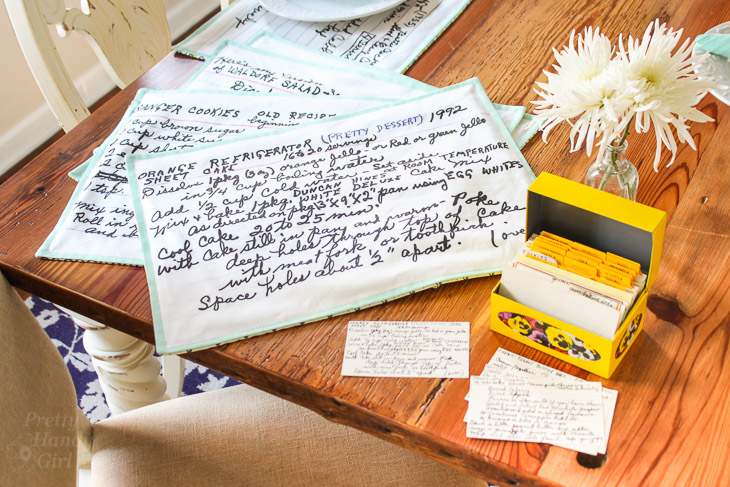 A few months ago, my husband's grandmother passed away. She was an amazing woman, super smart, and always had a kind word to say about anything. She also had an amazing laugh, the kind that brought you to laughter yourself. Recently I came across the box full of recipes that she gave us as a wedding present. It was fun reading through them and picking ones that had little notes about her favorites and her husband's favorites (my husband's grandfather.) I decided to follow the idea of Emma from Hello Beautiful, who memorialized her grandmother's handwriting on tea towels. I thought it would be fun to take some of the recipe cards and make reversible placemats for my mother-in-law.
Before we get started, I have to wish you all a Happy New Year! Yes, I know it's been two weeks since the official new year. But, I've been sleeping in and taking time to chill. Our kids have been out of school after a snow/ice storm shut down Raleigh. Yes, I know, go ahead and laugh. But, we don't have enough plows to clear all the neighborhoods and our streets are currently skating rinks. Don't believe me? Check this video of a man skating on his neighborhood street.
If you are snowed in (or if you have some time on your hands) take an afternoon to make these memorable recipe placemats.
Want to learn How to Sew Reversible Recipe Placemats? Let's get it done.
Materials:
Optional: 1 ½ yards of water resistant fabric (I used black out shade material.) You'll want to use at least one layer of fabric or batting in between your layers or the pattern side will show through on your recipe card side.
Instructions:
Start by taking a photo of your recipe card. I used my iPhone and the Turbo Scan App. Bring your scan into a photo editing program. Clean up the scan and enlarge to 13 ½" x 18 ½". Add an 1½" coordinating border to your scan. This will give you enough excess for seam allowance and to leave you with an inch border.
Combine your scans into one document. For six placemats, you can format them like this:
My final document size for the six placemats is: 48″ x 42″ to fit on the Linen Cotton Canvas Ultra Fabric. I left a half inch border of white on the outside of my image.
Upload your file to Spoonflower.com and order 1 ½ yards of Linen Cotton Canvas Ultra Fabric.
Cut your fabric between recipes.
Lay each recipe placemat on top of the pattern fabric and cut your patterned fabric to the same size. Cut your water resistant fabric to size.
Layer the water resistant layer first, the patterned fabric second, and the recipe fabric face down next (as shown below.)
Pin the layers together.
Stitch through the three layers around the outside of the border. (Be sure to stay slightly inside the colored border to avoid having a white line showing.) Leave a 2-3″ gap unstitched.
Trim off the corners at an angle.
Pull all three layers through the gap to turn your placemat right side out.
Use a pen or pointed object to poke the corners out.
Stitch along the inside edge of the border with coordinating thread to secure all three layers (and to create a pretty border.)
Topstitch the gap closed. Keep your stitches as close to the edge as possible.
Now set your table and wait for your guests to start reading the recipes!
If you get tired of the recipe side, flip them over to the pattern side.
I gave the placemats to my mother-in-law for Christmas. She was definitely surprised and touched by the gift.
It's nice to have a memento of my husband's grandmother around. Hopefully we'll see the placemats come out next time we are at his parents.
Do you have any writing of a loved one that you'd like to memorialize? This is such a nice way to keep the memory alive.

Disclosure: This is NOT a sponsored post. Spoonflower was mentioned in this post only because I like their ability to print anything on fabric. They have not idea I like them. You will always be notified if you are reading a sponsored post.
https://prettyhandygirl.com/wp-content/uploads/2017/01/old-recipe-placemats-reversible-from-recipe-cards.jpg
487
730
Brittany Bailey
https://prettyhandygirl.com/wp-content/uploads/2021/07/PHG-logo-tagline-2020-1030x211-R.jpg
Brittany Bailey
2017-01-13 10:00:00
2017-01-13 11:25:24
How to Sew Reversible Recipe Placemats