How to Save a Dated Bathroom Vanity
If you have a dated vanity, you may think you have to rip it out and buy a new one. Well, think again. It's not hard to save that dated vanity and make it look like new without spending much money! All you need is a little prep work and the right type of paint.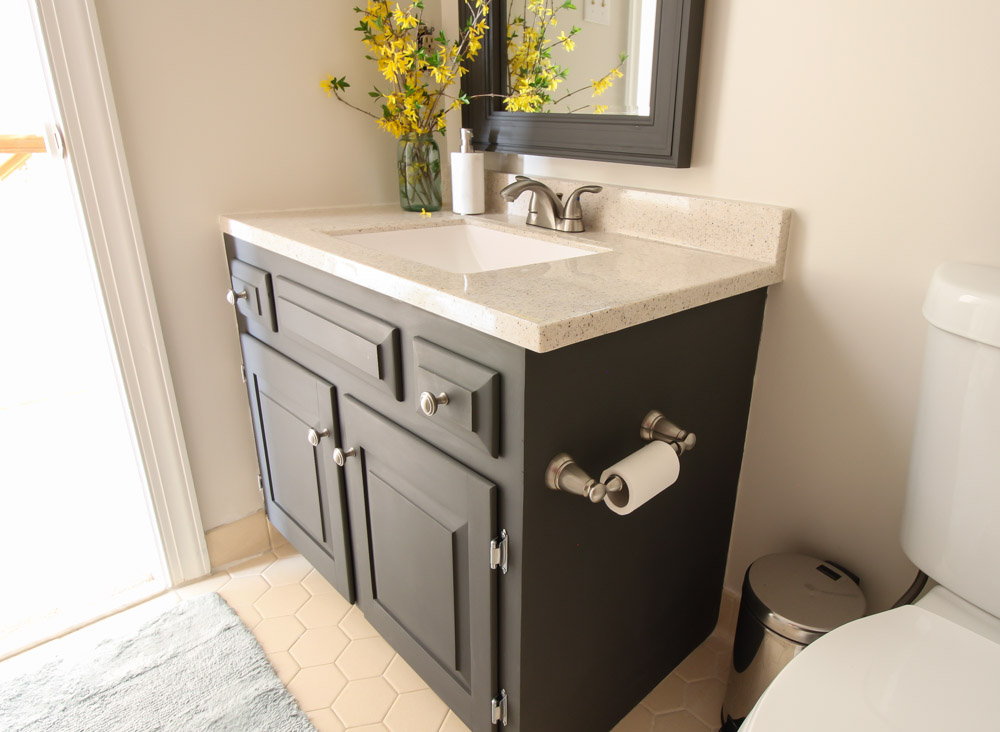 Ready to learn how to take your dated vanity from drab to fab in no time? Keep reading to learn How to Save a Dated Bathroom Vanity. Plus, I'll share with you the best paints for this task.
(I've included affiliate links for your convenience. I earn a small percentage from a purchase using these links. There is no additional cost to you. You can read more about affiliate links here.)
Are you looking at your bathroom vanity thinking it has only one place to go—the trash? Well, think again. It's not hard to save that dated vanity and make it look like new without spending much money.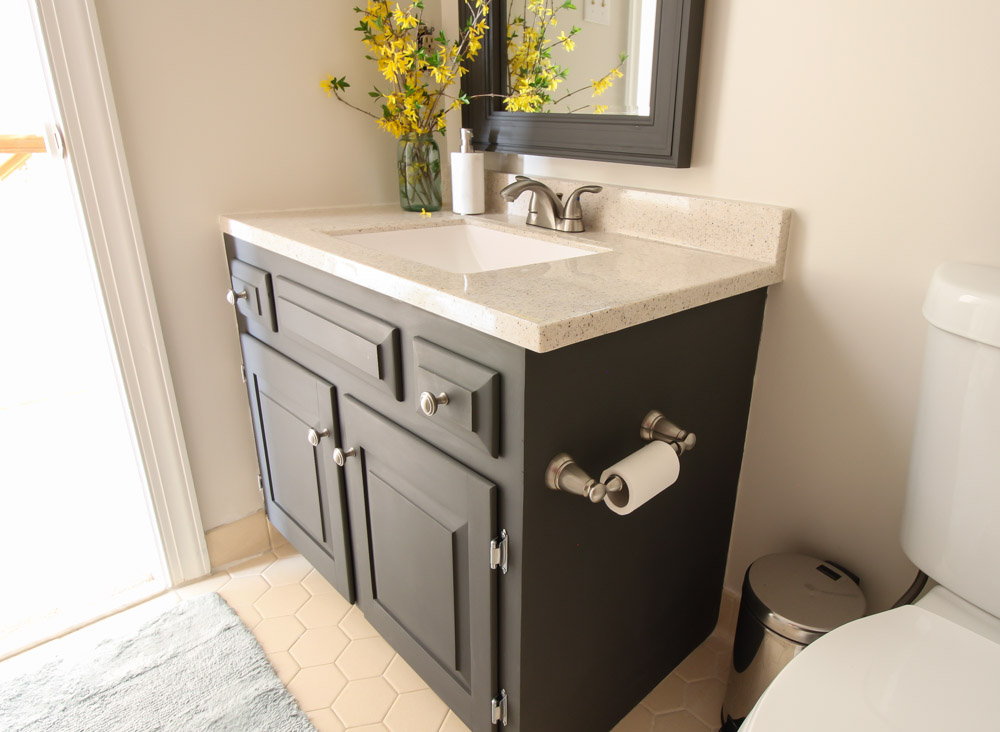 The best way to get a flawless finish on your paint job is to spend some time prepping the cabinet for paint. Begin by cleaning the surface with a mild cleanser to remove any toothpaste splatters, greasy fingerprints, and who knows what else.
Remove the doors from the vanity to give you easier access for painting.
Remove hinges and knobs.
Store hardware in a ziploc back to prevent tiny screws and parts from being lost.
Look over the vanity for scratches, gouges and holes. Fill them with wood putty and a putty knife. Allow the putty to harden.
Sand the repaired areas smooth with a sanding sponge. Lightly sand the rest of the vanity to give it some "tooth" for the paint to stick to. No need to completely sand the existing finish off.
Wipe off any sanding dust with a damp rag.
Choosing Paint:
You can use one of three types of paint on your vanity. In the past an oil-based paint was usually preferred for cabinets in the bathroom or kitchen because of excellent leveling properties and a hard finish that was resistant to chipping. Unfortunately, oil paint has a strong odor and is harder to clean up. Luckily improvements to latex paints have made them almost as durable as oil paint. Latex (water-based) paints made for doors, window and trim are a good choice for cabinets. This type of paint has an added hardener and excellent leveling properties. Both latex and oil paint require a coat of primer on your vanity before painting.  For wood with knots or some reddish stained cabinets, you'll need a shellac based primer like BIN primer. A third option is to use a chalk paint. Many furniture painters like the ease of painting with chalk paint because it doesn't require a primer coat first. There are many brands of chalk paint available on the market today. Even Lowe's carries their own brand of chalk paint.
If using latex or oil paint, prime your vanity. If you are using a chalk paint, go straight to painting. Follow the woodgrain of the cabinet when applying paint.
Allow to dry and add a second coat of paint.
Chalk paint enthusiasts like the matte buttery finish of a furniture wax applied over the paint. Use a wax brush to apply furniture wax in circular motions onto the vanity.
Wait a minute and buff off any excess wax with a clean dry rag. Apply a second coat of wax if the finish feels dry and chalky.
You may choose to apply a polycrylic coat for a more maintenance free finish. That's up to you and the users of the bathroom. (Have small kids that are rough on your home? Opt for the polycrylic.)
Replace dated knobs and hinges if desired.
Now, about that countertop and faucet. Do you need to trash those? If so, I give you permission. You can purchase new ones online or at your local home improvement store.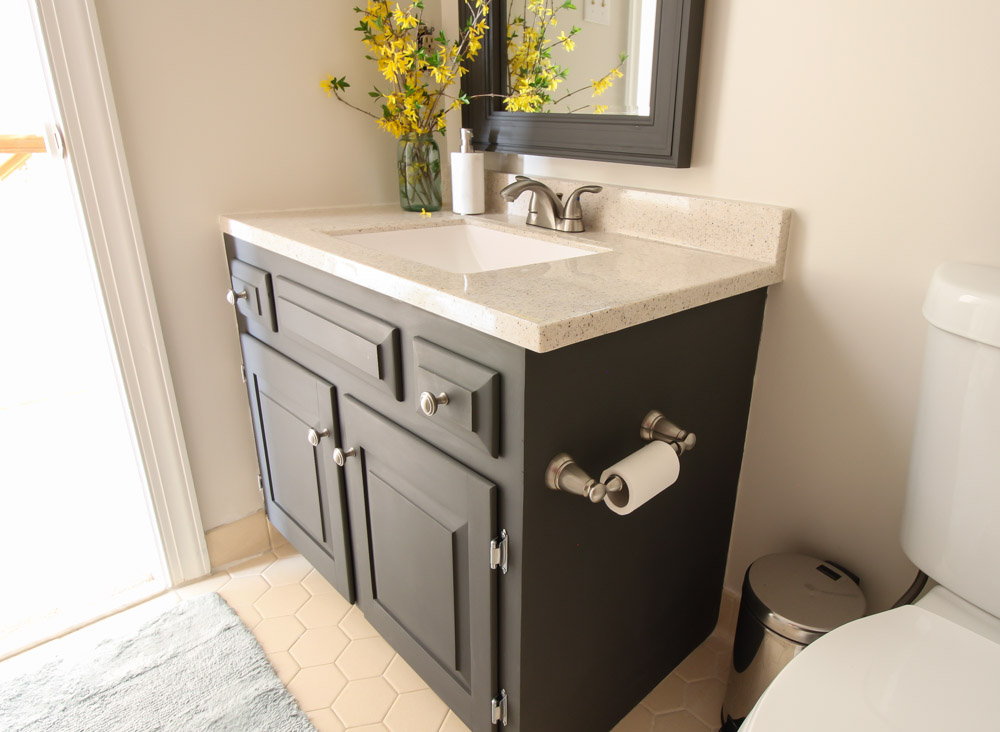 Enjoy your newly saved vanity! Aren't you glad you didn't throw it away? Looking for more bathroom DIY updates? You'll love this surprise weekend bathroom renovation for under $5oo!  And here's another bathroom vanity updated with paint.

https://prettyhandygirl.com/wp-content/uploads/2016/05/how-to-save-dated-vanity-feature.jpg
300
740
Brittany Bailey
https://prettyhandygirl.com/wp-content/uploads/2021/07/PHG-logo-tagline-2020-1030x211-R.jpg
Brittany Bailey
2016-05-27 07:00:00
2022-09-29 13:21:25
How to Save a Dated Bathroom Vanity