Are you as nutso about paint chip projects as I am? I'm semi-worried that I might get arrested next time I'm pulling samples at my local paint department. Is there a law against taking too many?* Okay, so let's just say that I have collected many samples over the years while contemplating room colors (which is true!)
*Paint chips may be free, but please use consideration when taking paint chips. Try not to take more than 2-3 of each color and definitely don't take the last of a color. It might be a good idea to ask permission from the paint store employee if you need to take more than a dozen.
But, what do you do with all those left over paint chips once you have decided on your color? It seems a shame to throw them away, doesn't it.
Why not use them to make a lamp shade?
I actually saw this lamp shade on JossandMain.com last week and thought, "Ooo Ooo Oooo! This gives me an idea of what to make with all those paint chips!"
Materials:
Lamp shade (best if it isn't tapered)
Paint chips
Clear packing tape
White paper tape (low stick)
X-acto knife
Cutting surface
Metal ruler
Hot glue gun and glue sticks
Tutorial:
Start by laying out your paint chips side-by-side and organize them any way you like.
To judge how many strips you need, rest the seam of your lamp shade on the end of the paint chips and roll it until you reach the seam again. If you still have paint chips under your shade, then you have enough! I had one small gap leftover, so I added two of the same colored chips together so the small strip wouldn't be as noticeable.
Butt the paint chip strips tightly together. Put paper tape on top of the chips to hold them together.
Gently turn them over and tape the seams with clear packing tape.
Once all the strips have been taped together, trim off the excess tape.
Measure the height of your lampshade and trim your paint chips to the same height.
Test fit your paint chip roll.
Use your hot glue gun to run a line of glue on the seam of your lamp shade. Glue the end of the paint chips to the shade.
Run a line of hot glue on the top and bottom edges of the lampshade and roll the paint chips around the shade. Secure the end by hot gluing it to the shade.
And that is it! A super easy and very colorful home decor project.
I think it is beautiful whether the light is off…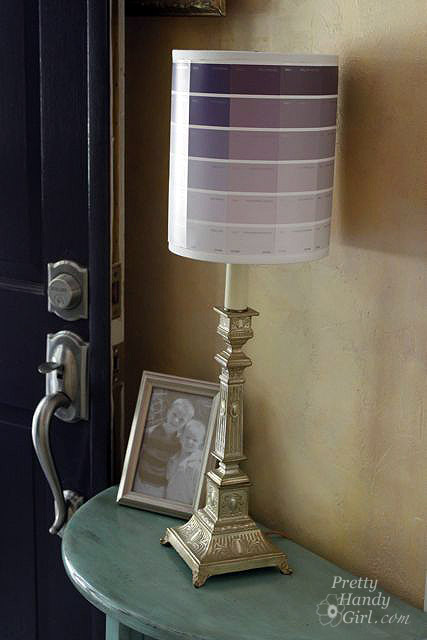 …or on.
When choosing the paint swatches you wish to use, try pulling colors from a painting or use colors that are compliments to your wall color.
What?! You still want more paint chip home décor ideas?! How about a whole round up of them? Go ahead and scoot your index finger on over to Parentables for 11 Paint Chip Projects to see 9 more amazing paint chip projects:
I guarantee, you'll never pass through the paint department without grabbing a few paint chips again!
https://prettyhandygirl.com/wp-content/uploads/2011/08/lamp_lit_up.jpg
640
427
Brittany Bailey
https://prettyhandygirl.com/wp-content/uploads/2021/07/PHG-logo-tagline-2020-1030x211-R.jpg
Brittany Bailey
2011-09-15 07:00:53
2021-08-23 18:43:58
Paint Chip Lamp Shade